20 Mind-Blowing Adidas Facts You Should Know in 2022
Posted on |
Every sportswear lover knows how iconic Adidas is. These mind-blowing Adidas facts showcase just how influential this brand is and what to expect from it in the future. Find out where the most Adidas apparel is sold worldwide and how popular it is in the UK. 
Even though Nike has been its biggest competitor, there's a reason facts about Adidas and Puma are often intertwined. Keep reading to learn more about the brand's history, success, and marketing strategies.
Top Facts About Adidas (Editor's Picks):
In 2021, Adidas worldwide net sales sat at £17.88 billion.

27% of the total Adidas net sales come from Europe.

The Adidas Group marketing spend for 2020 was £1.9 billion.

The Adidas Group produced 340 million pairs of shoes in 2021.

Adidas has 28 stores in the UK.

30% of Adidas employees are from the EMEA region.

63% of the UK's total population likes Adidas apparel.

In 2020, 6.6 million people in the UK wore Adidas shoes.
Worldwide Adidas Facts and Statistics
Adidas generates billions of pounds each year in revenue and is one of the most recognisable brands in the world. Despite the pandemic, its market cap is recovering from the negative impact of lockdown measures in 2020 and is set to increase in value over the decade. 
1. In 2021, Adidas worldwide net sales were £17.88 billion.
(Adidas Group)
Reports on Adidas net worth and sales show a 16% increase for the Adidas Group in 2021. Compared with 2020, where net sales sat at £16.6 billion,  these figures look promising. Before the pandemic, the company's net worth was steadily increasing. In 2019, Adidas net sales amounted to £19.8 billion, a £1.5 billion increase from 2018.
2. Footwear brought £9.5 billion in net sales to the Adidas Group.
(Statista)
Footwear brings the most significant contribution to Adidas revenue. Apparel comes in second with £6.5 billion in net sales, and lastly, Adidas hardware and accessories bring the least amount of income with £800 million.
3. 27% of the total Adidas net sales come from Europe.
(Statista)
Europe may not be the biggest market for Adidas, but it does have an Adidas market share greater than North America with 24%. The Asia-Pacific region presents the largest market for Adidas, accounting for 33% of global net sales.
4. The Adidas Group global gross profit was £8.2 billion in 2020.
(Statista)
Gross profit for Adidas saw a decline in 2020, one of the Adidas company facts that shook the company after years of growth. During the previous year, Adidas accumulated a gross profit of £10.3 billion, an increase from £9.6 billion in 2018.
5. The Adidas Group market capitalisation is £48.8 billion.
(Statista, Forbes)
Market capitalisation shows the value of the company's shares in the global market. Despite decreases for most vital aspects of the Group's business, Adidas brand value has increased. 
In 2019, the brand was worth £47.7 billion, indicating a more than £1 billion increase. This seems like nothing compared to the increase between 2015 and 2016, though, when the brand rose in value by more than £10 billion.
6. The EMEA region brought £3.1 billion in revenue in the first half of 2021.
(Statista)
During the first six months of 2020, Adidas stats show that the Group generated revenues of £2.25 billion in the EMEA region. The revenue increased for other regions as well, showing a generous recovery for the company after the market lows of the year before.
7. The Adidas Group marketing spend for 2020 was £1.9 billion.
(Statista)
Throughout Adidas history, the company has been investing more and more in marketing. With iconic and successful campaigns like its current "Impossible is Nothing" and "Original is Never Finished" marketing slogans, Adidas shows that its investments pay off. Still, during 2020, the company spent £300 million less than in 2019.
Adidas facts and history paint a picture of a company obsessed with sportswear. The company's three stripes became official in 1949 when Adidas was founded. Over 70 years later, the company manufactures hundreds of millions of shoes annually using independent partners that have been with the brand for decades.  
8. The Adidas Group produced 340 million pairs of shoes in 2021.
(Statista, Adidas Group)
The company has come a long way since Adidas made its first shoe. Still, 2021 figures are significantly lower than those recorded in previous years. In 2020, the company produced 379 million pairs. In 2019, Adidas made 448 million pairs of shoes, 39 million more than in 2018 with 409 million pairs. In 2017, the company produced 403 million pairs of footwear, showing a gradual increase in production during pre-pandemic years. 
9. Adidas outsources nearly 100% of its production.
(Adidas Group)
Adidas statistics reported by the company show that almost 100% of production is outsourced to independent manufacturing partners. This is common practice for large companies in order to meet consumer demand. Around 71% of Adidas partners come from Asia, a slight increase from 2020 when Asia represented 68% of the Group's manufacturing partners. 
10. In 2021, Adidas partners were producing in 234 manufacturing facilities.
(Adidas Group)
Official Adidas information shows that in 2020 the company had 277 manufacturing facilities. Since then, it reports 114 independent partners for manufacturing, a slight decrease from 132 partners in 2020.
11. 65% of the company's partners have been working with Adidas for a decade.
(Adidas Group)
Adidas creates a strong and competitive company by maintaining long-term and trusting relationships with its partners. One of the more interesting facts about Adidas is that around 35% of its production partners have been with the company for over 20 years. In addition, 30% of the manufacturers have been in cooperation with Adidas for 10 to 20 years, and almost 35% of the partners have been working with the company for less than a decade.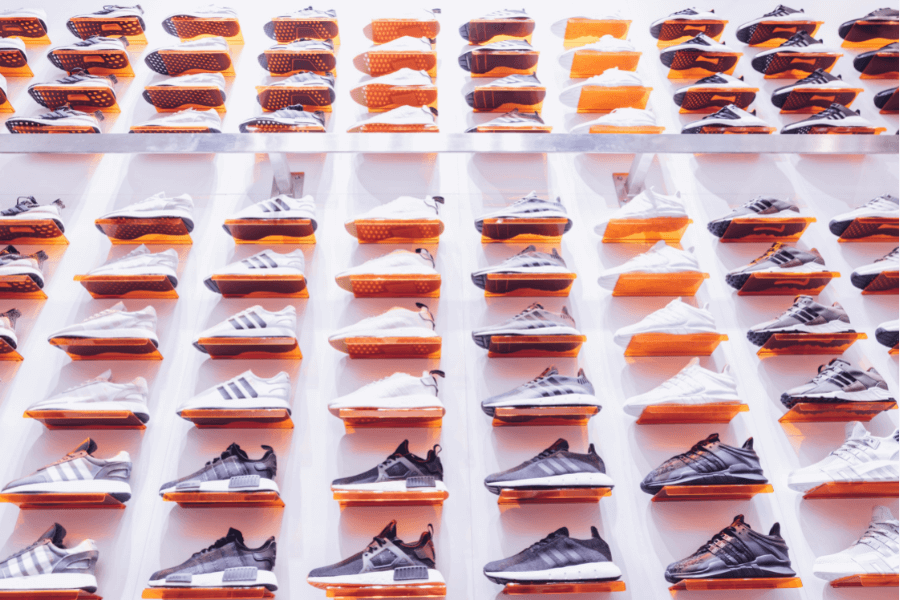 While there has been a recent shift to web commerce in response to the ongoing pandemic, retail shops across the globe are still a measure of Adidas's success and influence. The company may fall behind when comparing Nike vs Adidas statistics, but this company is still one of the leading global sports brands with thousands of stores and even more employees. 
12. As of 2020, Adidas has 2,456 stores around the world.
(Statista)
Between 2019 and 2020, Adidas closed 77 stores around the globe. A slight decrease, perhaps, but a signal of a global consumer shift to shopping online. Most Adidas retail stores are concept stores, and the company operates 1,327 spaces of this kind. It also owns 1,083 factory outlets, and 117 are concession corners.
13. Adidas has 28 stores in the UK.
(ScrapeHero)
Adidas popularity in the UK is undeniable. Notably, there are 28 Adidas stores across 22 cities around the United Kingdom. Most of the stores are located in England, with more than 82% of all Adidas shops located in that region. 
14. Adidas has 61,401 employees.
(Adidas Group)
While still significant, the number of Adidas employees has lowered by nearly 1,000 from 62,258 employees in 2020. In 2022, the company plans to hire almost three thousand new employees. Official Adidas facts show the brand's commitment to gender equality, with 47% of all employees identifying as male. That being said, 63% of managerial positions are held by men at the company, showing there is still more work to be done for women's representation in this leading sports giant.
15. 30% of Adidas employees are from the EMEA region.
(Adidas Group)
The majority of Adidas employees come from the Greater China region with 16, and North America comes in second with 13% of workers. Official Adidas facts show that 56% of workers own retail and 14% work in logistics. 
Adidas is the most popular sportswear brand in the United Kingdom. Notably, some love Adidas more than any other brand in the whole fashion industry. The company has managed to maintain its popularity among the British audience, though, with millions sporting the brand's shoes in 2021.
16. 63% of the UK's total population likes Adidas apparel.
(Statista)
It seems the Nike vs Adidas market share in the UK defies global norms as Adidas nearly ties in popularity with Nike apparel. Notably, Adidas is preferred over several popular brands, including North Face, Clarks, Converse, and Primark. If you like the brand enough to want to test its products, find all the info about it here.
17. 63% of the men from the UK love Adidas.
(Statista)
David Beckham is among the most influential figures in the UK, and he's been the Adidas brand ambassador for years. Adidas is still behind Nike and Levi's, which were chosen by 65% – Nike and 71% – Levi's. Adidas shares the third position with Clarks, which is loved by 63% of males from the UK and Dr. Martens, chosen by 56% of men as their most beloved shoe-producing brand. 
18. In 2020, 6.6 million people in the UK wore Adidas shoes.
(Statista)
Interesting facts about Adidas shoes show that while they are the most popular product in the UK, interest in these iconic sneakers is declining. In 2019, over 10 million British people wore Adidas shoes, showing a significant decrease in preference by the Brit population. 
19. Nearly 5 million people from Great Britain wore Adidas apparel in 2020.
(Statista)
Adidas market share statistics show that clothes make up a large percentage of the brand's total revenues, coming in second only to footwear. Cosmetic products for men, such as deodorants and antiperspirants, come in third with 2.7 million users. Adidas shower gels and bath products are also popular, with 2.6 million people from the UK wearing them in 2020. 
20. Adidas.co.uk generated £181 million in ecommerce net sales.
(Statista)
As a leading global sports brand, how much is Adidas worth online? While the brand is pretty popular when it comes to offline channels, Adidas leaves room to the competition when it comes to online shopping. It seems that Adidas fans from the UK are more prone to shop in-store than online. Still, the brand's ecommerce earnings outsell JD Sports, John Lewis, and Tesco.
Adidas covers different demographics, flashing its versatility as a brand for both professional athletes and regular people around the world. Adidas is particularly well-loved in Europe, outranking Nike in many regions. 
North America remains a Nike obsessed nation, but market predictions show promise for Adidas, as it little by little takes hold of more of the global market, syncing up, or surpassing the world's biggest sports brand.
What are three facts about Adidas?
One of the most interesting facts about this brand is its origin story. Born out of a sibling rivalry, Adidas was founded in competition with Puma by the Dassler brothers, which is also connected to the explanation behind the brand's name. The brother who founded Adidas purchased its three-stripe sign from another manufacturer for two bottles of whiskey. Today, Adidas is popular with celebrities and has a lifetime endorsement deal with David Beckham.
What is unique about Adidas?
Adidas is among the leading sportswear brands when it comes to innovation. The company created its first smart shoe in 1984. These sneakers had a pedometer attached to their tongue. Although industry experts claim that the quality is not the best and that the shoe is heavy, Adidas is still praised for trying out new innovations.
What is Adidas known for?
Adidas is a sportswear company that produces apparel, footwear, and sporting accessories. It's known for its famous three-stripe logo and sleek black design. One of the brand's most popular products, Adilette, is one of the first shower slides worn by sports teams. Adidas first sent the famous dark sandals with white stripes to the German football team. Nowadays, they are worn by regular customers worldwide.
What made Adidas famous?
Adidas was a popular manufacturer in Germany and some parts of Europe up until the year 1954. The company sponsored the German football team in the World Cup, and after they won, many people around the world became curious about their sponsor, which attracted a large number of customers. The company went through a crisis in the 1980s after its founder died, and it took Adidas more than a decade to start coming up with unique, popular products again.
When was Adidas founded?
In 1924, Adolf Dassler and his brother registered a company called Gebrüder Dassler Schuhfabrik after practising their craft in their mom's laundry room. The brothers weren't able to cooperate, however, and their rivalry led to them separating and creating two distinct footwear companies. Adidas facts show that Adolf founded Adidas in 1949 in a small town in Bavaria,  and the first Adidas shoe was registered that same year. 
Sources: