30 Incredible Ecommerce Statistics You Should Know About in 2021
Posted on |
In the old days, online shopping was almost a thing of extravagance and generally seen as quite risky. Well, those days are long gone. Shopping online has successfully caught up with in-store shopping, and it's currently one of the most competitive markets in the world. 
We gathered the most recent and relevant ecommerce statistics to get you in the loop with the latest trends and predictions for the future development of the market. Keep reading to get the scoop!
Ecommerce Stats Highlights—Editor's Choice
The growth rate of the global ecommerce market was 27.6% in 2020.

Most ecommerce sales happen over mobile devices.

The global ecommerce website traffic grew by 32% in 2020. 

In the UK, ecommerce sales made up 36.3% of total retail sales in January 2021.

87% of internet users in the UK made an online purchase in 2020.

In the last ten years, the UK's ecommerce market has grown by 324%.

Mobile ecommerce makes up 72.9% of total ecommerce sales in 2021.

97% of shoppers will abandon their shopping cart on mobile devices.
Interesting Ecommerce Statistics You Need to Know
Before we dig further into recent facts and trends regarding the ecommerce market in the UK and insights into shoppers' behaviour, let's cover the basics. These stats will give you an idea of how large the market currently is and what we can expect soon: 
1. The latest ecommerce growth trends report that the growth rate of the global ecommerce market was 27.6% in 2020. 
(eMarketer)
In 2019, the annual ecommerce market growth rate was 20.2%. According to ecommerce statistics from mid-2020, it was predicted to decrease to 16.5%. The economic slow-down due to the pandemic affected retail sales all over the world and the ecommerce market was expected to follow. However, the market experienced head-spinning growth and exceeded all expectations. 
Even though ecommerce statistics over time predicted the market to grow by 22% by the end of 2023, ecommerce had surpassed this number by the end of 2020.
2. Based on ecommerce statistics for 2021, global ecommerce is projected to decrease to 14.3% this year. 
(eMarketer)
The prediction is based on two factors. The first is the expected comeback of brick-and-mortar commerce and the second is the fact that the industry had already expanded so much in 2020. In the context of the previous year, even a 14.3% ecommerce growth rate is significant. 
3. The global ecommerce website traffic grew by 32% in 2020. 
(Statista, SimilarWeb)
Ecommerce statistics from 2020 show how Covid changed online shopping forever within just several months. At the beginning of the year, before the pandemic officially spread throughout the world, retail websites had only 16.07 billion visits. In June 2020, retail websites attracted almost 22 billion global visits.
4. Mobile ecommerce makes up 72.9% of total ecommerce sales in 2021.
(Statista, BuildFire)
Mobile ecommerce trends are currently the 'hot potato' in the ecommerce market. Their share in total ecommerce sales continues to increase. Still, large companies all over the world are investing in and looking for the best digital technologies to attract their shoppers. It turns out that apps have a significantly higher conversion rate—157% higher than websites. 
5. 65% of organizations rate the new digital approach to B2B sales as the same or better than what they had before the pandemic.
(Shift4Shop, McKinsey)
Most recent B2B ecommerce trends show that the industry is shifting to the digital sphere to the satisfaction of clients and businesses. Reports show that businesses have increased their average time of making a purchasing decision, which means they want to browse their options as much as possible. In fact, according to B2B ecommerce statistics, 93% of shoppers prefer to make an online purchase.
6. According to global ecommerce statistics, Amazon is the world's largest online retailer and will stay on top for a while.
(Statista)
Well, no surprises here! What started as a modest online book shop is now the ecommerce beast. Amazon's market share has been growing annually in the last 10+ years, and the company takes the throne in ecommerce. It's followed by Chinese companies JD.com and Alibaba. 
7. On average, 41% of Amazon shoppers in the US receive 1–2 packages in a week.
(Walker Sands)
The US ecommerce statistics show that Amazon shoppers are quite frequent with their orders. Apparently, 41% of shoppers will have up to two packages per week. Amazon's work on cutting shipping time and costs did wonders for both shoppers and the company. 
8. The Asia-Pacific region makes up 62.6% of total worldwide ecommerce sales. 
(eMarketer)
One of the ecommerce facts that remain the staple of the industry is that the Asia-Pacific region is unbeatable when it comes to its ecommerce market share. According to 2020 statistics, the region took up 62.6% of the entire market.
North America and Western Europe closely follow the Asia-Pacific region.
9. The total US ecommerce market size reached £566.2 billion ($787.9 billion).
(US Census Bureau, Digital Commerce 360)
The US ecommerce market value in 2020 grew by 44.0%, compared to 2019 and the total amount of £427.5 billion. Ecommerce market size in the US is on a constant upward trend, and it's actually considered to be in its early stages. 
10. According to the US sales retail statistics, ecommerce makes up 21.3% of total retail sales.
(Digital Commerce 360)
Out of all retail sales, the share of ecommerce is 21.3%, up from 16% in 2019. Many shoppers from all age groups still prefer old-fashioned purchase at the store. The majority of the current online shoppers are no longer just millennials, as experts note that trends in ecommerce dramatically changed to include not only Gen Z but also Baby Boomer and senior shoppers.
11. In the EU online shopping demographics, most shoppers belong to the age groups 16–24 and 25–74.
(Eurostat)
Overall, the share of e-shoppers among internet users is growing, with the highest proportions found in the age groups 16–24 (78%) and 25–54 (76%). 
This is not surprising considering that the frequency of internet use decreases with age. Still, when it comes to shopping online vs in-store statistics, it's interesting that online shoppers in the 54+ age group are more likely to shop online only. 
Ecommerce Trends in the UK
Among other countries in the world with active ecommerce markets, the UK's market is the third one regarding market value. Let's check some of the UK ecommerce statistics and see how the market compares to others in the world. 
12. In the UK, retail ecommerce sales made up 36.3% of total retail sales in January 2021.
(Office for National Statistics, eMarketer, Statista)
According to ecommerce statistics in 2020, the UK ecommerce share of total retail sales passed the 30% mark in April 2020. The share dipped again slightly until November when the trend of growth continued to reach 36.3% in 2021.
This is a significant growth compared to 2019 when ecommerce retail sales made 21.8% of total retail sales. 
Concerning online shopping vs in-store shopping statistics, the UK market leads the way, compared to the US market where only 21.3% of retail sales came from ecommerce in 2020. 
13. 87% of internet users in the UK made an online purchase in 2020.
(Statista) 
Since the UK is the third-largest ecommerce market, it is leading the way in Europe. The UK has 87% internet users who shop online—more than any other European country. 
Based on current international ecommerce statistics, Denmark is following with 84%, while Bulgaria has the lowest rate of online shoppers in Europe—only 22% of shoppers will shop online. 
14. In the last ten years, the UK ecommerce market has grown by 324%.
(Retail Economics) 
When looking at online shopping statistics by year, it's difficult to neglect the incredible growth of the UK ecommerce market. In the last ten years, it's grown by a stunning 324%. 
It's safe to say that the country is leading in current ecommerce industry trends in Europe. 
15. Retail ecommerce sales in the UK will slightly decrease in 2021.
(eMarketer)
However, the economic ripples from the Covid-19 pandemic will be felt in 2021. Based on current ecommerce trends, the ecommerce share in retail sales will fall from 27.5% to 26.9% in 2021. 
16. In 2020, the UK ecommerce market share was worth £174.5 billion.
(Ecommerce News, Office for National Statistics)
Since 2018, the UK's ecommerce market has grown by 11%. This is the smallest growth since 2016 when the growth of only 4.47% was achieved. In 2019, the market finally surpassed the long-awaited total of £150 billion. 
However, ecommerce growth statistics showed that in January 2021, all online retailing in the UK grew by a fascinating 72.7% year on year, with online textile and fashion sales growing 48.9%.
17. By 2023, UK online retail shopping will experience a growth rate of 34.5%.
(Statista)
E-commerce statistics worldwide forecast positive growth in online retail sales in the UK market. According to Statista's forecast, ecommerce sales will increase by 34.5%, which is a slight decrease compared to the growth of more than 50% between 2013–2018.
18. Before the pandemic, the largest ecommerce markets in the UK were travel and accommodation.
(Internet Retailing, Statista)
Perhaps surprisingly, ecommerce industry statistics show that shoppers in the UK mostly shopped online for travel and accommodation. In 2019, they spent £42.4 billion on services and products in this category. 
However, in 2020, fashion took over as the largest ecommerce market in the UK. Even though the pandemic took a toll on the industry, fashion industry statistics for 2021 look more promising.
19. 63% of mobile shoppers in the UK use apps for purchasing.
(Internet Retailing)
We've mentioned how important apps are in ecommerce retail, but the UK's affinity for digital tools seem to be paying off. According to the UK's online shopping statistics, 63% of mobile shoppers will use apps. In general, 54% of online shoppers will use a laptop (or a desktop computer), and 38% of them will use a mobile device like a smartphone or a tablet. 
20. In the UK, only 3.5% of shoppers who browse products on mobile devices make a purchase.
(Statista)
Trends in the ecommerce industry show that converting a lurker into a shopper is quite tricky. About 3.5% of e-commerce website visits were converted into purchases in the UK. Although this number seems small, it's a bit higher than the worldwide average of 3%.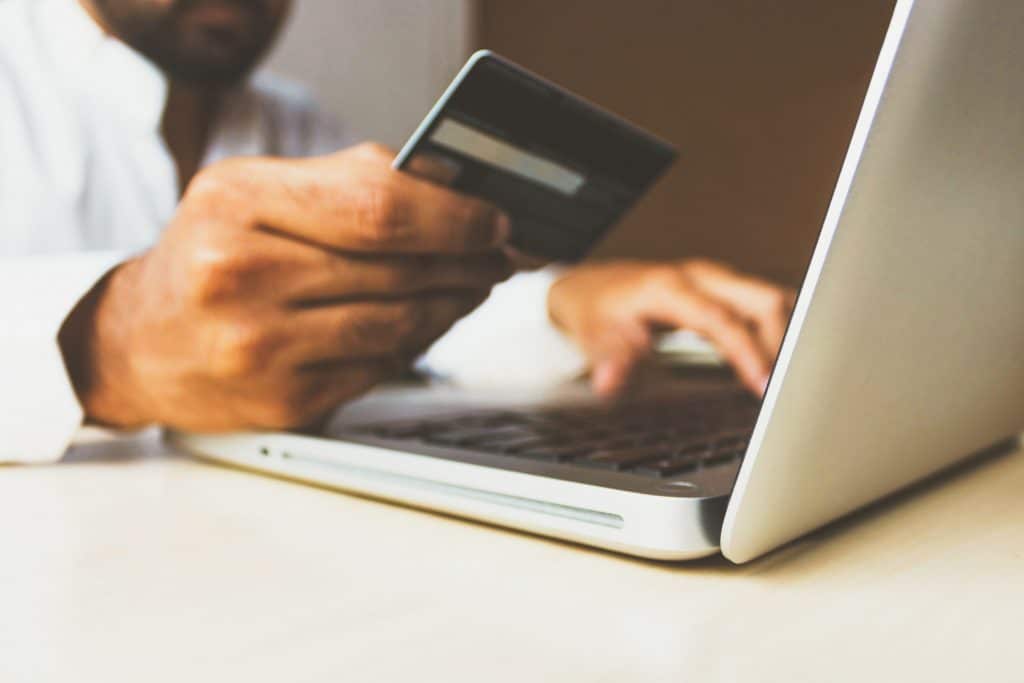 Current Ecommerce Trends in Shoppers' Behaviour
Sometimes, shoppers can be completely unpredictable, and it can take a while to develop strategies and technologies specially curated for their needs. That's why companies need to observe patterns in shoppers' behaviour and satisfaction. Based on online sales data, it's possible to cater to shoppers' needs in a much more effective way. Let's check some of them! 
21. 70% of shoppers say their return process was easy.
(Narvar)
Ecommerce industry has been fighting hard to secure the easiest possible way of returning products. Unlike physical stores, a lot more is at risk with online shopping. This is why customers expect neat and easy return policies. 
In the US alone, 63% of shoppers said they wouldn't even think of making a purchase without the return policy clearly stated on the retailer's website. 
22. 97% of shoppers will abandon their shopping cart on mobile devices.
(BuildFire)
According to global ecommerce statistics in 2020, converting users into shoppers is a pretty difficult task if they're browsing a website on their mobile devices. Only 3% of those will actually finish their shopping. 
The main task of every retailer is to attract as many users to their apps as possible. Remember that next time when you visit an online shop and an advertisement for the company's app pops up! 
23. 79% of consumers say they would shop online more if shipping was free.
(Walker Sands) 
Shipping is one of the most usual demotivators when it comes to online shopping. More and more users decide not to finish their order if they estimate that the shipping fee is too high. According to one recent ecommerce industry analysis, a majority of consumers would surely shop more if shipping was free. 
24. 54% of consumers are primarily motivated by same-day shipping.
(Walker Sands)
Same-day shipping continues to be the number one motivator for online shoppers. A Waiting time is yet another disadvantage compared to in-store shopping that retailers try to minimise. Retail shopping statistics show us that time is essential in online retail—the shorter the waiting time for the product to arrive, the higher the chances that a customer will continue shopping from the same company. 
25. In the US, major trends in ecommerce concern food and beverages, and health and beauty products.
(eMarketer) 
The fastest-growing ecommerce categories of the US market are food and beverages, and health, personal care and beauty. In 2020, sales in the food and beverage category were projected to go up from 23.4% to 58.5%, while sales of health, personal care, and beauty products were projected to rise from 16.6% to 32.4%.
26. 74% of marketers say personalisation of online shopping has a substantial impact on sales.
(Salesforce)
New ecommerce trends highlight the importance of personalisation; customers want to be appreciated by a company. If they feel the communication with the retailer is impersonal, they will probably stop shopping from it. For example, more and more companies are contacting customers directly, with special email offers and discounts catered to their taste.
Predictions of the Future Based on Current Ecommerce Data
Trends in ecommerce follow the pace of digital technologies development and try to make the best use of them. The latest revolution in ecommerce happened with smartphones and the new one is on the way thanks to AI and augmented reality technologies. Let's check the most crucial ecommerce statistics regarding predictions for the future.
27. By the end of 2021, 75% of all ecommerce sales will take place via mobile devices.
(Oberlo)
According to mobile shopping statistics, ecommerce sales made via mobile devices have grown by 15% since 2016. Industry experts predict that, by the end of 2021, 75% of all sales will be mobile-based. Many believe that this is not the ideal growth rate, and the industry will need to put an effort and increase these numbers even more.
28. By 2022, 55% of ecommerce sales in the US will take place via voice control.
(Oberlo)
Smart speakers and voice shopping are becoming more and more popular. Currently, 13% of shoppers in the US say they make purchases this way. What troubles many regarding voice shopping is that it is a highly impersonal and non-visual process.
Recent ecommerce sales trends show that voice shopping is usually used for purchasing products shoppers already use, and not for browsing new products or different companies.
29. By 2023, investments in AR shopping will grow by 47.1%.
(PR Newswire)
Augmented reality (AR) is one of the biggest retail ecommerce trends, primarily since the world's largest companies invest in its development. For many, AR will change the way we shop. Its technology has the potential to minimise all the disadvantages of out-of-store shopping by giving a shopper a chance to visually inspect a product and have the feeling of being in a virtual shopping store. 
30. By 2025, the revenue made by AI shopping will grow by 42.8%.
(Business Wire) 
Artificial intelligence is already making a massive impact on ecommerce with personalised suggestions, chatbots and virtual shopping assistants. Its importance will continue, as industry experts predict that almost half of the revenue in ecommerce will be made thanks to AI. 
With digital technologies replacing many old behaviours and catering to our everyday needs, global ecommerce trends will continue to develop. As the population changes regarding age groups, ecommerce will no longer be an exemption but rather a rule, especially with Generation Z gaining economic power. What is the biggest challenge for companies in the industry? It's beating the incredibly big competition!
What is ecommerce, and what are its advantages?
Ecommerce (electronic commerce) is the term that denotes purchasing and selling goods or services online. The process includes transactions of money and data with both parties involved. Ecommerce market started to evolve in the middle 1990s and, since then, has continued to grow at a quick pace, according to all the major ecommerce growth stats. 
Some of the common advantages of ecommerce include low operational costs, the ability to offer services and goods 24/7, and the potential of reaching customers without limitations set by geographical location.
How big is the ecommerce industry?
The ecommerce industry is expected to reach $4.92 trillion in sales by the end of 2021. According to estimates, the size of the global ecommerce market will reach $5.69 trillion in 2022.
What percent of sales is ecommerce?
In the UK, the ecommerce share of total retail sales has exceeded all expectations. In January 2021, 36.3% of all retail sales were done online. Since April 2020, the percentage was consistently above 25%, and even above 30% throughout the better part of the year.
How much does the average ecommerce store make?
An average ecommerce store makes about £36,100 per year. Still, the annual profit of an online store depends on many factors. The competition among online stores has never been this high, so stores need to work extra hard to attract customers. 
Ecommerce statistics point at the fact that only 2 out of 100 visitors will make a purchase in a store. Before reaching stability and regular income, online stores often need up to 36 months to become fully operational and successful. 
What skills do you need for ecommerce?
There's no specific school or course where you can gain the skills and education you need for succeeding in ecommerce. In fact, the most valuable skill you need is resourcefulness. 
According to experienced retailers, these skills are the most essential for catching up with the latest ecommerce trends: marketing (especially digital), SEO, knowledge of HTML and other languages, general business development and project marketing. 
How do I get into ecommerce?
Many people wonder if getting into ecommerce is still profitable. Short answer—yes it is! Long answer? Yes, but it takes time and effort. Even though you can set up your online store in less than 15 minutes, there are some necessary steps to do first. Researching the current state of the market is the number one step, followed by exploring the niche you would like to establish. 
This will give you an idea of a direction wherein you need to go before learning how to register your business and reach out to customers. Don't feel discouraged! Hopefully, our selection of ecommerce statistics will give you a boost and a good idea of your next step. 
Sources: