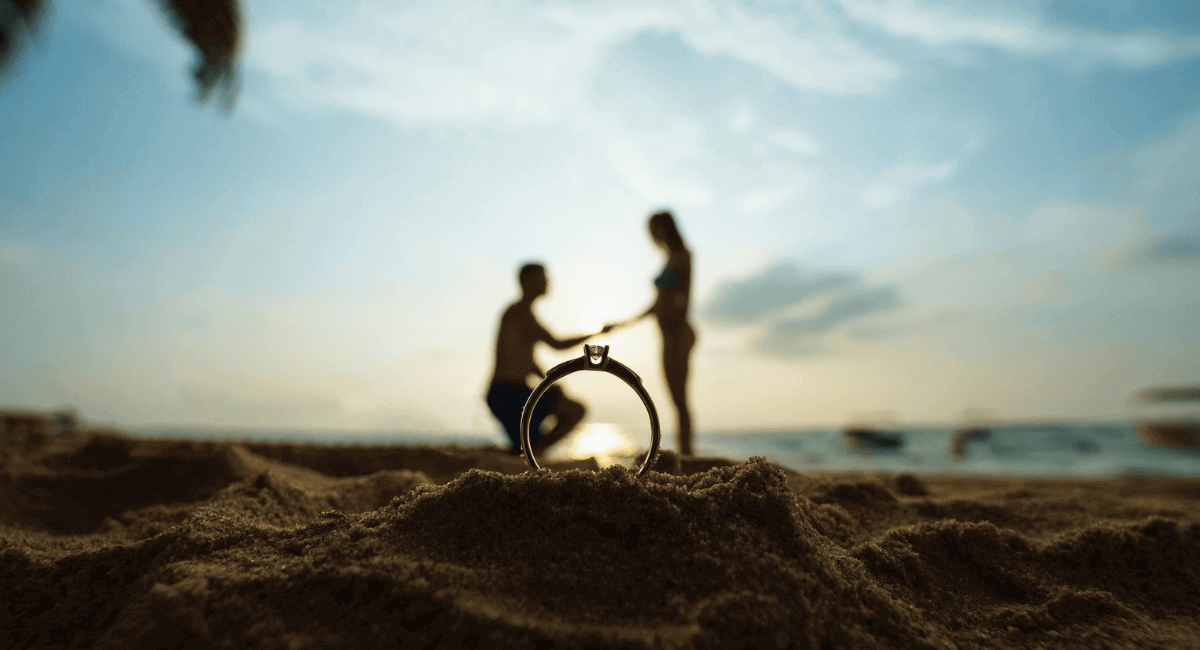 35 Gorgeous Engagement Ring Styles and Setting Types
Posted on |
Love is the most amazing feeling in the world. And what better way to cherish it than by proposing to your soulmate with the perfect engagement ring? We composed this guide to some of the most popular engagement ring styles to make finding the right ring a bit easier.
Read on to find the perfect ring for your loved one!
Types of Engagement Rings
Best Engagement Ring Styles That Are Trending
Every year brings different engagement rings to the front stage. Here are the most popular styles and types of rings for this season.
1. Colourful Gemstones
Coloured gemstones are having a moment, allowing couples to express their love story uniquely and brightly. Morganite, emerald, and sapphire are some of the most popular choices for engagement rings in 2022.
2. Toi Et Moi
Rings from this engagement rings type feature two gemstones side-by-side, symbolising the union of two souls. It's a popular choice for couples looking for something unique and special. We've recently seen a significant surge in celebrity multi-stone engagement rings, and you can expect the design to stick around this year.
3. Gender-Neutral Rings
Rings that are not specifically designed for men or women, but can be worn by anyone, regardless of gender, are becoming increasingly popular. This type of ring is perfect for couples who want to break the mould and express their love in a non-traditional way. These simple, gender-fluid designs will continue to gain popularity in the current year.
4. Contoured Stacks
Stacked engagement rings, which are rings stacked on top of one another, have exploded in popularity. This free design allows any customer to be creative with shapes and combinations. Plus, a layered set can bring attention to an existing piece.
5. Big and Blingy
When it comes to engagement ring trends, bigger is better. Couples who are about to marry are looking for extravagant, over-the-top designs. Large, diamond-shaped stones and halo cuts are the way to go.
6. Black Stone
The reboot of Sex and the City made an impact even on engagement ring styles. When Big gifted Carrie the ring with a rare black diamond, suddenly every woman wanted the same piece.
Black-stone rings became incredibly popular in the first few months of the year, and we can expect their popularity to remain high for a while. This means that their price will also spike, but don't be discouraged. You can still surprise your special someone with this stone. Many stores, such as Jewel Hut, offer discount codes and have sales. Just keep an eye on the websites of jewellery stores to not miss the discount.
7. Oval Shape
The popularity of oval-shaped diamonds has skyrocketed in recent years, and the trend is only expected to grow. The oval's gentle, oblong form draws the eye to the hand and elongates the fingers. The stone can shine by itself or be enhanced with additional stones or a beautifully designed band.
Classic Engagement Ring Styles
8. Solitaire
A solitaire ring is the most classic one among all types of engagement rings, and it features a single stone, usually a diamond, set on a simple band. The simplicity of this design makes it perfect for any woman who loves understated elegance.
9. Halo
A halo ring is similar to solitaire, but with one key difference—it has a 'halo' of smaller diamonds around the centre stone. This design is ideal for women who want a little bit of extra sparkle.
10. Princess Cut
Princess cut engagement ring styles are one of the most popular cuts for engagement rings. The princess-cut diamond is square on top, has four bevelled sides, and lies below the gleaming surface of the ring, like an upside-down pyramid. If you want your classic design with maximum sparkle, this is the ring shape to choose.
11. Three-Stone
A three-stone ring features three stones, typically of different sizes. The rocks can be different colours or sizes, or they can all be the same. This ring style is perfect for couples who want to symbolise their past, present, and future together.
12. Cluster
The stones of cluster rings are all the same size and are clustered together to create a more prominent look. This design is perfect for women who want a statement engagement ring without a hefty price tag.
13. Bezel
This type stands out among different engagement ring styles. A bezel ring has a metal band that goes around the edge of the stone, holding it in place. This design is effortless and elegant, and it can be more sparkly with the addition of small diamonds on the metal band.
14. Coloured Stone
A coloured stone ring features a gemstone other than a diamond as the centrepiece. This can be any type of stone, from a sapphire to an emerald. Coloured stone engagement rings are perfect for couples who want something unique and different.
15. Bombe
A bombe ring has a raised dome decorated with gems, where the centre stone is larger than the side ones. This design is perfect for women who want a statement piece that will turn heads.
Vintage Engagement Ring Styles
16. Victorian
Victorian engagement rings are inspired by the second half of the 19th century. They're characterised by ornate designs and intricate details, and often feature a centre stone surrounded by smaller diamonds or other gemstones. Trendy designs of Victorian rings are flower-shaped clusters and three-stone or five-stone settings.
17. Edwardian
This was one of the most popular engagement ring styles at the beginning of the 20th century. The Edwardian era now inspires modern, decorative, and bold designs. The focus of these rings is on the centre stone, which is often a diamond. To accentuate the diamond, ruby and blue sapphire stones are often added, while embellished metals with curls and beading are used for the ring band.
18. Art Deco
Art deco engagement rings are characterised by their geometric shapes and clean lines. These rings are often made with platinum or white gold and feature a single stone set in a simple, elegant setting surrounded by fanned motifs or geometrical shapes.
19. Mid-Century
The mid-century engagement ring style is similar to art deco, but with a more organic feel. These rings often feature a centre stone surrounded by smaller diamonds or other gemstones set in a simple, elegant setting.
20. Art Nouveau
Next to Art Deco, Art Nouveau jewellery is the most stylised and identifiable vintage jewellery style. Art Nouveau was a celebration of the creative arts from 1890 to 1900. Its jewellery often looks hand-scripted, with swirls, pastel colours, and influences from flowers, birds, and butterflies. Choose something delicate with petal-shaped side stones, swirling adornment, and beading for an Art Nouveau-inspired engagement ring.
21. Baroque
Beautiful baroque-inspired pieces are gold-heavy and feature uneven stones and ornate detailing. An excellent choice for an engagement ring would be something with an old-world feel, like a large centre stone with smaller stones pavé-set around it.
22. Acrostic
An acrostic engagement ring is the most romantic of them all. They tend to be more like eternity rings in style, with a band and stones set into the band, but the chosen stones spell out a word. A is for amethyst, D is for diamond, and so on. So, by arranging different stones on the band, you can spell out a word, such as 'dearest', or a cute nickname you have for each other, and engrave a message into the ring in a very creative way.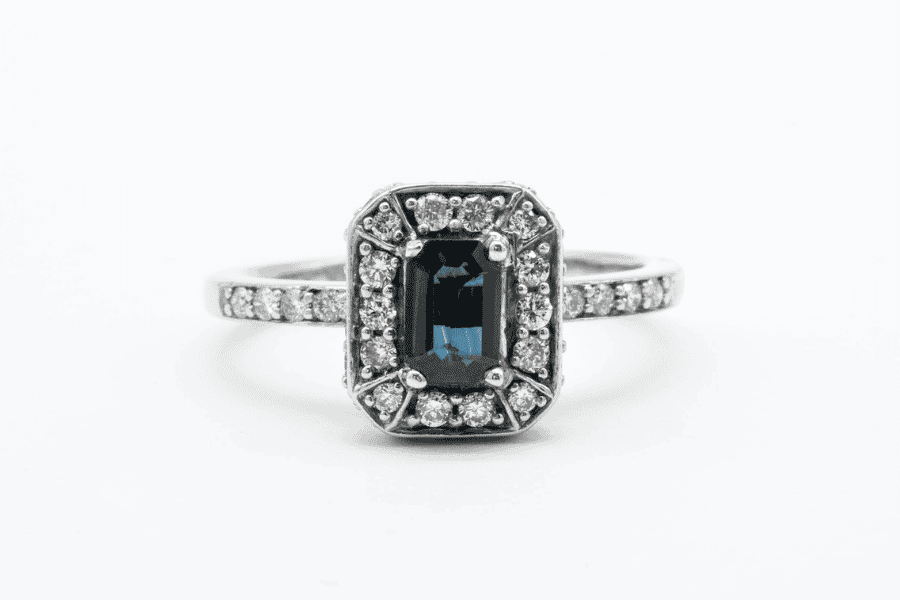 Modern Engagement Rings Styles
23. Minimalistic
A minimalistic ring has a simple design with clean lines. These rings are often made with platinum or white gold and feature a single stone set in a simple, elegant setting.
24. Geometric
Geometric engagement rings are characterised by unique shapes and clean lines. These rings often feature triangle settings, angular bands, and unusual geometric-cut diamonds or other gemstones.
25. Confetti
When it comes to an engagement ring, the right aesthetic is everything. Confetti engagement rings are perfect for couples who want something fun and different. These rings feature a variety of small, colourful gemstones set into the band, and sometimes have a molten look.
26. Suspended Stone
If you want to show off a spectacular stone, go with this style. Suspended stone engagement rings are a unique and modern take on the classic solitaire ring. These rings feature a centre stone suspended by a metal band, giving the illusion that it's floating.
27. Etched
All jewellery, from engagement rings to modern pieces, can have etching. On rings, etched design means that the band is decorated with geometric shapes or lines. So, if your partner wants an alternative style engagement ring, this is the way to go.
28. Cosmos-Inspired
This style is inspired by the night sky and features a variety of small diamonds or other gemstones set into the band in a unique way that resembles the stars. The ring can also feature other cosmic elements, such as the moon, a falling star, or similar. This is a very romantic style perfect for reminding your loved one of any special moments you had under the night sky.
29. Prong Setting
This is the most common type of engagement ring setting. It has slim metal arms that cradle the diamond at the girdle. The prongs are carefully tapered and angled against the diamond's bezel facets. This setting lifts the stone high above the band, letting light reflect off the diamond from all angles for maximum brilliance and sparkle.
30. Bead Setting
Small round pieces of metal are lifted from the surface and used as prongs to hold each stone in a beaded setting. The band is often decorated with accent stones, and the metal beads reflect light, emitting an extraordinary sparkle when worn.
31. Pavé Setting
Pavé, derived from the French word for 'pavement', is a type of bead setting where adjacent gemstones share a bead. The surface of the band is with diamonds set closely together. This setting is a charming choice for someone seeking a little more bling.
32. Channel Setting
The band is formed by two parallel metal bars, with diamonds set between them. The spacing between channel-set stones shouldn't be wider than a sheet of paper. The channel setting is durable and stylish, praised for its seamless flow of light.
33. Tension Setting
This is a unique mechanism among various diamond setting types. A tension setting uses two opposing pressure directions to keep a stone in place. This makes the stone appear suspended and creates the illusion of a diamond floating in midair.
34. Cathedral Setting
The ring's shank resembles the tall, graceful arches of a cathedral while elevating the centre stone above the band. The cathedral engagement ring setting is ideal for those who prefer a more traditional design with a luxurious touch.
35. Burnish Setting
For this setting, stones are placed in hollows in the band, and secured by burnishing or pressing the metal over each gem's girdle, making one of a kind engagement ring band styles. Each stone is protected from damage when it's set at or below the metal's surface in this way.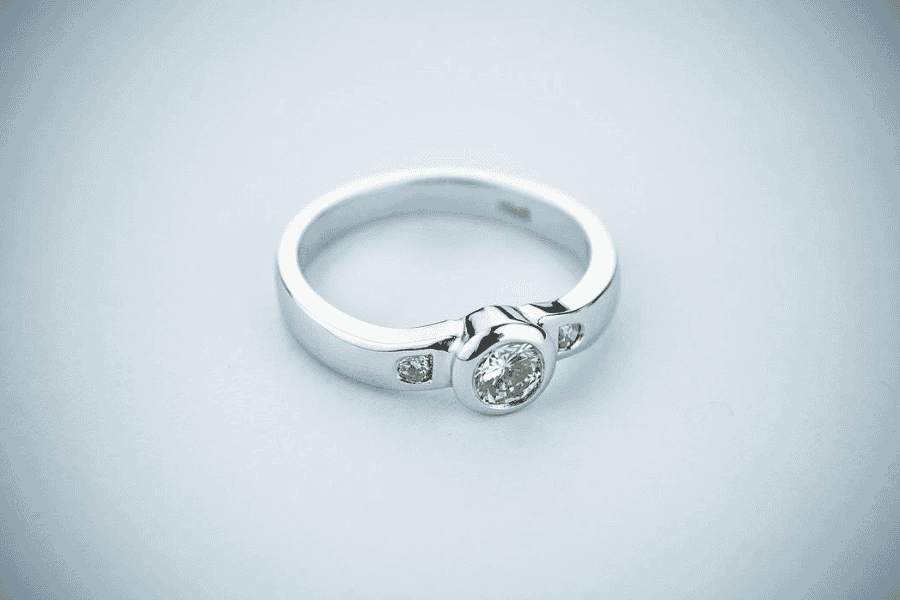 Now that you know more about how to choose an engagement ring, it's time to find the perfect one for your partner. There are so many unique and beautiful rings out there, and you're sure to find the one that will make them happy.
Just keep in mind that the most important thing is to choose a ring that your partner will love and cherish forever.
So what are you waiting for? Go get that perfect ring, and prepare for the most exciting and amazing chapter of your life!
Engagement Ring Styles FAQ
What is the most popular style of engagement ring?
One of the most popular engagement ring styles is the solitaire ring. This type of ring features a single stone suspended by a metal band. The solitaire ring is a classic style that has been around for many years, and it's a popular choice for those who want a simple and elegant ring.
What style should an engagement ring be?
It's not easy to find a perfect ring for your loved one with so many of them on offer. However, the style of an engagement ring should be chosen based on the person's personality and style. If you're unsure what type to choose, you can always consult with a professional jeweller, and they'll help you find the perfect ring for your loved one.
What are the 4 C's of engagement rings?
The 4 C's of engagement rings stand for Carat, Cut, Clarity, and Colour. Carat is a unit of measurement that refers to the weight of a diamond. Cut refers to how a diamond has been cut and includes the height, depth, angles, and other factors. Clarity measures how many blemishes or inclusions are present in a diamond, and the colour is a measure of the diamond's hue.
These factors are important to consider when choosing between different engagement ring styles.