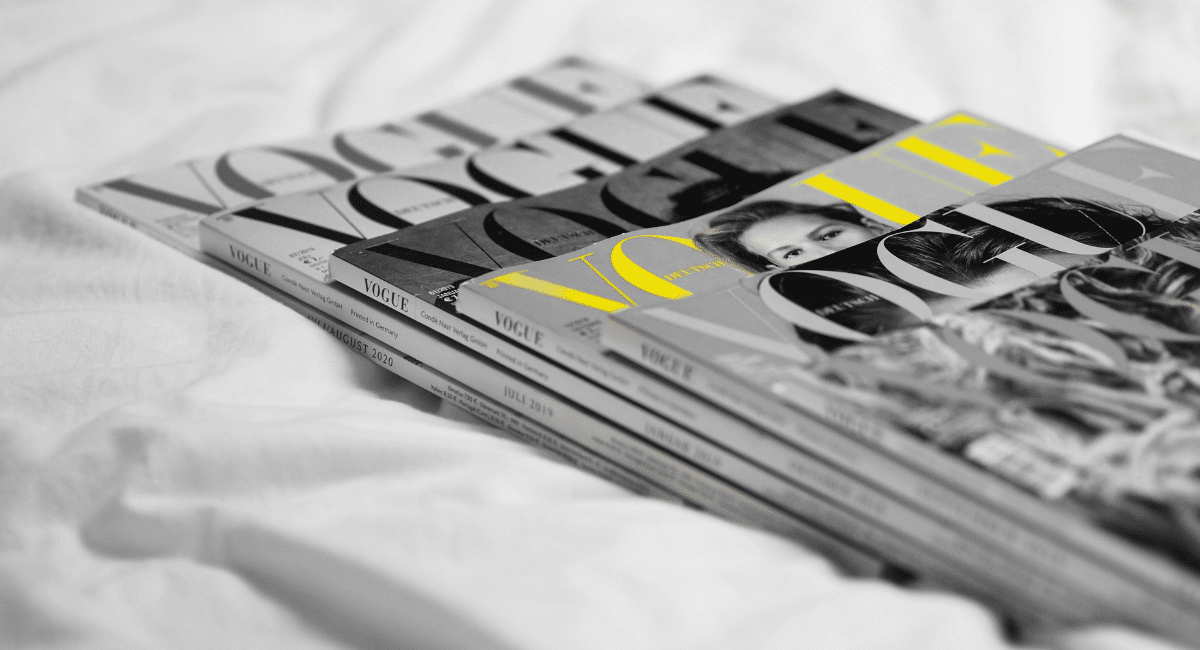 22 Fashion Magazine Statistics Every Fashion Lover Should Know
Posted on |
Fashion magazines are a crucial part of the fashion industry, creating and distributing information about upcoming styles, trends, and designers. Despite the ongoing shift from print magazines to digital copies, fashion magazine statistics show that women worldwide are still loyal readers.
Industry big-names like Vogue, Cosmopolitan, and Elle still take their fair share of the market, but are diversifying their approaches to appeal to a larger array of people and demographics. This willingness to adapt to changing technological and social trends is the reason that we can still safely say, "long live the fashion mag!"
Top Fashion Magazine Statistics (Editor's Picks):
In 2019, women's lifestyle and fashion magazines earned 21.2 million in print sales in the UK.
With an IPX score of 113, Vogue Italy is the most influential fashion magazine in the world.
52.9% of fashion magazine covers featured people of colour in 2021.
Over 4.3 million UK adults read Cosmopolitan.
3.4 million women in the UK buy Cosmopolitan.
The print version of Vogue has 22.5 million buyers worldwide.
Nearly 2 million women from Great Britain are Vogue readers.
Almost 1.2 million women in Britain read Elle magazine.
General Fashion Magazine Stats
Some may have speculated that moving to digital reading would kill the fashion magazine industry, but popular publications are adapting with finesse, and if we may say so, style. Not only are women's lifestyle and fashion magazines bringing in millions of pounds annually in the UK, but they're also becoming more conscientious, putting women of different ages, races, and sizes on the cover page.
1. In 2019, women's lifestyle and fashion magazines earned £21.2 million in print sales in the UK.
(Statista)
By looking at fashion magazines statistics in the last few years, fewer and fewer people buy the print versions of publications. In 2018, print sales reached £50 million, compared to ten years ago, the revenue was over £100 million.
2. With an IPX score of 113, Vogue Italy is the most influential fashion magazine in the world.
(Statista)
The IPX score measures the exact influence a publication has on the fashion magazine audience. According to the latest data, various editions of Vogue have the most considerable influence worldwide. Vogue Paris comes right after Vogue Italy with a score of 80.7, while Vogue UK scored a 66.8.
3. 52.9% of fashion magazine covers featured people of colour in 2021.
(The Fashion Spot)
Experts who examined major fashion magazines claim that 2020 was a wake-up call for many fashion magazines as the industry worked harder to ensure diversity on their covers. In 2021, the change wasn't as quick, however, last year was still the most diverse year ever. Vogue India, Vogue Taiwan, and Dazed appealed the most to diverse fashion magazine demographics by featuring 100% or close to 100% models of colour on their covers.
4. Women over 50 graced 6.86% of fashion magazine covers in 2021.
(The Fashion Spot)
The number of publications that were age-inclusive has decreased compared to 2020. That year, Vogue Italy was partially responsible for the big spike in diverse fashion magazine covers, statistics show, as the paper featured one hundred different covers for the September issue. Still, 6.86% is still a significant increase compared to most previous years.
5. Condé Nast's subscriptions increased by 85% at the beginning of the pandemic.
(The New York Times)
The pandemic influenced the consumer behaviour of fashion magazine subscribers. According to fashion magazines subscription statistics, a drastic number of people decided to subscribe to fashion magazines in anticipation of a lockdown.
Condé Nast is the publisher of Vanity Fair, GQ, and Vogue. The company reported that the number of American subscriptions for their magazines marked an unexpected increase in March. Furthermore, the fashion magazines digital circulation data show that online readership in most markets grew by 35% during that time.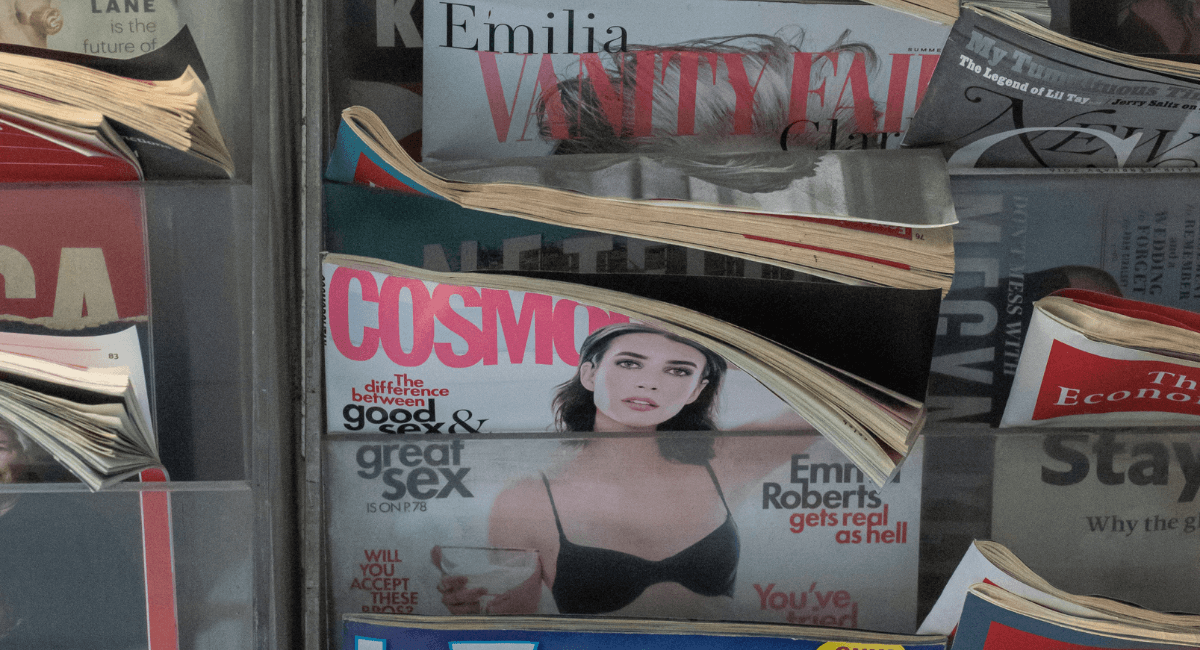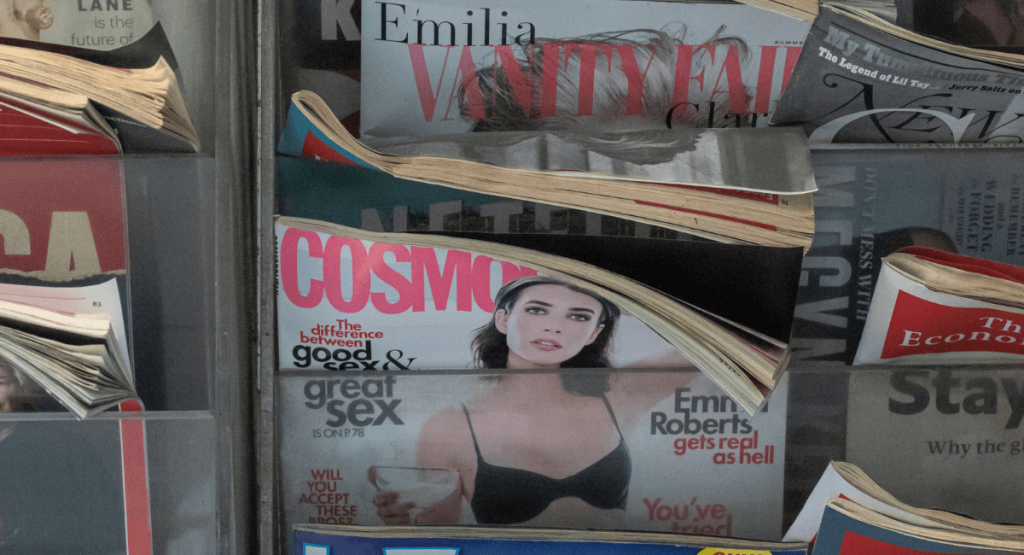 Interesting Facts About Cosmopolitan
Cosmopolitan is a famous fashion magazine that was first published in New York, and over time, started selling worldwide. As for the top fashion magazines in the UK, Cosmo also ranks highly. With 64 international editions, Cosmopolitan can be found in 35 different languages and is sold in 110 countries.
6. Over 4.3 million UK adults read Cosmopolitan.
(Statista)
According to research on fashion magazine statistics, millions of British people over the age of 15 read Cosmo regularly. Around 2 million of them are older than 35, making the magazine popular with a more mature audience. Evidently, nearly 1.7 million households with children frequently buy Cosmopolitan.
7. 13% of Brits read Cosmo in the last three months.
(Statista)
A survey on fashion magazine statistics for the UK showed that Cosmo is one of the most popular magazines in the UK. Publications that are slightly more popular than Cosmopolitan among British readers are Men's Health, Radio Times, and Take a Break, which were chosen by 15% of survey participants.
8. Cosmopolitan reaches 1 in 4 UK Millennials.
(Hearst, WJEC)
Millions of Millennials in the UK regularly read Cosmo. Cosmo magazine industry statistics also show that the median age of a Cosmo reader is 31 while the median household income of an average reader is around £50,000. Women between 18 and 34 years old represent the magazine's primary target audience.
9. Nearly 3.3 million Brits reached for an online or print version of Cosmopolitan in March 2020.
(Statista)
As a best selling fashion magazine, Cosmopolitan has maintained a consistent readership throughout the years. During the pandemic, however, not as many reached for Cosmo compared to previous years.
For instance, the January to December issue for 2019 was read by 4.2 million people in the UK, and fashion magazine industry statistics show 4.1 million Brits read Cosmo during the same months in 2018, whether online or in print form.
10. On average, readers spend 75 minutes reading Cosmo.
(WJEC, Statista)
Cosmo's typical content includes women's issues, fashion, beauty, health, relationships, and celebrities, and it used to be a pastime to sit down and read the mag cover to cover. Digital readers are a different breed, however, with the average respondent spending just 14 minutes reading magazines every day.
11. 3.4 million women in the UK buy Cosmopolitan.
(Statista)
Cosmopolitan is more popular with women than men. Despite the target audience for this lifestyle mag being women from 18-34, almost one million males in Britain love reading Cosmo, making it among the popular British magazines that appeals to a male audience as well.
12. Almost 2.8 million women in the UK enjoy reading Cosmo on their phones.
(Statista)
The majority of women in Great Britain prefer accessing the online version of Cosmo, and most of them do it via their mobile phones. About 255 thousand read Cosmopolitan on their desktop, while 144 thousand do it via tablet. Thus, it's expected that the online fashion magazine market will continue to grow, changing the style of many fashion magazines. Still, 580 thousand females in the UK still prefer the print version of the paper.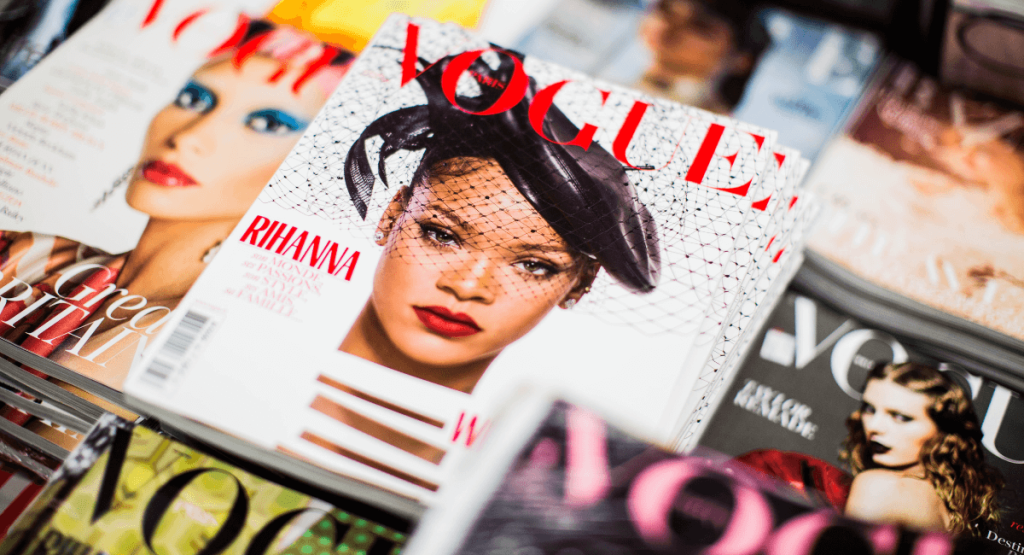 Crucial Stats About Vogue
Vogue is more of a worldwide phenomenon than a fashion magazine. Many of its covers have made history, and its editors have the power to influence global trends. The latest Vogue magazine facts show just how powerful this publication is across the UK and worldwide.
13. The print version of Vogue has 22.5 million buyers worldwide.
(Condé Nast)
It's safe to say that Vogue is the most popular fashion publication in the world. While its readers regularly buy the printed version, Vogue magazine statistics show that readers prefer the digital copy. According to the latest data, Vogue digital has 86.2 million unique users.
14. 6% of the total traffic to the vogue.com website comes from the UK.
(SimilarWeb)
People living in Great Britain tend to access Vogue via the UK domain suffix, making Americans the most frequent visitors of the vogue.com site accounting for 49% of total visits. Magazines statistics show almost 5% of them come from Canada, while 3.8% of visitors live in Australia.
15. 2.7 million UK adults read Vogue.
(Statista)
Vogue is among the highest selling publications in the United Kingdom and takes up the most significant percentage of the fashion magazine market size. Nearly 3 million Brits over the age of 15 read it. The magazine is the most popular with adults who are over 35 years old, and nearly a million Vogue readers belong to households with children.
16. Nearly 2 million women from Great Britain are Vogue readers.
(Statista)
As females from 20 to 40 years old are the primary Vogue target audience, it's expected that it offers more content for women. Still, that doesn't mean that men don't read it. Nearly 700 thousand males from the UK frequently reach for this renowned magazine.
17. 1.4 million British women read Vogue via their mobile phones.
(Statista)
While most women prefer the magazine's online version, Vogue is one of the rare media outlets with a pretty popular printed version. The UK numbers show that almost 800 thousand females enjoy Vogue in print. Still, digital fashion magazines statistics show that 257 thousand female readers also access Vogue via tablet, and 170 thousand via their desktop.
Interesting Stats About Elle
Founded in France in 1945, Elle is a highly successful fashion magazine. In the 1960s, it expanded beyond its French origins, and now it publishes 46 editions in more than 60 different countries. Elle is also adapting to the new digital stratosphere, making itself available across 33 websites.
18. The Elle website has over 15 million monthly visitors.
(Elle)
Fashion magazine stats tell us that 4.5 million people buy the printed version of Elle magazine, showing this magazine is much more prevalent in the digital form. Notably, the most frequent readers of Elle are in their early forties.
19. Around 1.5 million UK adults read Elle.
(Statista)
According to a survey by Statista, the majority of Elle UK readers are over 15 years old, making most fashion magazine advertising targeted towards adults. Out of the total number of readers, almost one million are over the age of 35, and nearly 700 thousand subscriptions belong to households with children.
20. Almost 1.2 million women in Britain read Elle magazine.
(Statista)
Just like most other fashion publications, Elle targets females in the 20 to 40 age group. As such, a large majority of the magazine's readers are women. Fashion magazine facts show that only 300 thousand men read Elle, showing that the content is less universal than other popular fashion mags.
21. 79% of people in the UK have heard of Elle.
(YouGov)
According to a survey by YouGov, nearly two-thirds of Brits know what Elle magazine is. These statistics about fashion magazines showed that 22% actually like reading it, while 17% reported that they dislike the magazine.
22. 87% of Gen X know what Elle magazine is.
(YouGov)
Of those aged between 40 and 60 that have heard of the magazine, 26% claim they enjoy Elle fashion journalism. Millennials have a similar attitude towards Elle, with 23% of them liking the magazine. Around 82% of baby boomers know what Elle magazine is, while 18% of them like it.
Final Thoughts on Fashion Magazine Statistics for 2022
The fashion magazine industry is so much more than just a niche readerbase. In the UK, millions of readers subscribe and follow popular publications such as Cosmopolitan, Vogue, and Elle. While these mags tend to focus on a female readership, statistics show that a significant portion of those who read Cosmo and Vogue are men.
Shifting from a completely paper-based medium to digital, fashion magazines are gaining viewers more than ever who like to read about the latest trends on their phones. Digital copies provide the opportunity to diversify in new ways, such as releasing multiple covers that can include a range of ages, races, sizes, and more.
What is a fashion magazine about?
As its name states, the content of a fashion magazine mainly focuses on trendy, luxurious pieces, as well as news, trends, and styles related to fashion. Fashion magazines were especially important before the age of the internet, as they connected everyday people to worldwide fashion visions. Today, many publications of this kind have expanded the content to other lifestyle topics. Still, most of them focus on style, designers, fashion shows, and celebrity events.
What is the most influential fashion magazine?
Vogue has been the most influential fashion magazine for a long time. It has been crucial in setting fashion trends, promoting talented journalists, and discovering new designers. One of the figures responsible for Vogue's lasting influence is the editor-in-chief of U.S. Vogue, Ana Wintour. It's no secret that fashion shows don't start until she arrives and that an upcoming designer she mentions will almost certainly become famous.
What is the biggest fashion magazine in the UK?
The UK fashion magazine market is pretty diverse, and most of the popular publications have a similar market share. Some of the famous fashion magazines are British Vogue, which is read by millions of Brits. Elle and Cosmopolitan are other well-known publications popular among women in their twenties, thirties, and forties. Some more local reads are Grazia, Harper's Bazaar, and Glamour.
How many people read Vogue monthly?
According to Vogue's publisher Condé Nast, this fashion magazine has a growing number of readers. According to the latest data available, Vogue has 86.2 million unique users who accessed the publication's digital version. It has 22.5 million monthly readers and 167.5 million followers on social media platforms, 35 million of which are on Instagram. Vogue is immensely popular and we've got the fashion magazine statistics to prove it.
Sources: