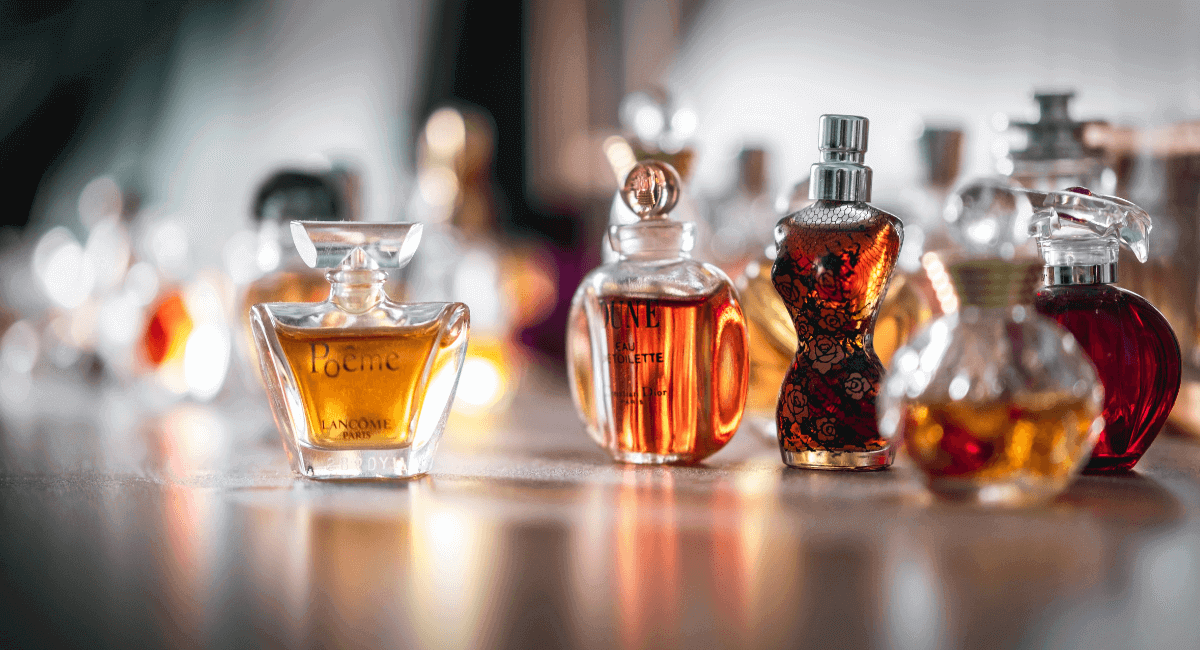 10 French Perfume Brands: Tradition and Luxury in a Bottle
Posted on |
France is famous for its fragrance industry, and French perfume brands are world-renowned for their quality and a popular choice for a lot of fragrance lovers. With so many labels out there, it's hard to know where to start exploring.
That's why we've brought you a list of the top luxury perfume labels from France to try out, alongside the most notable niche perfumes to help you bring some underrated but unique scents into your every day!
Must-Try French Fragrances
World-Famous French Perfume Names
1. Chanel
Chanel was already a popular brand in France when Coco Chanel introduced perfumes to the label's offer. From the very first product, it was obvious that Chanel would become a leading perfume brand worldwide. The first perfume the brand came out with was Chanel N°5, which remains one of the most famous fragrances today.
Chanel N°5 was the fifth proposal developed by the perfumer Ernest Beaux, and that's how this product got its name. After its release, Chanel became famous for its gentle, flowery French scents characterised by lilac, rose, and jasmine aromas, such as Chanel Coco Noir and Chanel Gabrielle.
2. Dior
Dior is another brand that was already a household name in France when it introduced its first perfume. Just like Chanel, Dior's first launch was unique and became a favourite for perfume lovers worldwide.
The first fragrance Dior came out with was Miss Dior. The inspiration behind the scent was Provençal evenings with fireflies and the smell of green jasmine. This earthy, mystic scent quickly started selling out, which prompted Dior to continue to create amazing scents.
The second fragrance of this expensive French perfume brand launched as Eau Fraîche, an uplifting, citrus scent perfect for summer. Throughout the years, Dior came out with other amazing perfumes such as J'adore Dior, Ambre Nuit, and Joy by Dior.
3. Yves Saint Laurent
Yves Saint Laurent is a Parisian brand that has existed since 1961. Only three years after its founding, this clothing brand decided to pair its designs with scents that would complete the entire Yves Saint Laurent look.
The label launched its first scent, Y, in 1964 in collaboration with perfumer Jean Amic. This perfume brought the feel of classic French perfume brands and conveyed luxury and elegance with a rich, strong scent that would make anyone stand out.
The original Y bottle resembled a woman's silhouette, with the letter Y in the neckline of her dress. Despite Y becoming a hit, Yves Saint Laurent wouldn't make another perfume until 1977. The seductive, sensual scent of Opium, the second perfume by YSL, is among the most popular fragrances today. The name of the perfume sparked backlash, which drew even more interest to YSL.
YSL was successful in starting a conversation about the fragrance as the product became a favourite quickly after launching. Since then, YSL has created iconic scents such as Libre Eau de Parfum, Mon Paris Eau de Parfum, and Black Opium Eau de Parfum.
4. Lancôme
Unlike other French perfume names on this list who offer lines of clothing alongside perfume, Lancôme is a cosmetic label. That's probably why fragrances were one of the first products the brand launched when it first joined the beauty industry in the 1930s. The beginning of Lancôme's perfume journey was marked by the company launching not one but five fragrances. The brand introduced the perfumes at the World's Fair in Brussels in 1935.
The first scent carried the name Conquête, which means conquest. Many believe that this scent caters to a larger audience, and it quickly became a hit in the perfume industry.
At the same time, Lancôme introduced Tropiques, Cuir, Bocage, and Tendre Nuits. Later, Lancôme would become a famous perfume brand with fragrances such as La Vie Est Belle, Peut-Etre, and Poeme by Lancôme.
5. Chloé
Chloé's founders, Gaby Aghion and Jacques Lenoir, were already known in the fashion world and praised by famous names in the fashion designer world such as Karl Lagerfeld and Stella McCartney, when they decided to branch out to fragrances. They wanted a perfect scent that would embody everything that Chloé stands for. That's why they partnered up with some of the best perfumers in France.
Perfumers Amandine Marie and Michel Almairac crafted Chloé's first scent and contributed to it becoming one of the most popular French perfume brands for ladies. The fragrance had a simple name, Chloé, and contained a combination of floral notes. The springtime scents and a combination of vibrant, floral aromas would mark the signature scent for Chloé from then on.
If you want to explore the brand's offer, you must try out the brand's definitive fragrances, such as Chloé Atelier des Fleurs Tuberosa 1974, Chloe Fleur de Parfum, and Love Story Eau de Parfum.
Famous French Niche Perfume Brands
6. Memo Paris
Memo Paris is a niche fragrance label that comes out with small batches of unique scents. This brand produces amazing, distinct fragrances, and is a favourite among perfume lovers in Europe.
The founder of Memo Paris, Clara Molloy, wanted to create scents that would remind people of beautiful destinations. Her fragrances take customers to different locations, evoking travel dreams and memories. Memo Paris fragrances are natural, and many of them give a subtle nod to leather suitcases. The best selling products by Memo Paris are Vaadhoo, Corfu, and Irish Leather.
7. Trudon
Trudon is a French perfume brand founded by the famous candlemaker Claude Trudon. The brand's story began in 1643 when Trudon first introduced unique scents to his customers. The company became a Royal Wax Manufacturer, and its candles graced the walls of Versailles. Louis XIV and Napoleon were among its loyal customers.
Despite creating unique scents everybody loved, the brand would not launch a collection of perfumes until 2017. In 2017, Trudon came out with five fragrances, and it quickly became one of the most popular niche brands in France.
If you're looking to add Trudon to your list of perfume labels, you should start with fragrances such as Elae, Mortel, and Aphélie.
8. Le Galion
Le Galion is among the lesser-known French perfume brands for women. In the beginning, it operated from a beautiful mansion in Paris, which was the inspiration for many of the brand's fragrances.
The flowers in the Le Galion mansion's garden influenced the brand's signature scents. Rare and exotic aromas frequently filled the rooms of the house, which is why the majority of the label's perfumes draw inspiration from nature.
Even though the brand's focus is on scents, Le Galion also spent a lot of time creating its one-of-a-kind crystal bottle. The best selling fragrances by the brand include 222, Aesthete, and Brumes.
9. Annick Goutal
Annick Goutal is among the best French perfume brands and a rare niche label that managed to become a household name throughout Europe. Anick decided to create a fragrance label in 1981. Back then, the market was dominated by bold, strong scents. Anick wanted to bring something different to the industry.
Her first fragrance was gentle, fresh, and natural. It quickly became a favourite among the women of Paris and prompted her to continue creating interesting aromas. Annick Goutal is a label with its own in-house perfumes, which is rare, especially for niche brands.
The brand is among the best-selling ones in popular retailers' stores. Eau d'Hadrien, Tenue de Soirée, and Sables are some of its most beloved scents.
10. D'Orsay
D'Orsay is one of the oldest French perfume brands. It was created by Alfred d'Orsay nearly two hundred years ago. As a director of the Paris Fine Arts Department at that time, he was looking for new ways to express his creativity. Alfred's lover, the writer and editor Marguerite Blessington, was the inspiration behind the first fragrance he created.
From then on, D'Orsay became a symbol of luxury and desire. Even though the brand never closed its doors, it was sidelined by the number of newer niche perfume brands.
It was in 2015 when Amélie Huynh decided to bring D'Orsay back to the centre of the fragrance scene by launching a collection of perfumes, home scents, and candles. D'Orsay's iconic scents À Cœur Perdu and Vouloir Être Ailleurs are must-trys for any perfume lover.
The Best French Perfume Brands List: Conclusion
If you've had your fill of British or Italian perfume labels and want to explore the French offer, we hope our list of French perfume brands has inspired you to add new scents to your wardrobe. You can start with the luxury houses as the leaders of the global perfume scene, then dive into the subtle world of niche fragrances that might turn out to offer your favourite aroma yet.