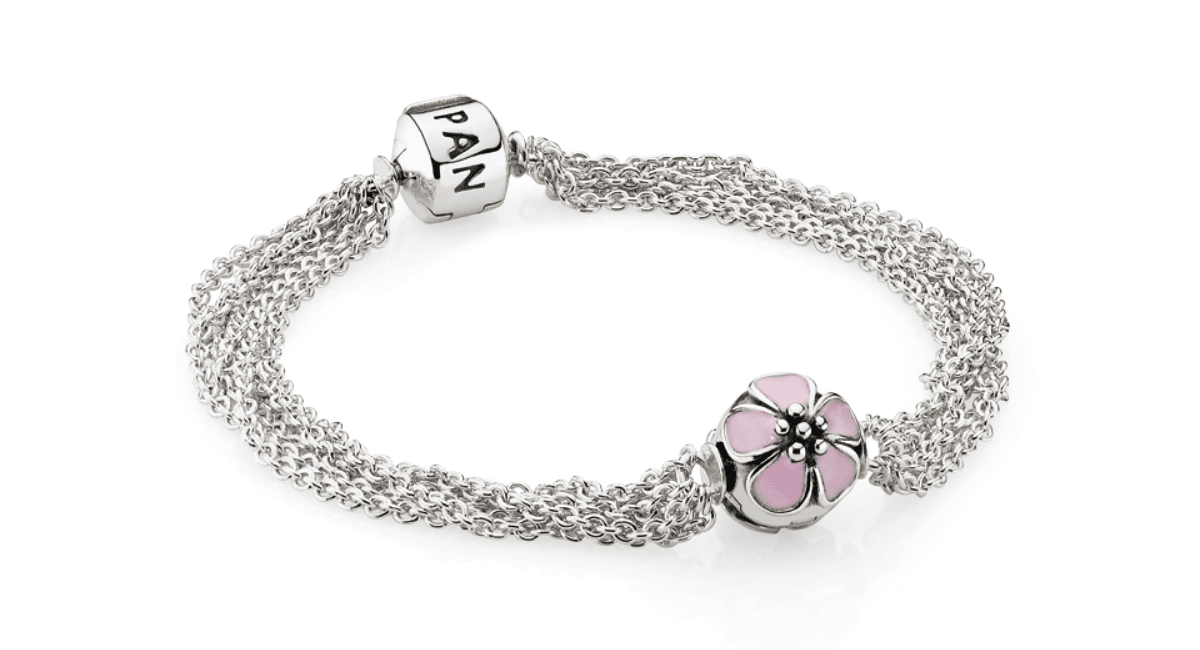 How Much Is a Pandora Bracelet + 5 Useful FAQ
Posted on |
Pandora bracelets have been around for a while now, and they're still going strong. From sleek and simple silver bracelets to charms and beads in every colour of the rainbow, Pandora bracelets come in tons of different styles to suit any taste. But how much is a Pandora bracelet? And are they worth the price? Keep reading to find out!
How Much Are Pandora Bracelets?
1. How Much Is a Pandora Bracelet with Charms?
Pandora bracelets are typically priced between £60 and £200, depending on the style and materials. The popular silver charm bracelet starts at £50, while the solid gold bracelet prices can go as high as £1,600.
The price also depends on the type and number of charms you put on your bracelet.  A simple silver charm can cost as little as £20, while those from a special edition set can cost upwards of £100. The most expensive ones are made of 14K gold and priced at as high as £400.
So, the final price of your bracelet will depend on the type of bracelet as well as the number and materials of the charms you choose.
2. How Much Is a Used Pandora Bracelet Worth?
If you're looking to save money, you can always buy a used Pandora bracelet.
These bracelets typically sell for around 30% less than the retail price, so you can snag a great deal if you know where to look.
You can find them on eBay or Etsy at affordable prices. Some more ordinary bracelets go for around £20–£30, and charms can cost only about £10. At the same time, you can find a 14K gold clasp Pandora bracelet for almost £1,000.
These sites offer something for everyone. No matter the budget, you can scroll through the offers and make your unique bracelet for much less than the retail price. Just make sure that the bracelet is in good condition before buying it!
3. How Much Are Pandora Charms?
Prices for Pandora charms start at £20 and can go up to almost £600.
The most budget-friendly charms are sterling silver openwork designs. A great example is the famous 'Angel Wings and Mom' charm. At just £20, this charm features a pair of wings surrounding the word 'mom' written in the heart.
As more embellishments like gemstones or coloured enamels are used, the price increases. These elements are more expensive to produce, so the cost of such charms rises with the amount of detail. An average price can range from £30 to £100.
The most expensive Pandora charm is the 'Majestic Crown' charm, and it sells at a staggering £565. This charm features a crown made from 14K solid gold and surrounded by beautiful clear diamonds.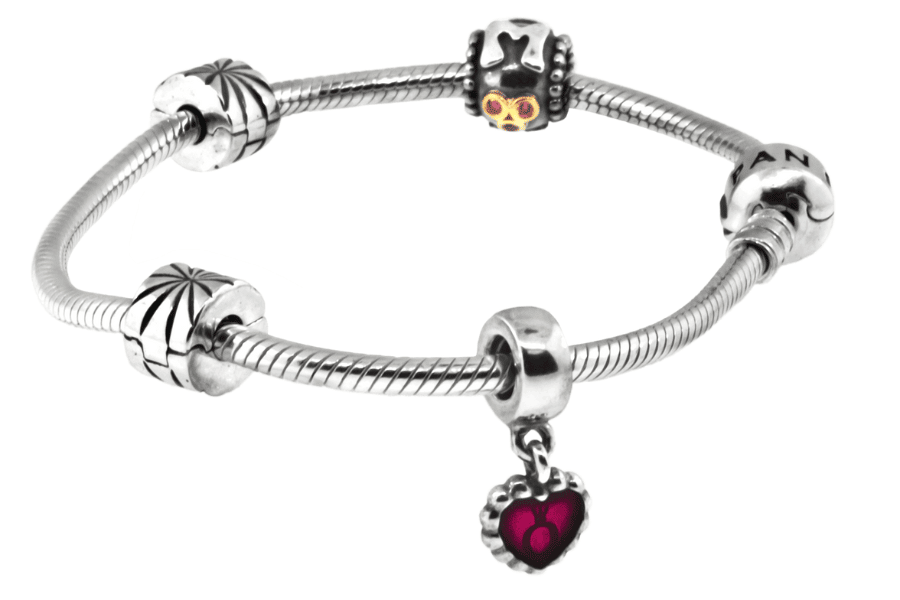 4. Is Pandora Made of Real Silver?
Yes, Pandora uses genuine sterling silver in all of its jewellery. Sterling silver is the standard for high-quality silver jewellery used by most major jewellers.
The purity of sterling silver is 92.5%, which means it's mixed with other metals to make it more durable. The most common metals used are copper and zinc.
This alloy gives sterling silver its beautiful shine and keeps it from tarnishing too quickly.
5. Why Is Pandora So Expensive?
Pandora jewellery is made with high-quality materials and intricate designs. The company uses genuine sterling silver and 14K gold in its jewellery. 
All Pandora charms and bracelets are hand-finished by skilled artisans, adding to the cost. The production process is very detail-oriented, and each piece goes through several quality control checks before it's shipped out. 
All of these factors contribute to the Pandora bracelet cost, and many people believe that the quality and craftsmanship are worth the price. 
Marketing is also a big part of Pandora's success. The company has built a strong brand associated with luxury and quality, which helps justify the high prices of its jewellery. 
Still, this company manages to offer something to all of its customers, no matter their budget. One of the ways Pandora achieves this is by offering vouchers. What's more, you can find many bracelets and charms on sale, especially during the holiday season. Finally, there are less expensive items you can opt for if you want to stick to a lower budget.
So, what's the verdict? Are Pandora bracelets and charms worth their price tags? 
It depends on what you're looking for. If you want high-quality, handcrafted pieces that will last forever, then Pandora is definitely worth the investment. But if you're just looking for something pretty to wear now and then, there are cheaper alternatives that will still make you look stylish. 
At the end of the day, it all comes down to personal preference—so go ahead and experiment until you find the perfect piece or set for you! And remember, you can start building a set slowly, as how much a Pandora bracelet costs depends on the style and the number of charms.