Necklace Lengths and Styles: A Detailed Guide for the Chic
Posted on |
With so many necklace lengths out there, it might be difficult to choose which one to wear. Should you go with the short one that barely grazes your collarbone or the long one that hangs down to your waist?
This article will help you make that choice! In this post, we'll discuss the different necklace lengths and styles and show you how to choose the perfect one for you. 
So whether you're a total beginner or a necklace pro looking for some new ideas, keep reading!
Types of Necklace Chains, Lengths, and Styles
Chunky, delicate, long, short—there are so many different types of necklaces to choose from! Below, we'll introduce you to different necklace lengths and chains and help you match them with each mood and outfit.
There are different lengths of necklaces for women and men. Women's necklaces can range from chokers to long and dainty pendants. On the other hand, men's necklaces tend to be more substantial, often falling to or around the chest.
Necklace Lengths for Women 
There are six standard lengths of women's necklaces. Here are the different necklace lengths in inches:
Choker: 14″

Collar: 16″

Princess: 18″

Matinee: 22″

Opera: 30''–36″

Rope: 36″+
Choker
The choker necklace length is the shortest, sitting high up on the neck. They're perfect for showing off a plunging neckline or adding a touch of edge to an outfit. If you have a long neck, go for a thinner choker. If you have a short neck, opt for a thicker style.
Chokers can be made of a variety of materials. During the Victorian era, designers used velvet, ribbon, or gold, often adding a pendant or a piece of gemstone to make them look more refined. Modern chokers date from the 90s, and you might remember those plastic, funky-looking necklaces that were so trendy at that time.
Collar
Collar necklaces are often confused with chokers, but the difference is in the chain lengths. The collar sits on the collarbone, while the choker wraps around the neck. Collar necklaces look great with open-necked tops, such as off-the-shoulder tops, because the chain is parallel with the shoulders.
Princess
The princess necklace has the average necklace length for a woman, and it looks great on any body type and any outfit. Its pendant or focal piece usually sits just below the collarbone. Most princess necklaces are adorned with sparkling rhinestones and feature a single central drop.
This style of necklace is best suited to more formal wear. For example, you can combine a princess necklace with a V-neck and a blazer to make a stylish-looking work outfit.
Matinee
The matinee is thought to be the most popular necklace length. It's a bit longer than the princess, falling just above or at the centre of the bust. It's an excellent choice for those who want to show off their decolletage without going overboard.
This length is also perfect for layering with other necklaces. For example, you could wear a choker and a matinee necklace together for a cool and edgy look.
Opera
The opera necklace chain length is long and versatile, falling below the bust line. It's a striking and elegant style that can be worn in various ways.
You can wrap or knot it to make it shorter or create a focal point. Remember that the longer the necklace, the more elegant the look. Also, you can layer it with shorter necklaces in a similar style. 
Opera chain lengths work best with more formal and evening wear.
Rope
Rope necklaces, also called lariat or Y necklaces, are the longest ones. Their length can be adjusted, but it usually sits at or below the belly button.
Necklace Lengths for Men
Men have only four options to choose from when it comes to the length of the chain:
18'': sits on the base of the neck

20'': falls on the collarbone and is the most common length

22'': sits a few inches below the collarbone

24'': falls just above the breastbone
There is no one best chain length for a man. All of them work great with T-shirts, more formal shirts, or sweaters. Your choice depends only on your style and personal preference.
How to Measure Necklace Length
The simplest way of measuring the length of a necklace is to undo the clasp and lay it out straight. Then, take a ruler or measuring tape and measure the chain. Necklace lengths in cm can vary from 35 cm to more than 90 cm, or from 14" to 36".
There are a couple of steps to measure what necklace length works best for you.
First, measure your neck size. Wrap a soft measuring tape around the neck, keeping it parallel to the floor. Add 2'' or 4", and that is your minimum chain length.
The second thing you should consider is your height. If you are around 5 feet tall, you should opt for necklaces between 16'' and 20" in length. Taller people should choose longer chains.
Finally, consider your body type and face shape. Depending on what you want to accentuate, you should choose different necklace sizes. If you want to accentuate your bust, opt for those that fall on the collarbone. If you want to soften the sharp edges of your face, try wearing a choker necklace.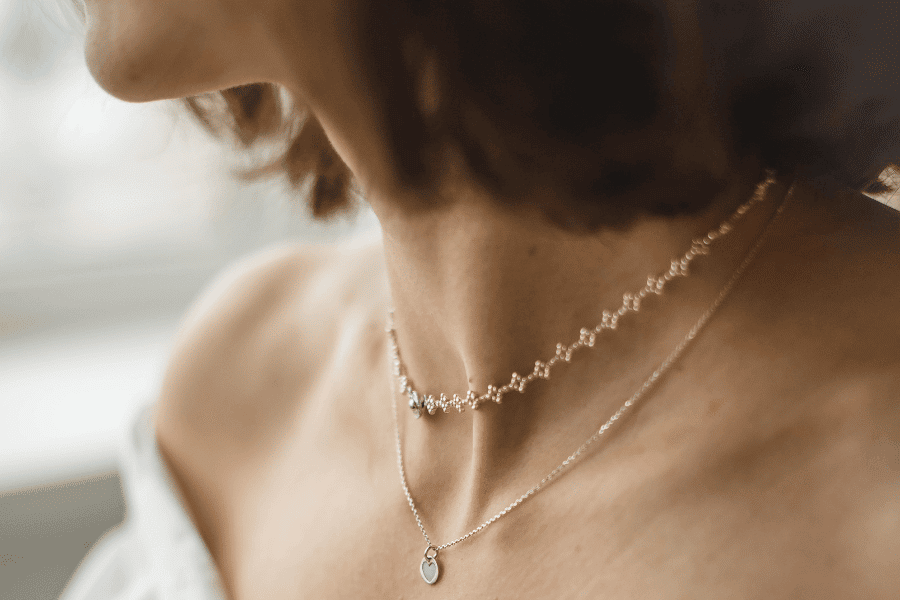 There are so many different styles to choose from for necklaces. You can go for a classic look with a simple gold or silver chain or opt for something more statement-making with a beaded or tasselled design.
Let's go through all the styles to help you decide on the perfect one.
Bib
A bib has a wide front part that rests just below the neck, and it's usually a collar or princess length necklace. The bib is often embroidered or beaded with pearls, beads, or gemstones to create various patterns and shapes. The most popular forms are triangles and circles.
The bib necklace has a long history, and modern versions are used as statement accents, generally with formal attire.
Festoon
The draping elements characterise festoon necklaces. Gemstones, pearls, and precious metals decorate the delicate chains. Usually, they are joined at the central pendant.
The festoon necklace sits best when the main chain is of a choker length and the draping is on the collarbone. Off-the-shoulder formal clothing is ideal for this design, because higher necklines could twist and distort the drops.
Graduated
Graduated necklaces are beaded necklaces with a gradient in bead size. The bigger beads are usually in the middle, from which beads get smaller as they go towards the base of the neck. They can be of different necklace lengths, but they tend to be longer.
They're often made of coral, ivory, turquoise, or bakelite.
Lavaliere
A lavaliere necklace brings a touch of femininity to every outfit. It's a pendant necklace with a dainty chain connected to a larger focal piece. The central pendant is decorated with different gemstones and embellishments, and it also has smaller decorations dangling from it.
The lavaliere shines with light, feminine, and bohemian style. It's usually princess length and sits below the collarbone, so it works well with any neckline type.
Multi-Strand
As the name says, multi-strand necklaces have multiple strands connected by a single clasp. They're usually made of pearls or other beads. 
Choker or collar length works best for this type, because a short chain prevents the strands from twisting. 
Negligee
This necklace style was popular in the early 20th century during the Edwardian period.
It's characterised by two irregular and asymmetrical drops attached to a central pendant. The necklace's length is generally longer.
Pendant
There are many lengths and styles of this necklace. They all have one thing in common—a dangling pendant as a focal point.
The pendant can be as straightforward or as decorative, as general or as personal as you want. If you're thinking of something that won't overpower your outfit, go for a small diamond or birthstone pendant. If you're looking for something to showcase your personality, choose a locket pendant. You can put a photo or a memento inside to treasure it forever.
Rivière
A rivière necklace is sometimes confused with a graduated one. Both of them have stones that gradually get smaller from the centre towards the back. The difference is that a rivière has one or two rows of precious or semiprecious gemstones, not pearls or beads. It's usually collar or princess length.
Sautoir
Sautoir is a French term for a long necklace with a pendant. It's usually opera length, and the pendant is highly decorated with tassels, stones, or fringes.
When it comes to picking the perfect necklace, the options can feel endless. One way to narrow things down is to choose the right chain style. Here are a few of the most popular choices.
Link chains are made up of small metal links that are connected. They come in various thicknesses and can be worn alone or with a pendant.
Bead chains are similar to link chains, but instead of metal links, they have tiny beads spaced evenly along the length of the chain. Bead chains are often used for delicate pendants and come in various colours.
Ball chains are made up of small metal balls that are connected. They're often used for keys or ID tags but can also be used for fashion purposes. Ball chains come in different sizes and can be worn alone or with a pendant.
Cable chains are made up of small metal wires that are twisted together. They tend to be thicker than other chains and can be worn alone or with a pendant. Cable chains are available in various metals, including gold and silver.
Figaro chains are made up of metal links connected in a pattern of three small links followed by one long link.
Snake chains are just solid chains, and they're simple yet classy. If you want to embellish them, feel free to add any pendant. These chains are very versatile, so you can't go wrong with them!
There's no one correct answer when choosing a great necklace length and style for you. But we hope this guide helped you learn more about what options are out there and what might look best on you.
From chokers to statement pieces, there are so many different types of necklace styles to choose from. There's a lot to consider, but the best way to pick a perfect necklace is to experiment with different styles.
So next time you're out shopping, look for some of the styles we mentioned here. Have fun and give them a try. Who knows, maybe you'll fall in love with one of them!
1. How do I choose the right chain length?
There is no definitive answer to this question, since it's ultimately a matter of personal preference. However, there are a few general guidelines.
First, consider the neckline you'll be wearing with the necklace. The necklace should sit at or just below the neckline. Second, think about the overall look you're trying to achieve. A longer chain makes a more dramatic statement, while a shorter necklace is more subtle. Finally, consider the size of the pendant you'll be wearing.
2. Is an 18-inch necklace too short?
This depends on your neck measurements. If you have an 18-inch neck, the necklace of the same length would be too short. You should opt for a 20-inch or longer chain. But if your neck is narrower, then an 18-inch necklace would fit you perfectly.
3. What is the most popular necklace length?
The most popular necklace length is the princess type (18'' or 45 cm). This is considered a standard length and suitable for any occasion, from formal to everyday wear.
4. How do you measure a necklace's length?
Take a measuring tape and wrap it around the part of your neck where you want the necklace to sit. If you don't have a measuring tape, you can use a string or a piece of ribbon. Once you've wrapped it around your neck, mark the spot where the two ends meet. Then, simply measure the length between the mark and the end of the string. This is your necklace length. If you're measuring for a choker, add 2'' or 4'' to your neck's measurement.
5. What's a good necklace length for a man?
Men typically choose necklaces that fall on the collarbone and are around 20'' in length. The chain should be longer if the necklace includes a pendant or medallion. But there are also shorter and longer options men can choose from depending on their style and outfit.
6. Is a 20-inch necklace long?
No, this necklace chain length is not too long. It's known as the matinee type and falls somewhere around the centre of the bust. It accentuates decolletage but doesn't go overboard.
It's also the best for layering with other necklace lengths. You can try matching it with a choker or collar to give your outfit more depth.