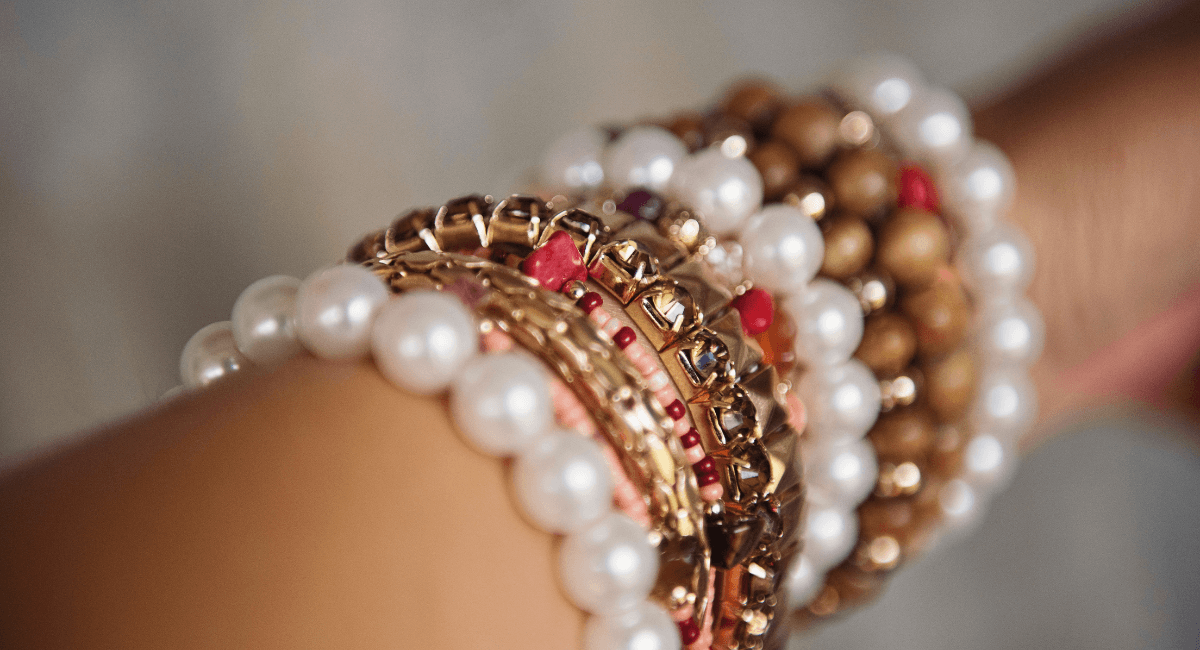 12 Types of Bracelets Everyone Should Know About
Posted on |
Are you looking to add a little bit of style to your outfits? If so, then bracelets are the perfect accessory for you. There are all sorts of types of bracelets that you can choose from, and this variety can be both a benefit and a curse.
The prospect of finding the right bracelet to perfectly accessorise your outfit and showcase your personality might seem daunting, but we're here to help!
In this post, we'll take a look at some of the most popular bracelets and tell you a little bit about each type. Read on to learn more!
What Are the Essential Bracelet Types?
Bangle bracelets are a classic style that never goes out of fashion. It's a versatile and fashionable accessory for women of all ages. But what is a bangle exactly?
Bangles are a more rigid type of jewellery that slides over your hand. These bracelets can be worn alone or stacked with other bracelets to create a more powerful look. Bangles are also a great way to add a pop of colour to an outfit, whether you choose to go with a classic gold or silver bangle or opt for something more playful and colourful.
In the sea of different types of bracelets, this bracelet is something unique. A watch bracelet is an essential accessory for any fashion-conscious woman. It's a combination of a watch and bracelet, bringing style and function together.
This versatile piece can be worn with a wide range of outfits, from casual to dressy, and it always adds a chic touch to any look. Be creative and combine it with other bracelet styles to elevate your look.
You can find watch bracelets in a classic style, made of silver or gold. For a more casual and bohemian look, look for such bracelets made of leather or decorated with beads. With such a wide variety of designs to choose from, it's easy to find the perfect one that matches your unique sense of style.
Cuff bracelets stand out among different types of bracelets because of the way you put them on. They're made from a sturdy band of metal or other material with a narrow opening. This gives the bracelet a bit of flexibility to spread when you rotate and push your hand through.
Wider cuff bracelets are a great choice if you're looking for something that makes a louder statement. Because of its bold design, this accessory is perfect for complementing more minimalist outfits or for adding a touch of glamour to a formal or evening look. You can opt for a narrow cuff if you're looking for something to dress up your everyday look. 
There are endless possibilities when it comes to choosing the right cuff bracelet, so you'll surely find one that perfectly suits your taste.
These fun and colourful bracelets are made from small, loose beads strung together on a thin piece of elastic or leather.
As one of the most popular types of bracelets with string, beaded bracelets are perfect if you're looking for something casual and fun to wear with your everyday outfits. You can find them in a wide range of colours and styles. 
There are many different ways to wear them, so feel free to stack several of them together or mix and match them with other kinds of bracelets for a look that's all your own.
Among the most popular types of bracelets for ladies is the charm bracelet. These bracelets come with several charms attached, in the form of either beads or small pendants. 
Charm bracelets are a great way to show your personality to the world. The most popular ones must be Pandora bracelets, with their wide selection of pendants and charms. You can choose pendants that represent things that are important to you or have a special meaning for you. For example, you might choose a charm in the shape of a seashell to remind you of the sea, or one that says 'family' to symbolise the bond between you and your loved ones.
Learn more about Pandora bracelets and their pricing.
If you're looking for vintage bracelet styles, pearl bracelets are a must-have addition to your accessory collection. They feature one or more pearls strung together on a piece of wire or thread, making them a classic and elegant choice that can be worn for both casual and formal occasions. 
While most pearl bracelets feature white pearls, you can also find them in other colours, including black, pink, and cream. They are a great way to add a touch of luxury to your look. 
You can wear them alone or stacked with other bracelets for a unique look.
Tennis bracelets are a type of bracelet typically embellished with diamonds or other precious stones. Tennis bracelets are usually quite thin and delicate, so they can be a great option if you're looking for something elegant. You can wear one bracelet or combine many to add a dash of glamour to your outfit. Tennis bracelets have been around for a century, although they were called diamond lines before the 80s, when a famous "incident" made them extremely popular again.
Wrap bracelets are a great option if you're looking for an accessory that's both fashionable and functional. The thin leather or fabric strips wrap around your wrist several times, making them very easy to wear no matter what size your wrist is.
You can find wrap bracelets in a wide range of materials and styles, so they're perfect for casually dressing up your look. Because they're so easy to put on, you can quickly change up your bracelet style to match the outfit or the occasion.
Chain link bracelets are made from small metal rings that are connected to form a chain. They are a versatile and stylish choice that can be worn for both casual and formal occasions. 
These bracelets are worn by men and women alike. Typical for men's bracelet styles, they are thicker than women's, with bigger rings to give a more masculine vibe.
If you're looking for an accessory that makes a statement, opt for a larger chain-link bracelet. For a more subtle look, choose a thinner chain bracelet or one with smaller links.
Slider bracelets are one of the easiest types to put on, as they have one of the most unique bracelet links types. Their ends are connected by a slider, and can be pushed back and forward to tighten or loosen the bracelet.
The slider bracelet is delicate and thin, with a small detail in the middle. The detail can be a round piece of gemstone or a hollow shape, such as a heart or star.
You can wear slider bracelets alone or stack them with other types of bracelets. In the end, it's their simplicity that makes them so stylish.
Rope bracelets are made from a length of rope or cord that is wrapped around your wrist several times.
Among the types of bracelets for guys, this one is timeless. It's a simple and stylish accessory perfect for any man looking to add a touch of uniqueness to his outfit. Whether you prefer casual, street, or bohemian style, a rope bracelet can complement your look perfectly. With its masculine, rugged look and versatile colour options, it adds the perfect finishing touch to any ensemble.
Friendship bracelets are one of the bracelet types often made by hand. They're given to a friend as a sign of friendship. Typically, friendship bracelets are made of brightly coloured yarn or thread and feature various patterns, such as cross stitches. 
There are many different ways to wear friendship bracelets, and you can even stack several together for an eye-catching look. Because they're usually handmade, these bracelets tend to be more unique than other kinds of bracelets. They also have a special meaning as they represent the love and respect friends have for each other.
So, what types of bracelets should you wear to reflect your personality and mood? It depends on the occasion. If you're looking for a casual everyday look, go with a beaded or fabric bracelet. For a dressier event, try something metallic or sparkly. No matter what style you choose, make sure it reflects your personality!