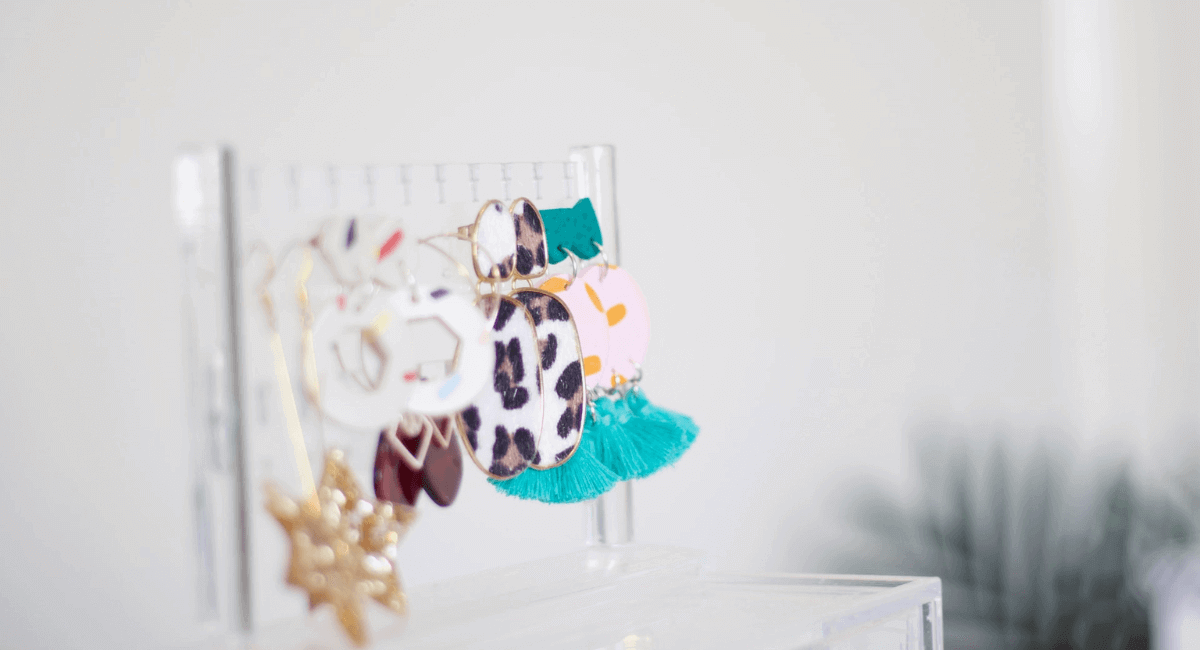 20 Types of Earrings: An Essential Guide for the Stylish
Posted on |
Do you ever feel overwhelmed in a jewellery store when trying to pick the right earrings? You're not alone. With so many types of earrings to choose from, it's no surprise that shopping is a challenge!
In this article, we'll look at some of the most popular earring styles to help you pick the best one for you.
Earring Types, Materials, and Closures
1. Stud Earrings
Stud earrings are by far the most popular kind of earrings. They are simple and elegant, and you can wear them with any outfit. One of the most common stud earring types is the solitaire, a single stone set in a metal setting. The metal bar goes through the piercing so that this accessory sits snugly above the earlobe.
The best part is that stud earrings come in endless styles, so you can always find a pair that suits your mood. From delicate diamonds to colourful gemstones, there's a stud earring for everyone.
2. Hoop Earrings
Hoop earrings are circular and usually made out of metal. They have a wire closure that goes through the ear piercing. Although modern versions include oval, diamond, and square shapes, the traditional hoop is round.
Hoop earrings come in various thicknesses and sizes, from thin and dainty to thick and tube-like, and from small to large ones that hang to the shoulders.
3. Teardrop Earrings
Teardrop earrings are connected to the lobe with a push-back or wire hook clasp. Their design is pear- or tear-shaped and is usually of medium size. They're part of the dangling earring family, although fixed versions are also available.
4. Drop Earrings
A delicate drop earring might be what you're searching for if you want a piece that's both simple and effective. These earrings go below the earlobe and are typically stationary, resembling an extended stud earring.
5. Dangle Earrings
Dangle earrings, like drop earrings, hang below the earlobe, but are more intricate and have greater movement than regular drop earrings. While drop earrings are typically simple in design, dangle earrings can be quite ornate. Many are made with non-precious materials and decorated with plastic elements rather than gemstones, making them more suitable for informal outfits.
6. Chandelier Earrings
Chandelier earrings are one of the more unique styles among the different types of earrings. They get their name from their resemblance to a chandelier, with multiple tiers of metal or beads hanging from the earlobe. Chandelier earrings are usually quite long, and are a bit more formal than other types of dangling earrings.
7. Threader Earrings
Threader earrings are long and thin, and they thread through the earlobe. They usually have a small adornment at the end, such as a gemstone or tassel. Threader earrings are simple and elegant, and they come in a variety of styles.
8. Jacket Earrings
Jacket earrings are a unique and modern style that typically has a latch or a gem in the front, with the larger portion of the earring hidden behind the ear.
The majority of designs for these behind ear earrings include a basic stud in the front, such as zirconia or pearl, although more complicated versions exist. The back of the lower part is more ornate, featuring floral patterns, stars, or leaf designs.
9. Cluster Earrings
Cluster earrings are made up of several stones or gems grouped to form a cluster. They are placed firmly on the earlobe and are ideal for individuals who want something unique and elegant. Cluster earrings can have the form of a stud, or a slight drop.
10. Huggie Earrings
Huggie earrings are tiny hoops with a hook and clasp that embrace the earlobe rather than hang beneath it. They're circular, like classic hoops, and resemble C-shaped earrings.
11. Ear Climbers
Ear climbers are one of the newer, more fashionable earring styles. Instead of hanging downward, these earrings begin at the bottom of the ear and climb up. You can find both simple designs with a couple of gemstones, and ornate ones with colourful stones and intricate detailing. Depending on the style, they can be suitable for formal or casual occasions.
12. Barbell Earrings
Barbell earrings got their name because they look like a barbell, with a metal bar and spheres on each end. The closure, located on a sphere, is removed to insert the earring into the ear.
You can wear them in pairs or as a standalone piece. One barbell can be inserted in one piercing, but there are also industrial barbells that go in multiple piercings at the same time.
13. Bajoran Earrings
The term 'Bajoran earrings' comes from Star Trek, where they were worn by certain humanoid races to symbolise their beliefs.
A Bajoran earring has two connection points, similar to elaborate cuffs. Typically, one connection point is fixed on the lobe with some sort of closure, while the other goes up the ear and does not require a piercing. Layered chains are found in many designs, either with or without charms.
14. C Hoop Earrings
C hoops are one of the most striking types of hoop earrings, as they're worn horizontally rather than vertically. If you find a clip-on version, you can wear them without a piercing. They come in various shapes and sizes, from small and simple to bigger and ornate.
15. Cuff Earrings
A cuff earring wraps around the earlobe and can be an earring for the top of the ear. There are two categories of ear cuffs:
resembling C hoops: only worn horizontally and can be worn without a piercing on various ear parts.
statement designs: fit along the ear curve and are usually more ornate and large, so these require piercing.
Cuff earrings are usually made from metal, in both thin and thick varieties. They can be simple or ornate, and they're a great way to add some personality to your look.
Popular Types of Earrings for Men
When it comes to men's earring types, they are often overshadowed by accessories for women. Still, there are a couple of styles that are popular among men.
16. Hoop Earrings
The most popular type is the hoop earring, which you can wear traditionally (through the earlobe) or in a more modern way (through the cartilage). Hoop earrings come in different sizes and styles.
17. Stud Earrings
If you prefer something a little more understated, stud earrings may be more of your style. Studs can be worn in any piercing, including the traditional earlobe piercing or the more modern cartilage one. And like hoop earrings, there are different styles and types of stud earrings, so you can find a pair that suits your taste.
18. Flesh Tunnels and Plugs
Flesh tunnels and plugs are a type of earrings that are worn in a stretched piercing. They are usually made of metal, glass, or stone, and they come in several sizes.
If you have a stretched piercing, flesh tunnels and plugs may be a good option. Just keep in mind that they are not suitable for everyone, so you'll want to make sure that you're comfortable with them before you commit to wearing them.
19. Novelty Men's Earrings
If you're looking for something slightly different, novelty earrings may be the right fit for you. These earrings usually have an atypical style, featuring skulls, animals, or weapons.
20. Men's Dangle Earrings with Pendants and Charms
If you want something a little more flashy, dangle earrings with pendants and charms may be your style. These earrings are usually longer than traditional studs or hoops, and they often have some sort of adornments, such as a gemstone or a charm.
These are a great way to add some personality to your look, and they're perfect for both casual and formal occasions.
Types of Earrings by Material
Gold
Gold is a classic material that is often used for earrings, and it comes in a variety of colours, including yellow, white, and rose. Gold is a soft metal, so it's important to be careful when storing and wearing it.
Silver
Silver is another popular material for many earring styles. It's a bit cheaper than gold, so it's a good choice if you're looking for something on a budget yet of higher quality. There are different varieties of silver, including white, sterling silver, and antique silver.
Platinum
Platinum is a rare metal that is often used for high-end jewellery. It's very durable and has a beautiful white colour. Platinum is also a hypoallergenic metal, so it's a good choice if you have sensitive skin.
Titanium
Titanium is a solid and lightweight metal often used for body jewellery, such as different types of rings, necklaces, and earrings. It's available in a variety of colours, including black and grey. Titanium is also a hypoallergenic metal, so it's another good choice for people with sensitive skin.
Surgical Stainless Steel
Surgical stainless steel (SSS) earrings are a great alternative to gold and platinum earrings as they are more affordable. SSS refers to a combination of corrosion-resistant metals perfect for those with sensitive ears. The structure of this metal makes it an excellent choice for body implants and body piercings.
Plastic
Plastic is a lightweight and affordable material often used for costume jewellery and to make different earrings, necklaces, and bracelets. It comes in different colours and styles, so you're sure to find a pair of earrings that suits your taste. Remember that plastic is not as durable as some other materials, so you need to be careful.
Nickel
Nickel is a common material that is often used for earrings. It's a strong metal, and many jewel manufacturers use it to increase the tensile strength of expensive metals, such as silver and gold. But this material is not hypoallergenic and can cause allergic reactions, so people with sensitive ear skin should avoid it.
Types of Earring Closures
Post-Backs
Post-backs are the most common type of earring closure. They are posts that go through the earlobe and have a small screw-like piece pierced from the back to keep the earrings in place. Post-backs are secure and easy to use, making them a popular choice for men and women.
Hook Backs
Hook backs look like tiny hooks that go through the earlobe without a safety pin behind the ear, so they're used for earrings with no backs. They are easy to put on and take off, but they may not be as secure as post-backs.
Lever Backs
Lever backs are similar to hook backs, but a small lever on the back helps keep the earring in place. Lever backs are more secure than hook backs, but they can be more challenging to put on and take off.
Clip-On Backs
Clip-on backs are a type of earring that doesn't require pierced ears. They have a small clip that squeezes the earlobe to hold the earring in place. Clip-on backs are easy to use and suitable for those who don't have their ears pierced.
Magnetic Backs
Magnetic backs are earrings that use magnets to hold the earring in place. They're easy to use and don't require pierced ears. However, magnetic backs can be less secure than other earring closures and may not be suitable for those with metal allergies.
Hinge Backs
These are also called 'saddlebacks.' They have a curved post that is latched and locked, offering high security for hoop-like styles, including huggies or off-round hoops in various geometric earring shapes.
Screw Backs
Screw backs are screwed into place. They are more secure than other earring closures, but they can be difficult to put on and take off.
Latch Backs
Latch backs are a type of earring that snaps into place. Often called English lock earrings, they have a post that attaches to a catch. There are many variations out there, and designs differ based on the different types of earrings. You can usually find them with dangly styles that carry some weight, including chandeliers and hoops.
There are many different types of earrings to choose from, so it's important to find a pair that suits your taste and needs.
Consider the material, style, and closure when making your decision. If you have sensitive skin, choose a pair of earrings made from hypoallergenic materials. If you don't have your ears pierced, there are plenty of clip-on and magnetic earrings that you can choose from.
With so many options available, you're sure to find the perfect pair of earrings for you.