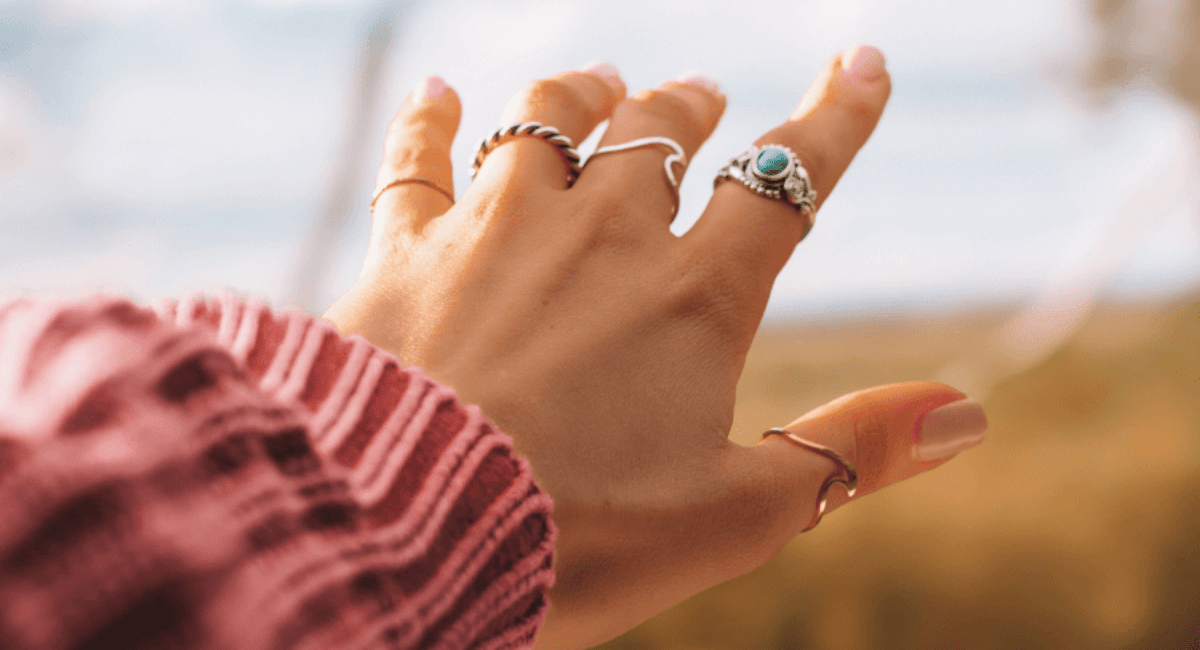 23 Types of Rings with Popular Stone Shapes, Bands, and Materials
Posted on |
Rings can be a great way to accessorise your outfit and add a touch of class. They can also symbolise something important to you, like your faith or heritage. Whether you're looking for a simple piece of jewellery or something more elaborate, rings are a great option. But with so many different shapes and styles out there, it can be hard to know which ones to choose. Read our guide to the various types of rings to find the perfect ones for you!
Ring Styles, Shapes, Bands, and Materials for Women and Men
When it comes to rings, there are endless style possibilities. For women, rings can be delicate and dainty or bold and statement-making. Men's rings are often more understated, but they can also be quite stylish.
There are endless combinations of different styles, stone cuts, bands, and materials. In this article, we'll cover some of the most popular ones.
1. Abstract Ring
An abstract ring is a piece of jewellery that features an abstract or non-representational design. These rings are usually made with modern plastic, glass, or metal materials. You can find them in some designer stores or jewellery chains, such as Pandora, where there's a wide variety to choose from.
2. Band Ring
A band ring is a simple metal ring with no extra decorations. Recently, bands with stones, inscriptions, and other embellishments became pretty popular. They can be more plain or more adorned, depending on your style. If you want a more artistic look, you can look for bands made of plastic resin or silicone for that modern twist on this classic.
3. Bombe Ring
A bombe ring is a statement ring that features a large, round centre stone. The ring's band is usually narrower than the centre stone. This ring style is often seen among engagement rings or cocktail rings, and it was especially popular during the 1950s.
4. Birthstone Ring
A birthstone ring is a ring that features your birthstone in the centre. Birthstones are gemstones associated with each month of the year, and people believe they bring good luck.
There are twelve different birthstones, one for each month.
January: Garnet

February: Amethyst

March: Aquamarine

April: Diamond

May: Emerald

June: Pearl

July: Ruby

August: Peridot

September: Sapphire

October: Opal

November: Citrine

December: Blue Topaz
5. Claddagh Ring
The Claddagh ring comes from Ireland, where it was used as an engagement or wedding ring. This ring is a symbol of love, loyalty, and friendship. The heart symbolises love, the crown loyalty, and the hands—friendship. This ring has a simple metal band, but the heart or crown can be adorned with various gemstones or designs.
6. Cluster Ring
A cluster ring features a group of small diamonds or other stones set close together around one big rock. All stones in a cluster ring can also be of the same size, and their types and colours can vary or be the same. Depending on your personal preference, you can choose a ring with the same or several different gems and colours.
7. Cocktail Ring
A cocktail ring is a large, flashy ring meant to attract the gaze. These are often quite elaborate, with a large centre stone and intricate designs around it, or a wider and decorated band. This ring's usually worn on the right hand's index finger or middle finger.
8. Engagement Ring
The engagement ring is usually worn on the left ring finger. There are several engagement ring types:
Solitaire: A simple metal band with one stone

Side Stone: Like solitaire, it has a rock in the centre, but there are also smaller stones on the band

Halo: This one looks similar to a cluster ring, because it has one central stone complemented by many smaller stones

Three Stone: As the name suggests, this ring has three stones placed side by side on the band
You can read more about them in the Shapes and Types of Stones for Rings section below.
Also, don't miss out on our guide to engagement ring styles if that is what you're looking for. 
9. Estate Ring
An estate ring is any ring that someone wore before you. Even if the ring is only a few months old but has been owned and worn by someone else, it's considered an estate. It can look vintage in style, but most jewellers will only refer to it as a vintage ring if it's older than 30 years.
10. Flexible Ring
Unlike the different types of rings we already mentioned, flexible rings are composed of links rather than solid metal. The ring's band is formed by flat, intertwined links that may flex and move as you move your finger. Either the bottom half of the ring or the entire band can be flexible.
11. Posy Ring
A posy ring is a band that features an inscription on the inside or outside the band. Posy rings were popular during the Mediaeval and Renaissance periods, and they often had lines from love poems or other romantic inscriptions.
12. Semi-Mount Ring
A semi-mount ring is a type of ring that doesn't have a centre stone. Instead, it has a setting for a stone, with the band and set being sold together. This allows you to choose your centre stone or have one made.
13. Spinner Ring
A spinner ring has a spinning band as its main feature. Multiple bands are twisted or braided together to form this ring. They can spin freely around the finger and be embellished with beads or other decorations.
14. Toe Ring
A toe ring is typically worn on the foot's second toe. Toe rings are often made of silver or gold, and they can be adorned with stones or other decorations.
15. Vintage Ring
A vintage ring can be either antique or estate, but it must be between 30 and 100 years old. Vintage rings right now are those that were popular after the 1920s, such as Hollywood- or Jacqueline Kennedy-inspired costume jewellery and dramatic, bold pieces.
16. Wedding Band
Wedding bands are rings exchanged by the bride and groom as part of the wedding ceremony. They represent loyalty and love. Usually made of gold or silver, men's bands have a simple design, whereas women's are adorned with additional stones or details.
17. Fashion Rings
All kinds of rings are fashion rings in some way, but this term also refers to rings men wear as a fashion statement. These rings don't have any symbolic or religious background. Some examples of fashion rings are those with gemstones, designer logos, and engraved graphics.
18. Nugget Ring
This ring is a gold band with a rough, rocky texture on the top. It's designed to look like a gold nugget and usually made of gold. Most nugget rings don't have additional details, but some have a couple of gems like diamonds to add some sparkle.
19. Signet Ring
Signet rings have some kind of sign or symbol on them. Usually, it's a coat of arms, or a club or college motif. But you can also emboss the badge of your favourite football team on a signet ring, or even your own design. Men wear them on either hand on the index or pinky finger.
21. Sovereign Ring
Sovereign rings are anything but subtle and should be avoided by less daring dressers. They're decorated with a sovereign gold coin, which makes them pretty large. Also, they're often quite intricately detailed.
22. Thumb Ring
This one can be as big and flashy as you want. There are different styles and designs, and one of the more popular ones is the skull. The thumb ring can be decorated with anything you want. 
23. Wedding Ring
Men's wedding rings are one of the simplest types of men's rings out there. Usually made of gold or silver, these are bands without additional embellishments. Men generally wear them on the ring finger of the left hand.
Shapes and Types of Stones for Rings
Asscher Cut
The Asscher cut is a gem cut into a square or rectangular shape with step-cut facets. It's named after the Asscher brothers, who created this type of cut in 1902. Asscher cuts are usually less expensive than round or princess cuts because they have a larger surface area.
Cushion Cut
The cushion cut is a gem cut into a rectangular or square shape with rounded corners. This shape makes it resemble a cushion, hence the name.
Emerald Cut
The emerald cut is a rectangular shape with a step-cut facet. It's named after the emerald gemstone, as that stone is often cut in the same form. Emerald cuts are usually less expensive than round or princess ones because they have a larger surface area. 
Heart Shape
The heart shape is a diamond cut into the form of a heart. This shape is very romantic, making it perfect for an engagement ring. The design can be simple, with one heart-shaped gem in the centre, or more elaborate, where that gem is surrounded by smaller ones to bring the extra sparkle.
Marquise Cut
This must be one of the most elegant and fashionable kinds of ring stone shapes. The marquise cut is a diamond cut into an oval shape with pointed ends. Besides the princess cut, this is also a popular choice for engagement rings. 
Oval Shape
The oval shape is a modified round shape with a more elongated look. It's a popular choice for engagement rings because of how unique and stylish it is.
Pear Shape
A pear-shaped stone is cut into a pear shape with rounded ends. You can often see this cut on more elegant and expensive rings, as it looks glamorous and adds a bit of class to every outfit. 
Princess Cut
The princess cut is a square or rectangular diamond with pointed corners. It's another trendy choice for engagement rings.
Radiant Cut
The radiant cut is a stone shaped as a rectangular or square with brilliant-cut facets. It's a popular choice for engagement rings because it maximises the stone's brilliance. 
Round Shape 
The round shape is the most popular for stones, from diamonds to coloured gemstones. This shape is also one of the most expensive cuts, as it requires the most material to create.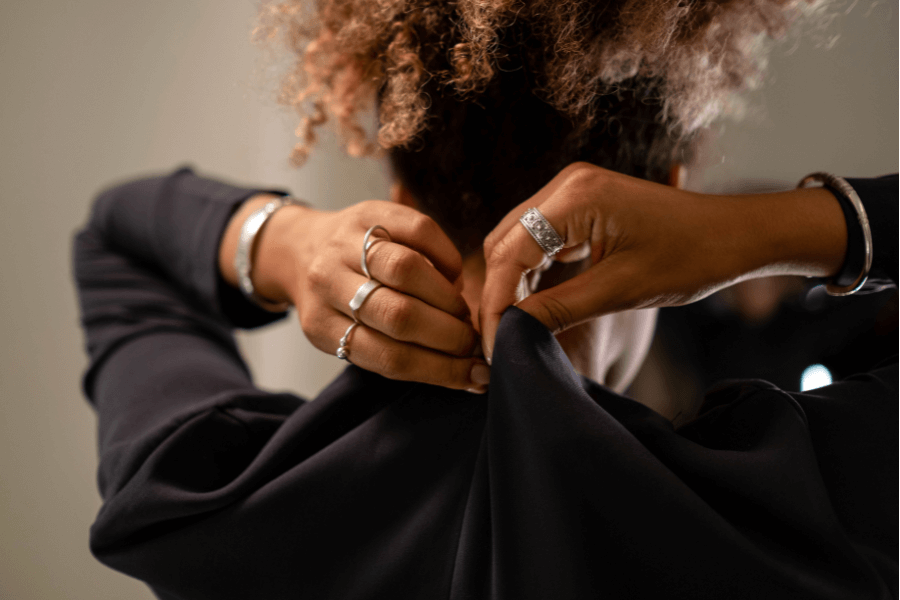 Types of Ring Band Styles
Bar Setting
The bar setting is a collection of stones in which each stone is separated by a long, thin bar. This setting is often used for wedding and engagement rings, because it allows the diamond to sparkle.
Bezel Setting
The bezel setting is a ring band with a metal rim that goes around the edge of the stone. This setting is often used for engagement rings, because it protects the diamond from damage. 
Channel Setting
The channel setting is a ring band with a metal rim that goes around the edge of the stone with channels cut into it. This setting is often used for wedding rings, because it protects the diamonds from damage. 
Cluster Setting
The cluster setting has a ring band with small diamonds set close together. This setting is often used for fashion rings, because it creates a sparkly look. 
These rings can be made with various materials, including gold, silver, platinum, and titanium. To make them more unique, you can also add gemstones, such as diamonds, emeralds, rubies, and sapphires. 
Gipsy Setting
The gipsy is often the style of ring worn by men. It has a broad top with only one solid continuous line. Its band is dome-shaped, while the stone is in the centre.
Illusion Setting
The illusion setting is a type of ring band with a metal rim around the edge of the stone. The gems are often set side by side and backed up to create the illusion of a larger stone.
Prong Setting
The prong setting is common among the different ring setting types. It has metal claws that hold the stone in place. This setting is often used for engagement rings, because it allows the diamond to sparkle. 
Tension Setting
Among the different types of ring bands, this one has a different mechanism. The tension setting is a ring band that holds the stone in place with tension instead of metal claws. The ring's stone is 'squeezed' by the band's precious metal, making it a band design masterpiece.
Gold
Gold is a timeless and ever-popular choice for almost all ring styles, because it's hypoallergenic and doesn't tarnish. It's also a soft metal, so it's easy to resize. There are three varieties of gold rings: yellow gold, white gold, and rose gold.
Palladium
Palladium is one of the most expensive and luxurious material alternatives for rings. It's white, long-lasting, lightweight, and resistant to discolouration. As a member of the platinum metal group, palladium is one of the rarest precious metals, making it one of the most valuable.
Platinum
Platinum has been used as a ring material for centuries, and its popularity is only increasing. Its sleek white colour is perfect for a modern bride, and its durability makes it an ideal choice for a lifetime of wear. But this metal is very dense, so it will feel heavier on the finger. 
Silver
Silver has been used as a material for rings for centuries, and its popularity shows no sign of waning. The latest jewellery industry statistics show that people choose silver rings because they're stylish and affordable. According to Statista, more than 1,000 people paid under £100 for a silver piece of jewellery in 2020. 
The benefits of silver don't stop here. It's also durable and hypoallergenic, making it an ideal choice for those with sensitive skin. 
Titanium
Thanks to its durability and unique look, titanium has become a popular ring material in recent years. Unlike gold or silver, titanium is not a soft metal, which means it's less likely to scratch or dent. In addition, titanium rings are incredibly lightweight, making them comfortable to wear all day long. 
And because titanium is a naturally white metal, it doesn't require the regular polishing that other metals do. Also, although it's a high quality metal, it still belongs in the costume jewellery category.
Tungsten Carbide
Tungsten carbide is a hard, heavy, and long-lasting composite of tungsten and carbon. These rings are far more scratch-resistant than those composed of other metals. Its main disadvantage is that it can't be cut and resoldered, thus preventing tungsten rings from being resized.
Rings can be simple or intricate in design, plain bands or adorned with gems and other decorations. There are many types of rings to choose from, so you are sure to find one that suits your style. Consider different materials and settings before deciding. If you're looking for a classic and timeless piece, go for a solitaire diamond ring. Try a cocktail or statement ring if you want to add some personality to your look. A ring is a significant purchase, so take your time and choose wisely. Just make sure it reflects your unique personality.