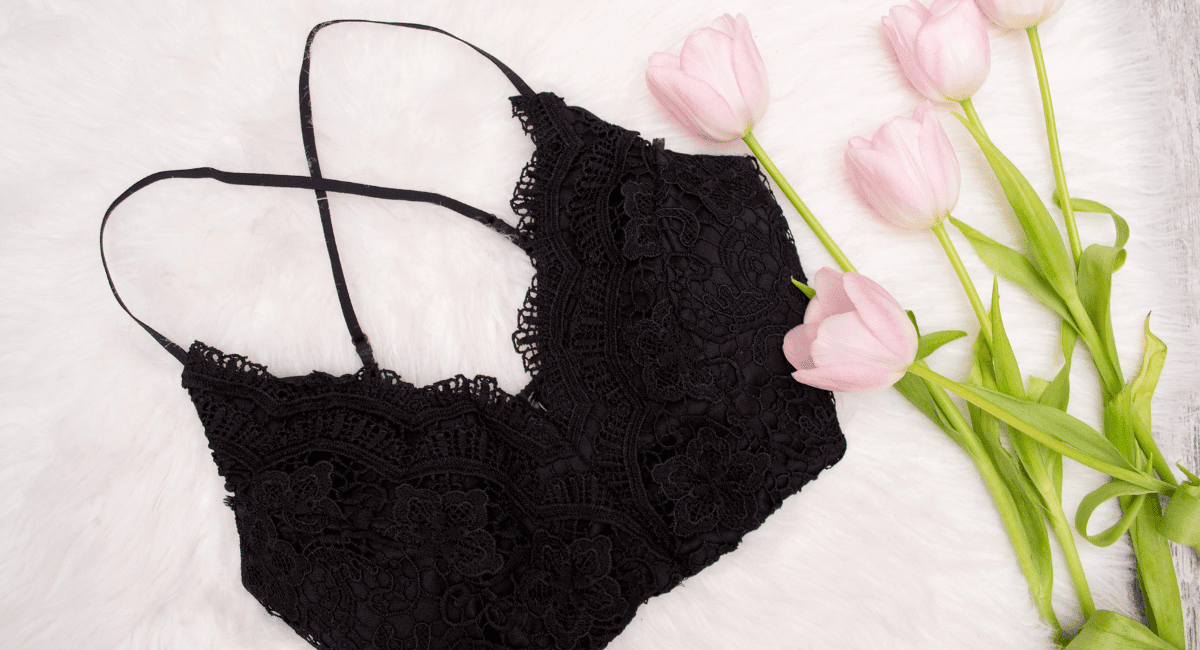 30 Essential Types of Tops + 4 FAQ Answered
Posted on |
How many different types of tops do you have in your wardrobe? For most women, the answer is 'a lot.' From formal and modest to casual and sexy, one-coloured to patterned and colourful, there's a top to suit any occasion.
But there are more tops on the market today than you're probably aware of. Let's look at some of the different tops you should add to your closet!
Different Types of Tops Every Stylish Woman Must Have
1. Asymmetrical Top
An asymmetrical top is a shirt or blouse with an uneven hemline. One side may be longer than the other, or the front may be shorter than the back. This top can add a bit of drama and uniqueness to your outfit.
2. A-Line Top
An A-line top is fitted at the waist and then flares out at the bottom, resembling the letter 'A.' All the different top styles of this design are flattering and comfortable, because they're not too fitted or loose, making them perfect for all body types.
3. Batwing Top
A batwing top is a loose-fitting top with wide sleeves that resemble bat wings. This top type is often made of a light and airy fabric, making it an excellent choice for warm weather.
4. Bralette Top
A bralette top is a type of crop top resembling a bralette bra. Bralettes are usually made of lace or other sheer fabric and can be worn on their own or under a blazer or cardigan.
5. Boxy Top
A boxy top is a loose-fitting top with straight, boxy lines. This design belongs to the types of women's tops that are often cropped or waist-length. Because of its loose fit, the boxy top looks great on any type of figure—just make sure to get a size that doesn't cling to your shape.
6. Blouse
A blouse is a type of shirt usually made of a light and airy fabric. Blouses can be formal or casual and are often worn with skirts or pants.
7. Blouson Top
A blouson top has a cinched hem or waistline and a loose shape. Light materials and elastic or drawstring make this top appear extra full.
8. Bodysuit Top
This one-piece garment covers the torso with stretchy and fitting material and attaches down at the crotch. Bodysuit tops can be worn on their own, paired with pants or skirts, or under other clothing.
9. Bikini Top
This is part of a two-piece swimsuit. There are many different types of bikini tops, from bandeaus to halters and more. But the most popular bikini type is the triangle shape, where the two front parts are connected with a strap.
10. Camisole Top
A camisole top is a sleeveless, fitted shirt with spaghetti straps. Camisoles can be worn on their own or under other clothing. Because of their straps, these tops are also called spaghetti strap tops. 
11. Cape Top
A cape top is a shirt or blouse with a cape-like piece of fabric attached to the neckline. This top can add a bit of drama and interest to your outfit, but it can be tricky to store, as you have to make sure it doesn't wrinkle.
12. Crop Top
A crop top is a shirt or blouse with a cropped length, meaning it's shorter than waist-length. Crop tops can be casual or sexy, depending on the style. They returned to the spotlight last year and remain there for this season, as many popular clothing brands launched their designs of crop tops.
Crop Top Types
There are several types of crop tops, including:
Bandeau: A bandeau is a tube-shaped crop top that covers the chest and can be worn strapless or with straps.

Bralette: A bralette is a lacy crop top similar to a bralette bra.

Halter: A halter top is a crop top with straps around the neck.

Off-the-Shoulder: An off-the-shoulder crop top is just what it sounds like—a crop top that sits off the shoulders.

One-Shoulder: A one-shoulder crop top has one strap over a shoulder.
13. Choker Top
This top has a band that looks like a choker necklace under the neck and a V-neck shaped collar. In this way, the choker top makes it look like there's a cutout under the neckband in a V shape.
14. Corset Top
This is a corset-inspired strapless top without sleeves that has steel boning to shape your waist. You can fasten it with hooks, eye closure, or a lace-up closure. It's usually made of lace and has intricate details, making it one of the sexiest tops.
15. Cold-Shoulder Top
This top has cutouts at the shoulders, between the strap of the bodice and sleeves. It leaves the shoulders bare and brings some drama to your outfit.
16. Halter Top
A halter top is a shirt or blouse that ties around the neck. It's sleeveless, while a narrow band across the neckline keeps the bodice together. You should consider investing in a halter top if you want to build an amazing capsule wardrobe.
17. Maxi Top
A maxi top is a shirt or blouse with a long length, often down to the ankles. Maxi tops can be casual or dressy and are usually made of light and airy fabrics. They often have slits from both sides to make wearing them easier.
18. Off-Shoulder Top/Bardot
This top has straps that sit off the shoulders and exposes the upper part of your arms and chest. It's a trendy style and looks fantastic if you have nicely built shoulders. You can also add any style of necklace to this outfit to accentuate the effect.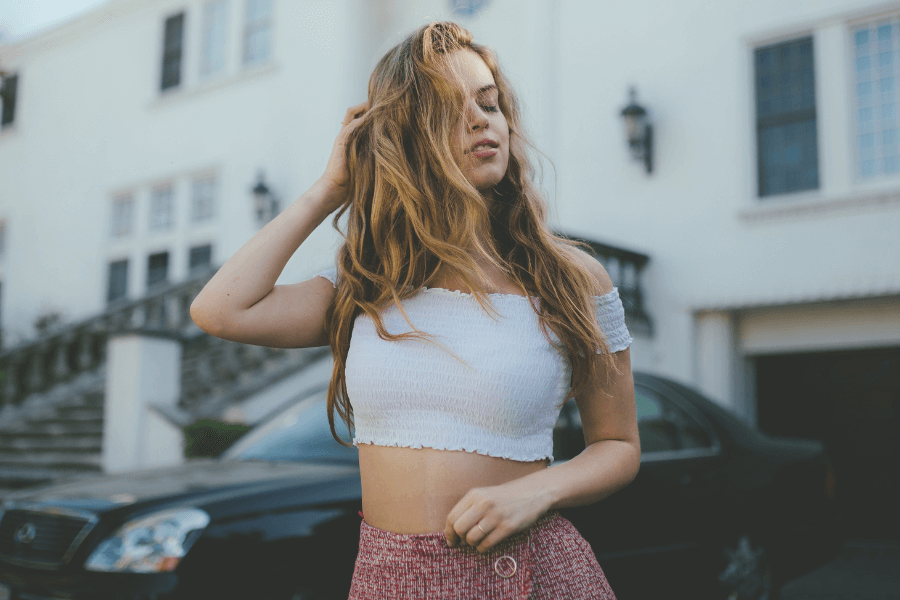 19. One-Shoulder Top
As its name suggests, this top has a strap that goes around one shoulder, leaving the second one bare. Among the various types of tops for women, the unique design of this top makes it stand out and helps you look more elegant.
20. Poncho
This is a cloak-like top with a slit at the top for inserting the head. There are no sleeves or defined bodice. You slip it over the head, and it hugs your body lightly by falling down the shoulders.
21. Peplum Top
The peplum top is tight around the upper body and flares from under the bust in a way similar to a skirt. The flaring part is usually short and cut circularly, so it's perfect if you want to hide your belly.
22. Sweatshirt
A sweatshirt is a casual top made of cotton or polyester fabric by most streetwear brands. It's usually associated with sports, but has recently become a loungewear staple. There are many different styles of sweatshirts, from hoodies to crop tops.
23. Smock Top
These styles of tops are made using the smocking embroidery technique. This is elastic stitching that makes small ruffles which hug your body. It can be fitting with a top made entirely out of these ruffles, like a smock tube top. Or there can be ruffles only in one area, like a thicker line under the bust, from which the top flares down.
24. Tank Top
A tank top is a sleeveless shirt with wide straps covering the shoulders and a scoop neckline. It's usually made of cotton or another thin and airy fabric, making it perfect for summertime. Although, you can also find leather ones—sexy types of tank tops designed for night-outs.
25. Tube Top
A tube top is a sleeveless shirt with no straps. It's made of stretchy fabric that clings to your body, making it very sexy. The tube top is always popular, and many affordable clothing brands make it, so it's relatively cheap.
26. Tulip Top
The hem of the tulip top is cut inward in a triangle shape resembling a tulip leaf, while its sleeves have turned hems. This design looks like a tulip, making it unique among different styles of tops.
27. Tunic Top
A tunic top is a longer top that falls between the waist and the knees. It doesn't matter if it's loose or fitting. This top elongates the torso, making it perfect for shorter and chubbier girls.
28. Turtleneck Top
This is a high-necked shirt or sweater with an extended material covering the neck and throat. Turtleneck tops are made of fabrics from thin cotton to thick wool. If you want to be more eco-friendly and buy better quality items, you should choose the tops made of organic cotton or wool. These are more sustainable and don't stretch as quickly as the others.
29. T-Shirt
A T-shirt is a basic shirt with short sleeves and a round neckline. It's usually made of cotton, making it perfect for layering under other tops when it's colder or wearing on its own during summertime.
30. Wrap Top/Surplice
A wrap top is a shirt that wraps around your body and fastens at the side or back. It looks like a robe that's been belted at the waist. This top is very flattering, as it accentuates the smallest part of your waist.
In comparison, a surplice is a faux wrap top. It looks like a wrap top, but you don't wrap and fasten it every time you put it on. Instead, the fabric that forms the overlap is stitched down at the side.
Many types of sleeves can be found on tops, from flowy to fitting, fluffy to structured, long to short. Here are some of the most popular:
Set-in sleeves—attached to the top's armhole and sewn all around.

Bell sleeves—a long sleeve fitted around the shoulder and upper arm, flaring out to the wrist, resembling a bell.

Cap sleeves—extremely short sleeves that cover the shoulder and don't go below the armpit.

Raglan sleeves—extend above the shoulder to the neckline, creating a diagonal seam from armpit to neck.

Bishop sleeves—a long sleeve fitted at the armhole that gradually widens down to the hem, which is gathered with the cuff.

Cape sleeves—full and flowing sleeves gathered at the shoulder and flared out like a cape.

Slit sleeves—have a slit down the centre exposing part of the arm. 

Dolman/batwing sleeves—have a very deep armhole, and the sleeve gets progressively narrower to the wrist.
The variety of tops available can be overwhelming, but we hope this guide has helped you narrow down the options. There are so many cute tops and shirts to choose from. It comes down to what works best for your body type and personal style.
So, don't be afraid to experiment with different cuts, fabrics and colours—you may be surprised at how great you look in a new top!
1. How many types of tops are there?
When it comes to tops, there are seemingly endless options. From tank and crop tops to tunics and sweatshirts, there's a top for every occasion, and many designs come in different iterations.
For instance, tank tops can be sleeveless or have spaghetti straps, and they can be made from various materials, including cotton, silk, and linen. Crop tops are typically shorter and can be worn on their own or as part of an outfit, while sweatshirts are a comfortable option for casual days or working out.
2. Which tops are in fashion?
Tops are constantly changing with the latest fashion trends. Some of the must-have ones for 2022 are crop tops and cutouts. Choose a one-coloured top and pair it with a pencil skirt or pants if you need a formal outfit. For summer days and nights out, opt for colourful and patterned styles that bring life to your outfit.
Other classic styles like V-neck, sporty T-shirts and tank tops should always be a staple in your wardrobe.
3. Why do girls wear crop tops?
There are a lot of reasons why girls wear crop tops. For one, they're super cute and can give any outfit a little bit of extra flair. They also let you show off your midriff, which can be confidence-boosting. Wearing a crop top is also a great way to stay cool in the summer heat. 
4. What are tube tops called?
There are several terms for 'tube tops,' including 'boob tubes' and 'strapless tops.' The first is slang used only in the UK. The second name can be misleading, as while tube tops generally don't have straps, there are many other strapless styles that are not tube tops.
Whatever you call them, these types of tops are an excellent option for a summer day—they're comfortable, easy to wear, and can be dressed up or down. Plus, they come in various colours and patterns to suit your style!