What Is Loungewear? + Answers to 5 Top Questions
Posted on |
You know that feeling: you get home after a long day of being stuck in uncomfortable pants and a buttoned-up shirt, and the first thing you want to do is to get rid of them and put on something cosy and comfy. But, what if it's too early for pyjamas? This means it's loungewear time.
If you're like most people, you probably wear loungewear a lot. After all, it is one of the most comfortable types of clothing around. But, what is loungewear exactly? And why is it so popular? Read on to find out.
What is Considered Loungewear?
1. Can You Wear Loungewear Outside?
The idea of wearing loungewear outside may seem a bit unorthodox to some. After all, when we typically think of loungewear, we picture cosy pyjamas and soft sweatshirts, items that are best suited for curling up at home. However, many casual styles can be perfectly appropriate for wearing outside in a variety of settings. 
The key is to choose the right pieces and style them in a way that looks put together. For example, instead of wearing a ratty old t-shirt, try pairing a cute tank top with some joggers or leggings. You can also dress up loungewear with accessories like jewellery or a scarf. T-shirts, athletic wear, and oversized sweaters can all be great options for taking your loungewear outdoors. 
Plus, looking fashionable doesn't have to mean breaking the bank—you can find great deals on affordable loungewear at most major retailers and online shops with the best loungewear. After all, there's no reason why you can't look stylish while feeling relaxed!
2. How Much Loungewear Do You Need?
When it comes to loungewear, more is more. It's important to have a rotation of different pieces so you always feel fresh and comfortable. Plus, it's nice to have options when you're spending a lot of time at home. Here are a few key pieces to consider:
A cosy robe or kimono

. This is perfect for lazy mornings or nights when you want to relax in style.

A soft pair of pants

. Whether you prefer leggings, joggers, or something in between, make sure you have a few pairs that you love.

A comfortable tank or tee

. You'll need something to wear underneath your robe or kimono, and a basic T-shirt is always a good choice.

A warm sweater or cardigan

. This is ideal for chilly evenings or mornings when you want to lounge around in style.
With these key pieces, you'll be sure to have everything you need for a well-rounded loungewear collection. 
3. Is Loungewear Pyjamas?
Well, technically speaking, loungewear and pyjamas are two different things. 
That said, there's no hard and fast rule about what you can and can't wear as loungewear. If you find a pair of pyjamas that you love and feel comfortable in, then go ahead and wear them as loungewear!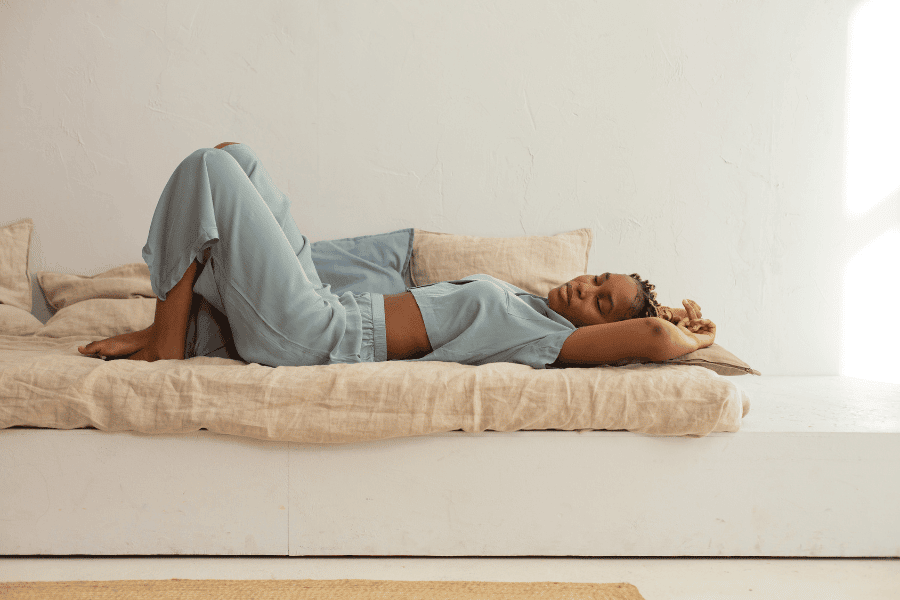 4. What is the Difference Between Loungewear and Pyjamas?
Most people use the terms "loungewear" and "pyjamas" interchangeably, but there is a difference between the two. Pyjamas are specifically designed for sleeping and are usually made from soft, comfortable fabric like cotton. They typically include a loose-fitting top and bottoms and are often sold in sets. 
Loungewear, on the other hand, is designed for relaxing both day and night. It can be made from a variety of different fabrics, and usually has a more stylish look than pyjamas. While loungewear can be worn to bed, it's not as ideal as pyjamas since it doesn't provide the same level of comfort. Loungewear is a go-to outfit when you need something comfy to go to the store, visit family, grab a cup of coffee or sit outside and chat with neighbours.
5. Are Sweatpants Loungewear?
While they are primarily considered sportswear, it isn't wrong to consider sweatpants to be a loungewear item as well. They are perfect for everything from relaxing at home to going to the gym. Thanks to their flattering silhouette and loose fit, sweatpants are also great for looking chic even while lounging around. 
Whether you want a go-to comfy outfit for stay-in weekends or simply need something cosy to wear on your way to the coffee shop, this fashionable piece will never let you down. So don't be afraid to add a few pairs of sweatpants to your closet today; they're just too comfortable not to!
Loungewear is the perfect way to relax in comfort and style. Whether you're staying in or going out, there's a loungewear set for you. From classic sweatpants and a cosy hoodie to elegant leggings and an embellished robe, these outfits will make every lazy day perfect.