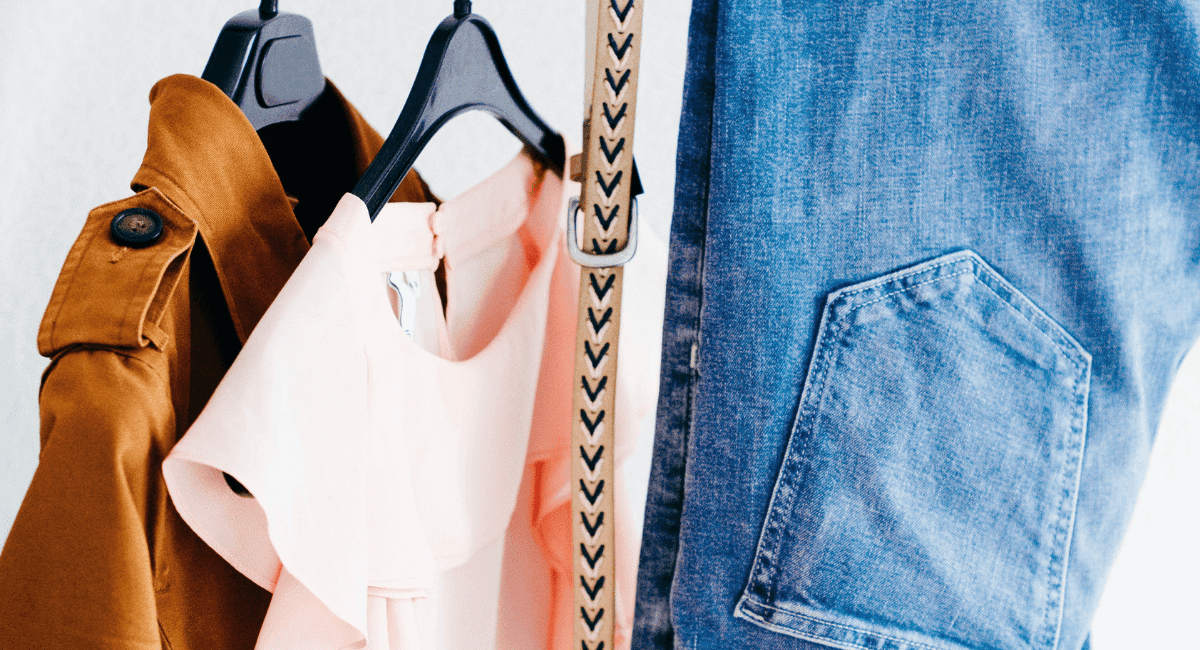 An Honest Guide to 9 Best Secondhand Clothes Websites in the UK
Posted on |
Buying second-hand online is just great, isn't it? You get quality products at dirt-cheap prices, and you'll even have them shipped right to your doorstep. What could beat that?
However, buying from a poorly designed or malicious website could ruin the whole experience. 
This guide will help you find the best secondhand clothes websites in the UK. Instead of wasting your time on platforms that will get you nowhere, check our options out!
Fight back fast fashion; embrace second-hand. Let's start!
What Are The Best Online Thrift Stores?
As convenient as it is to be able to touch and see clothes before you buy them, brick-and-mortar thrift stores aren't for everybody. 
Instead, we prefer buying online. You can find affordable high-street clothes through the internet, and we also found that vintage clothing is plentiful and extremely cheap. If you're into this style, you'll be in heaven. 
Now, it's time to discover the best second-hand clothes website in the UK. Without further ado, let's introduce them—in no particular order:
Seeing eBay this high on our list shouldn't surprise anybody. It's the industry leader, and rightly so. 
The website offers the best compromise between security, ease of use, and freedom of action for buyers and sellers. Users can haggle and bid on auctions to land the best possible deals, all in a safe and controlled environment, which makes eBay arguably the best place to buy used clothes online if you've got some time to spare.
However, the endless catalogue of pre-loved clothing articles inevitably will include a small number of scams, as not all sellers are equally scrupulous. Fortunately, eBay offers an excellent refund policy covering all transactions on its website. 
The platform's well known for its auctions, but some sellers also offer the option to bypass bidding and buy an article at a premium directly through the 'Buy It Now' option. 
However, if you want to get the best possible deal, bidding on an auction right before it ends—a practice also known as auction sniping—will secure you the best possible prices. You'll even be able to easily buy second-hand designer clothes at half or less of their retail price.
You can pay through all the popular options, PayPal included. This is something eBay's main competitor, Amazon, doesn't allow. Using PayPal for transactions also makes life much easier for sellers if you're looking to become one.
Overall, we highly recommend that you try out buying on eBay.
Visit eBay.
2. Depop — Popular and Thriving
While doing our research, we encountered numerous overwhelmingly negative reviews regarding some of the most popular second-hand clothing sites, Depop included. 
However, we don't believe these websites deserve such a bad reputation. Let's start with Depop. 
The platform started as a social network to buy clothes featured in PIG's magazine. After a while, Depop's founder Simon Beckermann decided to add a selling function as well, and that's how the platform became one of the most used second-hand clothing apps in the UK.
Now, Depop offers menswear and womenswear options, as well as jewellery and beauty items. You can find all sorts of recent and vintage products at reasonable prices, and haggling for a better deal is an option with some sellers.
Numerous users, especially sellers, stated that the help centre fell short of their expectations and did not recommend selling on the website. However, reviews from buyers, while few and far between, are mostly positive, and that is why we included it as one of the best cheap online thrift stores to buy from. 
Give Depop a chance, and you'll certainly find something perfect for you.
Visit Depop.
3. Vinted — Cheap and Convenient
Vinted is another somewhat controversial yet reliable platform to buy and sell pre-loved clothing. 
Vinted is the brainchild of Milda Mitkute and Justas Janauskas. It was born in 2008, and since then, it has employed more than a thousand people worldwide. The platform operates in 15 markets, the UK included. 
The first thing to mention is that its prices are fantastic. We were able to snatch a genuine leather jacket for around £10. Vinted could genuinely rank among the best online thrift stores due to its lower prices alone. 
However, there's a catch. Buyers will have to pay a 3% to 8% service fee and a fixed fee of £0.30 to £0.80, on top of shipping and the item's cost. That same £10 jacket from before cost me a still-affordable £16, complete with shipping. 
Another essential precaution you have to take on Vinted is to contact the seller before buying an item. You can quickly do so through its mobile app or online website. Either way, this will save you from contacting customer support due to an unresponsive seller or a scam. 
One of the weakest links in Vinted's 'chain' is its lacklustre customer support and a 48h return policy—the shortest return period we found among second-hand clothing websites for the UK—that will have you scrambling for dear life just to return a pair of pants. 
Overall, we encountered just a few inconveniences throughout our experience. We feel at ease putting Vinted among the best online clothing thrift stores in the UK. 
Visit Vinted.
4. Vestiaire Collective — Our Vintage Second-Hand Clothing Apps UK Choice
Anyone interested in vintage clothing, especially the high-end variety, should consider shopping on Vestiaire Collective. 
Its website feels more like a boutique than a thrift shop, and its prices reflect that. However, we're dealing with Dior, D&G, and other premium options, so we expected that. 
Vestiaire Collective is based in Paris and has offices all around the world. It offers both mobile and browser solutions, and you can both sell and buy through these two options. 
Vestiaire Collective offers renewed and discounted premium pre-loved fashion items, ranging from shoes to handbags and jewellery. It aims to help give the fashion industry a more sustainable future and eradicate the 'fast fashion' trend. 
Multiple sellers report that the company has a stringent and sometimes faulty authentication team. To avoid having to deal with counterfeit goods, it requires solid proof of authenticity from all sellers dealing with high-end items. 
While not for everybody, it's still a valid and excellent second-hand designer clothes marketplace, and we highly recommend it. 
Visit Vestiaire Collective.
5. Thrift+ — For High-Street and Luxury Fashion Aficionados
Thrift+ is a relatively new platform founded in 2017 by Joe Metcalfe. Its purpose is to allow people to send in their otherwise unwanted clothing to be sold. The website also collects funds for charities through its ThriftBags initiative. 
The website and app are easy to navigate, vibrant, and pleasant to the eye. We understood immediately what each section was for and how to access it. 
Thrift+ offers an ample selection of high-street, boutique, and designer options for its customers. There's something for everybody, and prices are acceptably affordable. 
The Thrift+ Boutique section offers great deals on pre-owned luxury fashion. We're talking about such brands as Gucci, Armani, Hugo Boss, and Vivienne Westwood, and all items are reasonably priced, seldom going over £100.
Visit Thrift+.
6. Re-Fashion — Sustainable Start-Up
During our research on the best second-hand clothes websites in the UK, we stumbled by chance on Re-Fashion, and we're so glad it happened. 
Re-Fashion is a very young start-up business based in Hemel Hempstead. It may not have the same street cred as the other options on our list, but it deserves some attention. 
Its mission is to get rid of clothes waste, and the company's doing its part very well. 
Re-Fashion specialises in women's pre-loved fashion. It offers daily drops at discounted prices and a hefty catalogue of dresses and designer brands, with many quality items sold for under £10. 
On top of that, it provides a recycling service for your unwanted clothes. You can post the used pants or shirts you no longer use for free, and you'll even receive £5 to spend on its website. Thrifty!
Visit Re-Fashion.
7. House of Vintage — Vintage and Minimalist
House of Vintage is a perfect option for all pre-owned designer fashion and vintage enthusiasts.
It offers a vast array of vintage clothing from the 1920s through the 1980s, with a particular interest in hard-to-find clothing items for both men and women. 
With 2022 seeing a revival of 70s and 80s fashion, this website comes in handy to pick up a couple of clothing pieces that will stand out from the crowd. 
Prices are what you would expect from an online vintage boutique with average user traffic, so expect high-quality bottoms to go for around  £80 to  £100, and tops for  £30 to  £60. Not the cheapest option, but still reasonable.
While primarily focusing on online stores, House of Vintage also has three brick-and-mortar locations in Shoreditch, Hackney Central, and Broadway Market.  
Visit House of Vintage.
8. Beyond Retro — Excellent Men's Second-Hand Designer Clothes
Beyond Retro is the ideal choice for those that seek individuality and quality clothes at a fair price. 
The true uniqueness of Beyond Retro stands in its community—a diverse and inclusive band of brothers and sisters united by their love of vintage clothing for men and women. 
The platform offers a vast array of clothing items, sorted by type and brand, at very reasonable prices that often fall below the industry average. Orders worth £75 or more also benefit from free shipping, and every item can be returned free of charge up to 14 days after delivery, which is more generous than the average return window for most other pre-owned fashion UK online retailers.
Visit Beyond Retro.
9. Shpock — Perfect for Mobile Users
Shpock is an excellent platform for both sellers and buyers interested in finding second-hand designer clothes online from the UK. 
It has a community of over 10 million users and is highly active in the UK. While it isn't a platform specifically designed to sell and buy clothes, it has a large and vivid user base of sellers and buyers looking for cheap pre-loved clothing items. 
Its most significant strengths are in how convenient it is to sell and buy with no additional fees, how easy it is to set up profiles, and its unmatched mobile app that lets you buy whatever you need on the go. 
If you prefer shopping on PC, Shpock does have a website, but it's less straightforward than its mobile counterpart. 
Overall, if you want to find great deals on pre-owned designer fashion, vintage clothing, or high-street brands, you may as well pay a visit to Shpock.
Visit Shpock.
Naturally, we had to come up with a set of standards to judge platforms and find the best second-hand clothes websites for UK audiences. 
Here are the factors we considered while doing our research:
Vintage fashion online stores are all about keeping unwanted but otherwise perfect clothes out of the bin. 
Britons throw away over 350,000 tonnes of still-wearable clothing each year. Fortunately, another pile twice as heavy goes to charities, recycling, clothes collections, and textile banks. 
Fast fashion statistics show that a third of young women in the UK consider clothing old after just one use. 
Online thrift stores—at least those mentioned above—are fighting for those 350,000 tonnes to be sent to them instead. 
We only mention those platforms built by and for the communities that struggle to reduce clothing waste.
Value-for-money was an outstandingly important aspect of how we chose the best online thrift stores for the UK.  
The last thing we want is for you to pay more than necessary for shoddy clothing. Since we care about you, we ensured that all websites mentioned above offered great quality items for a reasonable price. 
No overpriced junk here, no sir!
An online marketplace's sellers define the quality of the platform as a whole. Do they respond on time? Are they helpful? How often do scams get spotted?
Mind you, every website that allows people to sell their stuff will inevitably be found and employed by scammers to make some quick cash. What helps us discern a reliable pre-owned fashion site from an unsafe one is how good the people running it are at getting rid of these untrustworthy sellers. 
However, legitimate sellers can still be hard to reason with or plain bad communicators. While not even the best second-hand designer clothes websites can easily control this, it's still something that influenced our decisions on who made it and who didn't. 
You'll notice that some websites don't allow random users to sell stuff directly, and instead, everything goes through their warehouses, logistics, and customer service. 
Although it leaves prices rigid with no wiggle room for negotiations, this approach is safer. Overall, we appreciate it just as much as a rigorous quality-control process for sellers on other platforms.
You'll notice that all websites we mentioned have a massive catalogue of products. That's to keep you from wasting time checking out websites that have just a couple of options available at a time. 
There are hundreds of overly specialised vintage fashion stores online, with 15 or 20 items available at most. We kept them out of our list.
As much as we would like to support up-and-coming or niche businesses, it's not convenient for buyers to waste their time scrolling through these sites.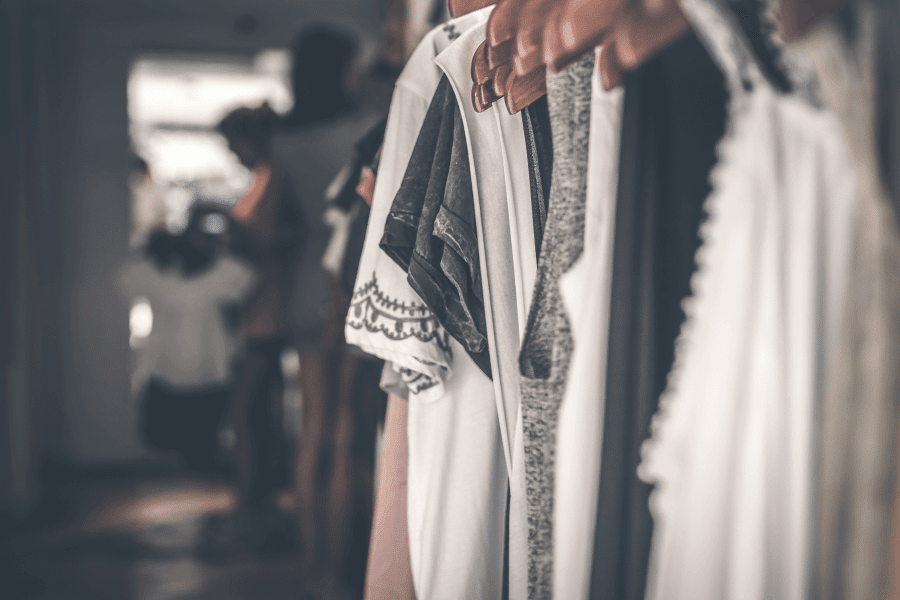 Where is the best place to buy used clothes online?
It depends on what you're looking for and your price range.
Do you want to buy cheap, pre-loved clothing through a quick and efficient platform? Try Vinted and Re-Fashion. 
Would you prefer high-end items from luxury brands, vintage or not? Vestiaire Collective is the right choice. 
Is vintage your jam? Check out Beyond Retro, House of Vintage, and Depop.  
If you're looking for a jack-of-all-trades marketplace, you might prefer looking on eBay or Shpock for deals.
Where is the best place to sell clothes online in the UK?
First of all, you shouldn't limit yourself to a single platform to sell on, especially if you're trying to get into reselling as a side gig. 
You might want to start on Shpock and Vinted if you're a first-time user. Both are perfect platforms to get used to the ins and outs of selling used stuff online. 
If you have access to many premium vintage clothing items, opt for Vestiaire Collective.
Where to buy second-hand designer clothes online?
You can find great deals on pre-loved designer clothes on all of the above websites. 
If you're not worried about having to contact a seller before buying, visit Vinted. Shpock would be a great place to start if you operate primarily on mobile. 
If you'd like to get some of that auction-sniping action, opt for eBay, and you won't be disappointed.
What are the best online thrift stores?
Shpock, Vinted, Depop, and eBay are among the best options for online thrift stores, especially if you're a casual user or just starting out, thanks to their vast catalogue and ease of use. 
Thrift+ is also a good choice—however, haggling there is not an option.
Is there a market for second-hand clothes?
There's a considerable demand for pre-loved clothes, especially online.
As the saying goes, 'One man's trash is another man's treasure.' Your used clothing may be worth a fortune, especially if you have a lot of vintage clothes lying around. 
So yes, there's a big market for second-hand clothes, and the best places to start selling your own are Shpock, Vinted, and Depop. 
You can also request a Thriftbag from Thrift+, fill it up, and send it back—the company will take care of everything else and reward you with Thrift+ credits for every sale.
As you can see, there are so many ways to buy second-hand clothes online in the UK.
We hope you've found our list of best second-hand clothes websites for the UK valuable and entertaining. 
Will you donate your old clothes through Thrift+, or will you release your inner businessman and make a couple of quid on Shpock or eBay? The choice is all yours. 
Sources: