A Comprehensive List of the Best-Selling Designer Trainers
Posted on |
If you're looking for a new pair of designer trainers,  knowing what the best-selling models are can save you so much time. To help with your research, we created a list of the most popular designer models out there! 
Regardless of your style, we're confident that you'll find at least one of these shoes worth buying. We've divided our list into three categories—female, male, and kids trainers—so don't hesitate to explore the entire selection to find the best piece for your personal style.
The Best-Selling Designer Trainers
Top Women's Designer Trainers
1. Alexander McQueen Oversized Trainers
The Alexander McQueen Oversized Trainers are among the most popular models out there. That's because they have a pretty simple design that's perfect for everyday wear. Depending on the colour you choose, you'll be able to wear them with almost any outfit.
No matter if you're going for a sporty look or need something to pair with your elegant suit, the Oversized Trainers are the way to go. The versatility of this model is what makes it so popular with influencers and celebrities worldwide.
While the style of these designer trainers for ladies is simple, it does come with unique characteristics that make this pair of trainers a good investment. The sole is a bit chunky, which follows the latest trend of oversized clothing and footwear.
At the same time, this model isn't the chunkiest one out there, making it easier to combine with both elegant clothing and sportswear. As a result, the Oversized Trainers are a great investment for those looking to purchase a pair of trainers they'll be able to wear every day.
Visit Alexander McQueen.
Shop with Alexander McQueen vouchers.
2. YSL Court Classic Embroidered Sneakers
The YSL Court Classic Embroidered women's designer trainers are another timeless model that's an excellent choice for any outfit. While we wouldn't recommend these sneakers for running, they look great with both sports attire and more elegant outfits. The YSL Court Classic model comes in a couple of basic, neutral colours.
The signature feature is the 'Saint Laurent' lettering along the outer side. These luxury trainers come in a single colour, such as white, black, pastel pink, and pastel blue, with the exception of the occasional model that features accent-coloured stripes or lettering. 
The YSL Court Classic can be made of cotton, leather, silk, or a combination of these fabrics, depending on the particular model. Be aware that the leather used in these sneakers is real calfskin, meaning your shoe wouldn't be vegan-friendly. The soles are made of rubber, making them a pretty durable option.
Visit YSL.
3. Balenciaga Triple S Trainers
There was a time when you couldn't scroll through your Instagram Explore without seeing at least one person wearing the Balenciaga Triple S designer trainers. This model is still extremely popular and is usually the first choice for many shoppers who want to buy something from this brand.
The Balenciaga Triple S model is trendy, chunky, and durable, which is a perfect combination for anyone who wants to invest in a pair of designer footwear. The trainers come in various colours, allowing you to choose the combination that will work for your favourite outfits.
The Balenciaga Triple S designer trainers for women are made of premium leather, which justifies their price. Their mesh allows the air to flow smoothly and ensures comfortable wear for longer periods of time. The thin sole has a rubber finish, so you can be certain that these trainers are durable, high quality, and easy to clean. The Balenciaga Triple S will serve you for years to come and match your everyday outfits, making them a wonderful choice to invest in. 
Visit Balenciaga.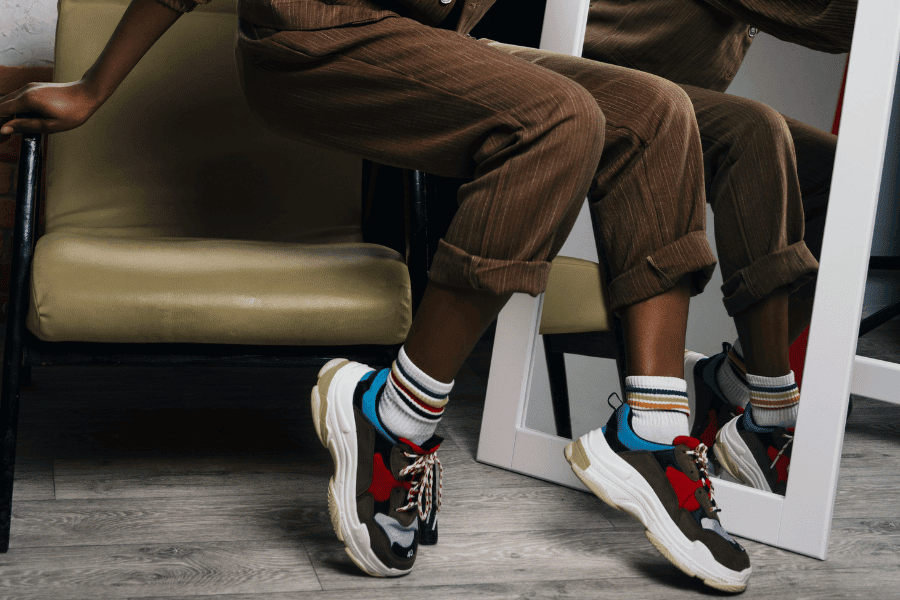 4. Gucci Ace Sneakers
The Gucci Ace model is among the best-selling white designer trainers by this brand and is extremely popular with both male and female shoppers. Just like most other sought-after products, this pair has a simple design, which makes it great for any kind of outfit. The Gucci Ace model has many variations. While its primary colour is white, the various colourful designs on the side of the shoe allow you to pick the model that best matches your style and preferred colour palette.
These sneakers have one red and one green leather heel collar, resulting in an eye-catching and bold design. The most famous model is the one with the three signature Gucci stripes in red and green, embroidered with a golden bee. Other embroidery variants for these women's white designer trainer models are banana, cherry, and arrow. Some of these designs, like the arrow, extend past the stripes to cover the white part of the sneaker as well, so you can also choose a model based on how eye-catching you want the artwork to be.
All in all, these trainers are simplistic, elegant, and always in trend. Numerous colour variations will allow you to purchase a pair that feels truly yours. 
Visit Gucci. 
Shop with Gucci vouchers. 
5. Christian Louboutin Loubishark
The Christian Louboutin Loubishark trainers are unique designer shoes. As the name suggests, the Loubishark model features a white sole with an uneven red lining that resembles a shark's teeth. 
You can unlock your playful side with this innovative design while supporting its designers' hard work, as the shark teeth sole takes 67 hours to make with mould sculpting milling machines. The back of the shoe is also unique, with a moulded rubber cage resembling scales. On the other hand, the upper part of these women's fashion trainers looks like that of a traditional running shoe with leather and suede overlays. 
The Christian Louboutin Loubishark comes in different colours, such as a combination of vibrant tones or classic black and white. No matter which combo you choose, the lining of your soles will always be red. 
Loubishark remains the sportiest shoe by Christian Louboutin to this day, and it's a perfect choice for anyone who wants to add a statement piece to their collection.
Visit Christian Louboutin. 
Best-Selling Men's Designer Trainers
1. Prada Downtown Leather Trainers
If you're looking for elegant trainers perfect for both casual Friday and high-quality suits, you should definitely check out Prada's offer. The brand's collections feature a wide range of sophisticated leather sneakers that are a great, more comfortable alternative to your everyday shoes.
While elegant footwear is what Prada is famous for, we decided to pick a more relaxed model for our list. That's because the Prada Downtown Leather men's designer trainers are perfect for any outfit, no matter if you're going for a jog or are a guest of honour at a gala.
What allows the Prada Downtown Leather trainers to transform from elegant to sporty are the colours you choose. If you pick a white model, you'll be able to wear it with practically anything. On the other hand, the combination of white and green or white and red will limit your clothing choices, but take a matching colour outfit to the next level. The endless styling possibilities of these designer trainers for men are what makes them one of the most popular shoes by Prada.
Visit Prada.
Shop with Prada vouchers.
2. Valentino Open for a Change
Valentino is another designer brand making a wide range of trainers for both male and female customers. Valentino Open for a Change is among the best-selling products in the male category. It features a simple design with a twist—a stripe in different colour variants that runs across the side of the shoe, creating a bold and memorable effect. This model can be paired with just about anything, making it extremely popular with shoppers.
A few years ago, Valentino decided to set a new standard in its mission for more sustainable footwear by redesigning the two iconic models of men's fashion trainers to create a vegan, cruelty-free alternative. The Open for a Change sneaker is the result of Valentino's efforts.
Learn more about sustainable fashion in this article. 
The Open for a Change trainers have a bio-based material band and a partially recycled rubber sole. The laces are made out of recycled polyester. You'll easily differentiate between this model and the regular ones, as it has 'open for a change' written on the side of the shoe.
Visit Valentino.
Shop with Valentino vouchers.
3. Off-White Odsy 1000
Off-White is a young luxury brand by American designer Virgil Abloh. Since its launch in 2012, it's become a signature brand for those who want to be trendy without trying too hard. That's why most Off-White designer trainers are basic designs with a twist. 
That said, The Off-White Odsy 1000 model is a bit different. These sneakers have a unique design that will definitely make you stand out from the crowd. The model's soles present a cool version of the regular hiking soles, with spikes spread over the bottom of the shoe.
The Off-White Odsy 1000 trainers come in various colours. You could opt for basic men's white designer trainers or pick a vibrant colour scheme. Every pair features leather trim with mesh panelling throughout the trainer. The shoe has a signature Zip-Tie tag and an arrow motif, which goes with the theme of being unique without trying too hard. 
Visit Off-White.
4. Versace Trigreca
Unlike many of Versace's popular footwear designs, the Versace Trigreca model has a sporty vibe. With its big rubber sole, it fits right into the chunky trend.
The sole of these designer sneakers for men features the signature Versace imprint with the brand's logo, Medusa, imprinted beneath the heel. The entire shoe comes in different one-colour and multi-colour designs, and the brightness of the shade you choose will determine how chunky your shoe will seem.
The upper of the shoe also varies depending on the colour scheme. The model comes in various motifs, from the regular Versace theme to printed artwork. What's more, the coordinates of Versace's Milan headquarters, a city listed as one of the fashion capitals, are printed along the upper of the shoe. These fashion trainers' outer fabric is made of polyester and cotton, while the lining and the trim are 100% calf leather.
Visit Versace.
Shop with Versace vouchers. 
5. Michael Kors Nick Trainers
Michael Kors is another designer brand with a lot to offer for men who love wearing trainers. You can find so many different options, from the Keating model that's perfect for everyday wear to Theo trainers that go best with sports outfits.
The model we're singling out today has a bit of both. The Michael Kors Nick trainers are cheap designer trainers that will make any elegant outfit a bit more relaxed. Depending on the colours you choose, these shoes can be perfect for a sporty look or go great with a suit.
The Michael Kors Nick trainers feature architectural moulded rubber soles that are designed to keep you comfortable no matter how long you wear them. The soles are on the chunkier side, but they're not too showy, which makes them easier to pair with different outfit types.
Visit Michael Kors.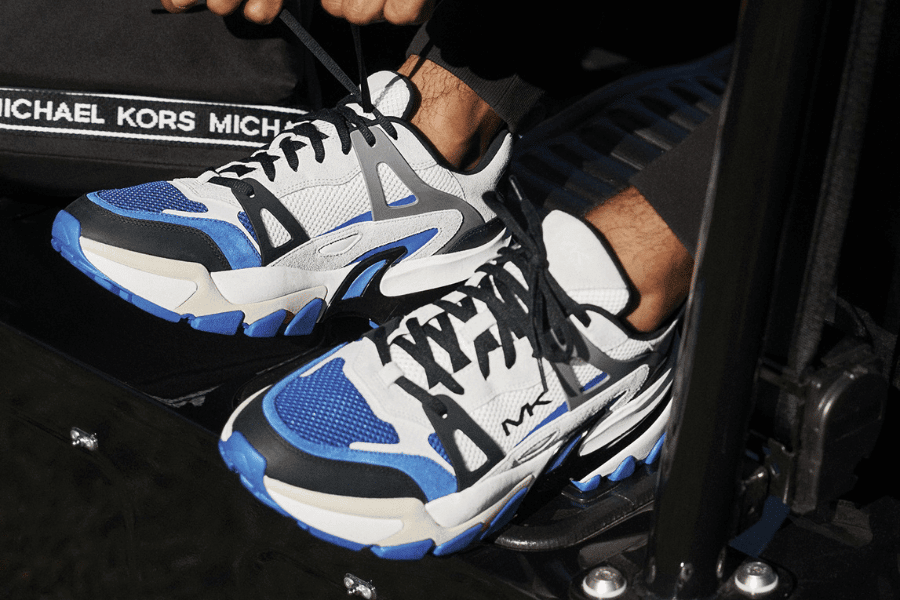 1. Dolce&Gabbana Sorrento Trainers
The Dolce&Gabbana Sorrento trainers have a unique and interesting design your child will definitely love. The model comes in black and white, pale pink, and navy blue variations, so you can choose a pair that suits your child's taste and wardrobe. These trainers are good for both elegant and more sporty looks.
The Dolce&Gabbana Sorrento model doesn't come with shoelaces, making these easy slip-on kids' designer trainers perfect for children of any age. This model is made of fabric and has a leather insole and rubber sole, making it excellent for a day at the playground and special occasions.
Visit Dolce&Gabbana. 
2. Kenzo Kids Tiger Trainers
This model is part of the Kenzo Kids offer and diverges from its adult counterpart in a few ways that make the design more fun for youngsters. The Kenzo Kids Tiger girls and boys designer trainers come in so many different variations and colour combos that you can be certain you'll find the perfect pair. 
The model has the iconic tiger logo embroidered on the velcro fastening strap. It's slip-on, so it's perfect for kids of any age. To make the design even more interesting, Kenzo incorporated different animal motifs on the rubber sole. 
Visit Kenzo. 
3. Moschino Teddy Pop Sneakers
The Moschino Teddy Pop sneakers are one of the most interesting designer trainers for kids. The most famous colour variation of these shoes is pink, which makes them well-known girls designer trainers. But the model comes in so many colours that you'll easily find the perfect model for a boy, too. Some of the designs are more playful, while others are monochrome and perfect for older children.
This interesting design also has a rubber sole, making it durable and excellent for running around the grass or pavement. The calfskin and polyester upper also contributes to these shoes' durability. Finally, Moschino Teddy Pop trainers come with memory foam, which means they're extra comfortable.
Visit Mochino. 
4. Givenchy Kids Logo-Tape Trainers
Givenchy is another expensive brand that has trainers in its collection, among other things. The brand's fashion designers created a footwear line just for kids. Most of the clothing and footwear by this label has a simpler design and is usually black and white. However, that doesn't mean you won't find anything playful in Givenchy's offer, as flower patterns and colourful letters can also be found in recent Givenchy kids collections.
The Givenchy Kids Logo-Tape trainers have a classic black and white colour pattern. Therefore, these junior designer trainers go well with almost any outfit. The shoe is completely white and has a black strap with the brand's name, although some models have a glossy silver or lilac upper. The upper is made of leather, so it's durable and good for running around. The sole is made of rubber, which means it will last endure your child's adventures.
Visit Givenchy. 
5. Fendi Nappa Leather Junior Sneakers
Although Fendi offers many different trainers for children, we chose a more versatile model. It comes in two colour schemes—white or black designer trainers. Both variations feature a brown Fendi pattern on the lining, which gives the shoe a unique look.
Fendi trainers are unisex, and the moderate size of the sole means this model won't be too heavy for your child to wear for hours. These lace-up trainers are the perfect designer chunky trainers for running. They're made out of calfskin, polyester, and cotton. The inside of the shoe is 100% polyester.
Visit Fendi. 
In the world of different types of trainers, now you have a complete list of the best-selling designer trainers, you should check out if you're looking to add an expensive pair to your collection. You can easily find most of these models at any store that sells designer shoes, but we recommend checking out popular outlet stores first to find the best prices. Happy shopping!