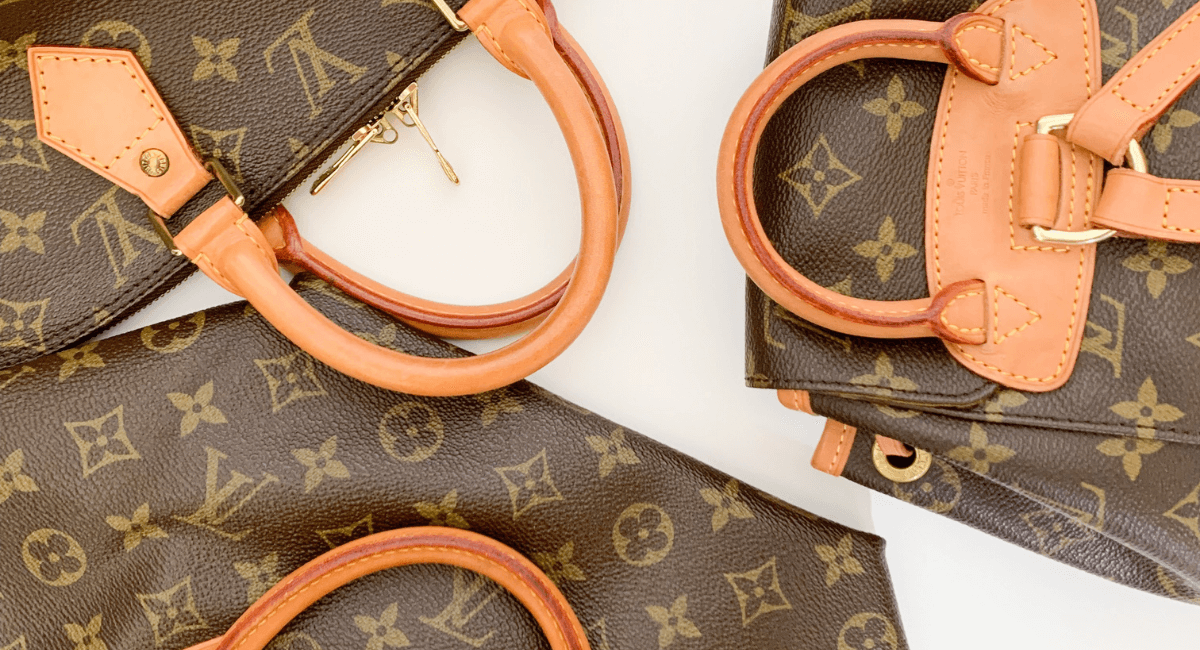 How to Tell if a Louis Vuitton Bag Is Real: 8 Tell-Tale Signs
Posted on |
Louis Vuitton bags are among the most exclusive and coveted in the world. This also means that many people will try to sell you a fake one. This means you'll have to know how to tell if a Louis Vuitton Bag is real if you're planning on buying its handbag from anywhere but a Louis Vuitton shop or an official website. Stay safe and throw a quick glance at these tell-tale signs of counterfeit LV bags.
How to Tell if a Louis Vuitton Purse Is Real?
1. Vachetta Leather Strips
Looking at the leather of the handles is a good method to tell whether a Louis Vuitton bag is genuine or not.
After extended use, genuine Louis Vuitton straps will darken and become more golden brown. If your purse's handles stay the same pale colour over a long time, it's almost certainly a counterfeit.
This is limited to bags made of light-coloured leather, such as the Speedy collection.
2. Stamping and Lettering
The stamping and lettering on a Louis Vuitton are among the first things to look at if you want to authenticate your bag. Some counterfeiters may use a slightly different font to that of LV or arrange the lettering differently, so we'll go into detail about what the stamping should look like.
The typeface must be thin and sharp. It'll never bleed or look messy. The superior craftsmanship of Louis Vuitton bags would never allow for such a fault.
Let's go over the heat stamp that you'll find inside the bag.
The T's are so close to each other they are almost touching

The tail on the L is characteristically short

The O is usually larger than the L, and it is distinctively round, not oval

The country that a genuine bag is "made in" will most likely be France, but the USA, Spain, Italy, or Germany might also be stated as the country of production. The stamp, however, will always say Louis Vuitton Paris

The letters embossed into the leather will always be very thin, clear, and perfectly aligned. Any sign of sloppiness is a red flag
The stitching, the quality of the work, the colour, and the alignment of stitches could reveal if an item is a fake Louis Vuitton bag or the real deal. Although genuine Louis Vuitton handbags won't have flawless stitching on occasion, they'll still be well-made. So double-check that all seams, stamps, and other elements of your bag are properly sewn.
On symmetrical sections of a real bag, the number of stitches will always be identical. Experts may count the precise number of stitches on certain parts to determine if they're dealing with a counterfeit bag.
While counterfeits will usually have both a heat stamp and a date stamp, they'll often mismatch. So let's see how to read the date code on LV bags.
The code starts with letters that represent the country in which the bag has been produced. The four numbers represent the time when the bag was made.
For bags that date back anywhere between 2007 and 2022, the first and third numbers represent the week of the year they were made. The year of production is represented in the second and fourth digits. Bags made before 2007 will have different code conventions since LV made changes to the codes several times. Also, vintage bags made before 1982 will not have a code.
5. Louis Vuitton Hardware
The hardware, such as accent elements or the zipper pull, is a good indicator of whether a bag is genuine.
It's simple to tell if a bag is an imitation when you look at it on the outside. The hardware on LV bags should be shaped like a D, while counterfeit bags frequently have rounded hardware.
A fake logo is simpler than a genuine one. The letter V is always higher than the letter L on a real bag. Check to see if the letters are uneven or misaligned.
You should also check the monogram designs and their diagonal order. The strips should be arranged in the following order: fleur-de-lis, circle, fleur-de-lis, and then the LV logo.
On the back of the bag, look for upside-down LV logos. Because Louis Vuitton uses a single, continuous piece of leather to make the handbags, the LV emblems should appear upright on the front side and upside-down on the backside of the bag. If you're wondering whether or not your Louis Vuitton is genuine, this is something you should check.
Of course, this concerns only Louis Vuitton handbags that have the logo on them.
8. Discounts, Wholesale, Clearance
Be cautious of vendors who offer a bag at a bargain price. Genuine LV bags that typically cost more than £1000 would not sell for less than £100, especially not a new one. This implies that if the bag you discover is supposed to be new and is available for a low price, it's most certainly a counterfeit.
Used Louis Vuitton bags may be obtained for less than brand new ones, but if they're rare or sought after by collectors, they might be even more expensive.
As stated on their website, Louis Vuitton doesn't offer discounts and the bags never go on sale. Also, there's no such thing as last year's collection since items that don't get sold end up destroyed to keep the prices high. And the company doesn't do wholesale, so don't trust anyone who says otherwise.
Now you know how to tell if a Louis Vuitton bag is real or not. Even with these tips, however, make sure you purchase your bag from a reliable vendor that offers authentication services. And finally, if you don't want to spend an entire paycheck (or several) on such a high-end handbag, but you still want to enjoy quality and style, make sure to check out other amazing handbag brands.