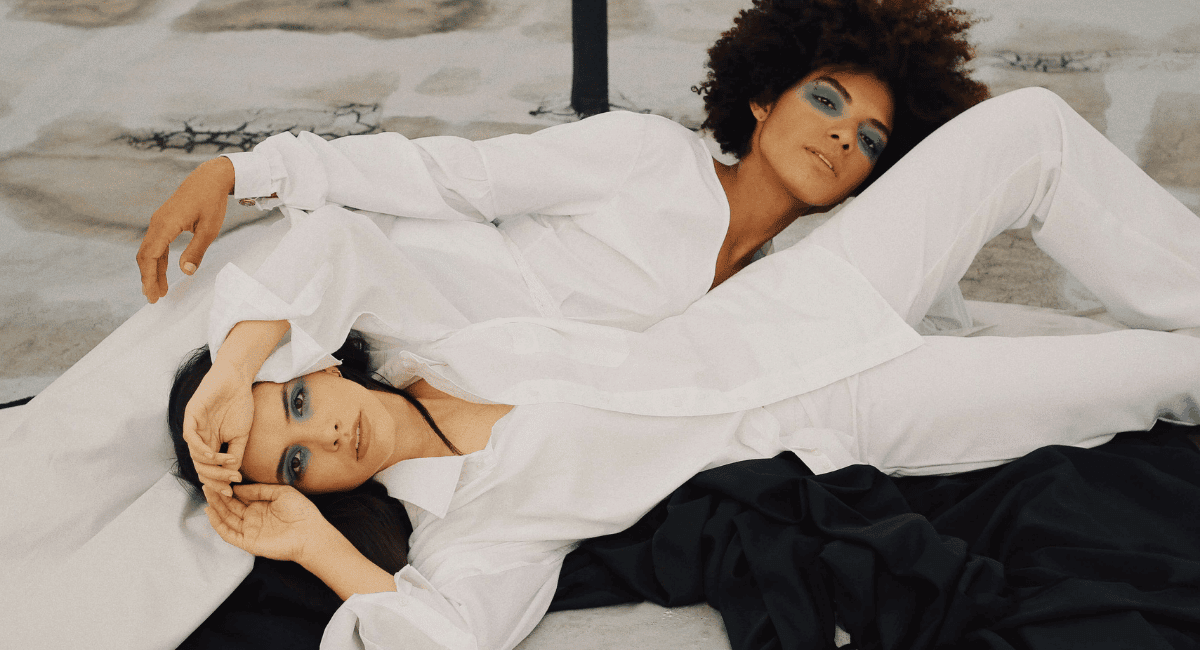 The Ultimate List of Popular Clothing Brands to Follow in 2022
Posted on |
The Most Popular Fashion Brands: Womenswear Edition
1. Zara
Zara's founders, Amancio Ortega and Rosalía Mera, created the brand in 1975. From its very beginning, the brand has had the same vision—bringing high-end fashion to every customer. Within eight years, Zara spread throughout Spain, and the brand went international after just a few years in business. 
Around ten years after its creation, Zara became a part of the holding company called Inditex. Inditex is one of the largest clothing retailers in the world, owning the top fast fashion brands. The company has over 170,000 employees and is part of more than 200 markets globally.
Zara's ability to satisfy the rising demand for affordable clothing that resembles high fashion pieces made it famous. When Zara was launched, only a small number of brands managed to achieve this goal. As a result, Zara's popularity rapidly increased. This brand is one of the most popular fashion brands worldwide, known for fast fashion that looks luxurious.
Visit Zara.
Shop with Zara vouchers.
2. H&M
Hennes & Mauritz, which customers know as the famous high street label, H&M, has existed since 1947. According to the latest data available, the brand has over 5,000 stores globally and more than 120,000 workers.
Like most fast fashion brands, the secret to H&M's success is its capacity to come out with a large number of pieces within a short period of time. The company has remained among the top clothing brands in the world for years by constantly adapting to new trends and offering customers as many choices as possible. The brand stands out from the competition by outsourcing production, and it currently has around 900 independent suppliers around the world.
Visit H&M.
Shop with H&M vouchers.
3. Bershka
Bershka is another brand owned by Inditex. It was created in 1998 to cater to younger, urban audiences. Within its first two years, Bershka opened 100 shops. Today, Bershka is one of the most popular women's clothing brands. It exists in 185 markets and accounts for 9% of Inditex's revenue. Its clothing lines are most attractive to young, adventurous people.
Visit Bershka.
Shop with Bershka vouchers.
4. Stradivarius
Stradivarius was a small family-owned fashion company until Inditex purchased it in 1999. Within a year, the brand entered the international market, and during its first decade, it opened 500 stores around the world. The brand promotes youth, which is why it's among the most popular teenage clothing brands. At the moment, Stradivarius is part of 180 international markets.
Visit Stradivarius.
Shop with Stradivarius vouchers.
5. PrettyLittleThing
Brothers Adam and Umar Kamani founded PrettyLittleThing in 2012. What started as an online accessories website became a fashion business worth millions in just a few years. The brothers' primary mission was to fulfil the aspirations of every young girl instead of being just a regular store where people buy clothes. Its ability to quickly adapt to changing trends allowed the brand to become more and more popular each year. Today, PrettyLittleThing has more than 6 million active customers. 
The founders claim that their secret is in the power of social media, which is why PrettyLittleThing is among the most popular Instagram clothing brands. Instead of investing in TV commercials and brick-and-mortar stores, they decided to utilise social platforms and collaborate with the most popular influencers to raise awareness of the brand.
Visit PrettyLittleThing.
Shop with PrettyLittleThing vouchers.
1. Ted Baker
Ted Baker was founded in 1988 in Glasgow by Londer Ray Kelvin. The brand first offered a variety of luxurious handbags and accessories. The quality quickly attracted many customers, making Ted Baker one of the top popular clothing brands in the UK. 
The company is keen on maintaining its "word of mouth" advertising strategy dubbed as "Teducation." The idea is to let consumers buy because they've heard positive things about the brand and not because of advertising. The brand sells apparel, and it's among the most popular clothing companies in the UK.
Visit Ted Baker.
Shop with Ted Baker vouchers.
2. Levi's
Levi's history dates back to 1852, when an immigrant from Bavaria, Levi Strauss, opened a dry goods store in San Francisco. Just like the owners of other good clothing brands, Strauss noticed a gap in the supply of specific clothing categories. In his case, durable clothes for hardworking people were much needed, which is how he came up with the idea to look for rugged, high-quality denim that could sustain long hours and factory work. 
His first product was waist overalls that appeared on the market in 1873. Levi's products are worn by everyone: from mine workers to celebrities. The company maintained its quality and is now present in over 100 countries. Aside from its online presence, Levi's has 500 stores around the world.
Visit Levi's.
Shop with Levi's vouchers.
3. Burberry
Many people disagree on whether Burberry should be among the luxury or designer clothing brands. The general agreement is that this company offers opulent clothing at a moderate price, making it onto the list of famous women's luxury clothing brands.
Thomas Burberry founded this company in 1856. From the beginning, this company offered something unique, and it quickly became a well-known brand in England. Thomas was only 21 years old when he decided to create an innovative fashion piece that would make his brand different from anything else UK brands for clothing offered. 
His first product, a trench coat made out of Gabardine, set a new standard for durability and luxury. Gabardine, which could sustain extreme weather conditions, is still a popular material Burberry uses for many of its products.
Visit Burberry.
4. Moncler
Moncler was named after Monestier-de-Clermont, which is a mountain village in southeastern France. The brand was created by René Ramillon and Andrè Vincent in 1952. In the beginning, the company produced durable capes, tents, and sleeping bags in the hopes of providing customers with high-quality, durable camping gear which would survive the harshest conditions.
Over time, the founders made Moncler one of the most popular outdoor clothing brands by recognising an increasing need for quality winter wear. The brand quickly expanded to skiing gear and luxurious jackets, and today, it is a symbol of winter adventure.
Visit Moncler.
5. Dorothy Perkins
Dorothy Perkins used to be called "Ladies Hosiery and Underwear Limited." The brand was created in 1909, and about 30 years later, it changed its name to Dorothy Perkins. 
At first, the company was a store chain, collecting luxurious pieces from various labels. The desire to make a difference in the industry led the company to start coming up with its own clothing and became one of the most recognisable British clothing brands. In 1969, the brand purchased a controlling stake at the company Biba, and as of 2021, Dorothy Perkins is part of Boohoo.
Visit Dorothy Perkins.
Shop with Dorothy Perkins vouchers.
1. Louis Vuitton
Louis Vuitton came from nothing and spent two years walking to Paris when he was just a teen in pursuit of a dream. His innovative trunks quickly garnered the attention of wealthier customers, who remained the company's target audience up to this day. 
Even though he technically wasn't a designer, he created a well-known clothing brand and found the best people in the industry to design for him. Today, the Louis Vuitton brand is part of the LVMH Group, which has over 5,000 stores worldwide..
Despite being most famous for its bag collection, Louis Vuitton also designs exquisite clothing pieces. The fashion and leather goods segment brought £18 billion in revenue to the company in 2020.
Visit Louis Vuitton.
2. Gucci
Founded a hundred years ago, Gucci is among the most expensive clothing brands in the designer industry. It was created by Guccio Gucci, who identified the need for high-end leather goods and luggage products.
From the very beginning, Gucci offered quality and uniqueness and worked with the best people in Italy to bring innovative fashion to customers. While the brand experienced a decrease in relevancy, it is quickly getting back to its older reputation with a new creative director. Gucci is part of the Kering Group, which generated around £6.4 billion in revenue in 2020.
Visit Gucci.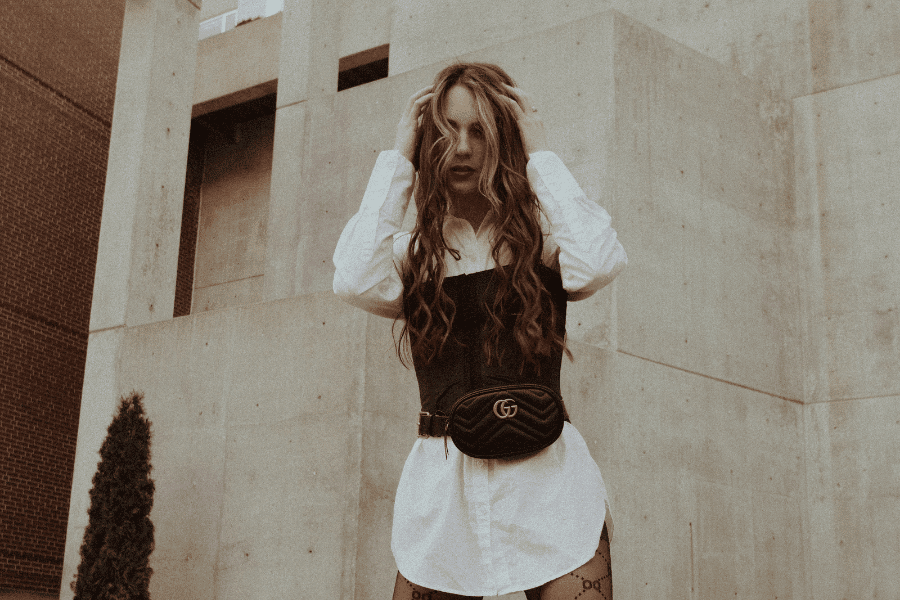 3. Prada
The roots of one of the most popular designer brands, Prada, are deeply connected to Milan and the year 1913 when Mario Prada opened his first store in the famous Galleria Vittorio Emmanuele II.
At first, the store offered a variety of travel accessories and leather goods. In 1919, Prada became the official supplier of the Italian Royal House, which is how many people came to know the brand. The company's logo, which is the House of Savoy coat of arms, is a symbol of Italian aristocracy.
Despite being popular nationwide, Prada was not among the most famous clothing brands globally until Mario's daughter, Miuccia, became the head of the company. She introduced footwear and clothing to the brand with hugely successful lines. Nowadays, Prada has an undeniable influence in the fashion industry, with net sales of £2 billion in 2020.
Visit Prada.
4. Chanel
Coco Chanel is an inspiring woman that created a fashion giant despite her humble beginnings. She was an orphan when she learned to sew, and her love for design led to her opening a shop in Paris in 1910. It would take years for her to grow the business and reach the top list of fashion designer brands. Chanel attracted customers' attention after designing her make-shift jersey dress.
Coco Chanel valued simplicity and comfort, and her pieces represent timelessness and grace. Aside from her elegant fashion pieces, Chanel also focused on perfumes. Notably, it was the Chanel no. 5 perfume that brought her planetary success. Today, the label is among the most successful clothing brands in the world, with its brand value sitting at £10 billion.
Visit Chanel.
5. Versace
Versace was founded in Milan in 1978 as Gianni Versace Donna. Gianni Versace was an eccentric who fell in love with fashion design after working for his mom's sewing business. His first idea, a one-shoulder long gown, was updated and worn by Princess Diana decades later.
Gianni had a steady rise to fame. He dedicated his life to designing and moved to Milan to learn the craft in his twenties. In 1978, he followed the dream of having one of the top fashion brands in the world and opened his first store in Via Della Spiga.
Many claim that Gianni Versace was among the first designers to realise the importance of celebrity endorsement. He was friends with many celebrities at the beginning of his career, which brought his designs to red carpets around the world. His brand quickly gained popularity as his pieces became something everybody wanted, but not everybody could afford. In 2018, the brand was bought by Michael Kors for £1.6 billion.
Visit Versace.
Top Fashion Brands for Menswear
1. French Connection
French Connection has existed since 1972. It offers a variety of quality clothing for both men and women at moderate prices. The brand highlights its eco-consciousness and the accessibility of its products. Aside from clothing, you can find accessories, footwear, as well as home goods and furniture. 
This brand has been controversial due to its choice to use the abbreviation FCUK as a brand logo. In 1997, the brand's marketing strategy included a slogan, "FCUK Fashion", which brought attention to the brand and made it one of the top UK brands for clothing.
Visit French Connection.
Shop with French Connection vouchers.
2. Charles Tyrwhitt
Nick Wheeler created Charles Tyrwhitt in 1986. The brand's name came from Nick's two middle names, and he remains a central part of the brand's design and production to this day. 
His desire to bring top quality, timeless menswear to the everyday consumer is apparent in the company's return policy. You can return Charles Tyrwhitt clothes in any condition if you're not satisfied with the quality for up to six months. We rarely see such a testament to quality, and it's probably why Charles Tyrwhitt is among the most popular clothing brands in the UK.
Visit Charles Tyrwhitt.
Shop with Charles Tyrwhitt vouchers.
3. Primark
Primark is a leading high street retailer, especially in Europe. It's one of the rare brands that has remained relevant throughout the years despite increasing competition in the fashion industry. One of the main reasons for that is the brand's extremely low prices. 
Industry experts attribute Primark's success to its low prices and minimal advertising and packaging. Even without an extensive marketing strategy, this brand is among the popular clothing brands for teens and other ages too. Aside from menswear, the brand carries women's and kids' clothing, shoes, and accessories. 
Primark was first introduced to customers in 1969 in Dublin. The company's founder, Arthur Ryan, first named it Penney's. When he decided to expand to other markets, he had to change the name due to copyright concerns. The brand quickly became popular throughout the UK, and today, Primark is present in 13 different countries in Europe and the US.
Visit Primark.
Shop with Primark vouchers.
4. Mountain Warehouse
Mountain Warehouse is one of the best clothing brands for men who love adventure. It was founded by Mark Neale in the nineties, and even though he had a degree in physics, he always dreamt of having his own company.
Mountain Warehouse was actually his fourth attempt at owning a business after opening a rollerblading shop, toy shop, and greeting card business. Then, he recognised the need for high-quality, affordable camping gear and decided to seize the opportunity.
According to the brand's official website, Mountain Warehouse is among the trendy clothing brands with more than five million loyal customers. This label can be found in Europe, the United States, Canada, and New Zealand.
Visit Mountain Warehouse.
Shop with Mountain Warehouse vouchers.
5. Nike
Nike is the leading sportswear brand in the world. It's loved by men of all ages, which is why males were its primary target audience before the 2000s. Nike was created in the sixties by Bill Bowerman and track-and-field coach Phil Knight.
The company's early name was Blue Ribbon Sports, and after renaming the brand in the late seventies, the company went public. Its extensive offer of sportswear, shoes, and accessories was quickly noticed by customers around the world, granting Nike worldwide recognition. Another thing that made Nike the most popular fashion brand for sports apparel was frequent endorsements by the most famous athletes. Its net sales for 2021 reached £4.3 billion.
Visit Nike.
Shop with Nike vouchers.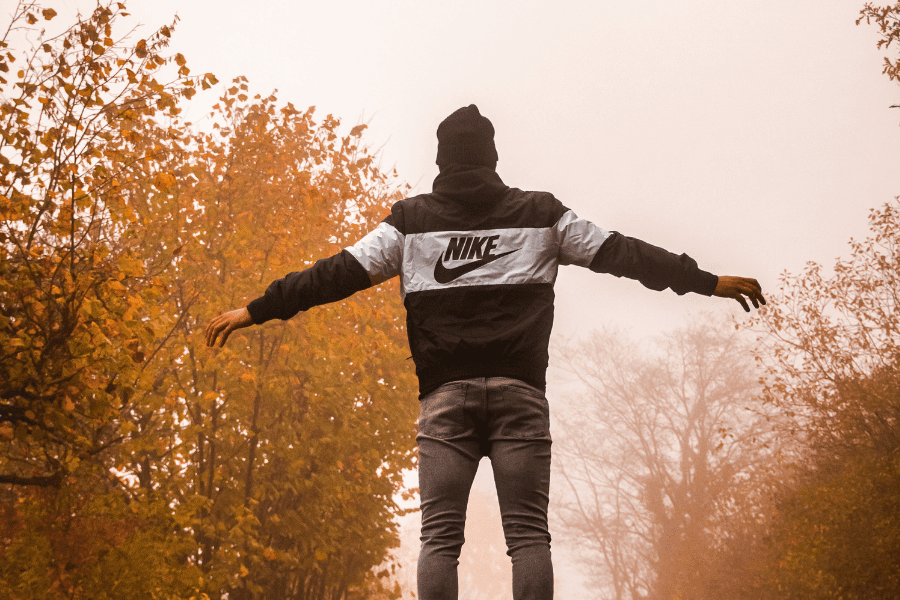 1. Ralph Lauren
Ralph Lauren was first introduced in 1967 after launching his first product: a tie called Polo. A year later, the brand created a full collection of suits and shirts. What set Ralph Lauren's first products apart was the style.
The brand created elegant sportswear by using sports shirt fabric for sophisticated pieces. The first collection was a huge success, which is why many industry experts predicted it would become one of the biggest fashion brands.
In 1970, Ralph Lauren opened a boutique in Bloomingdale's called Polo by Ralph Lauren. Soon after, he opened a standalone store, and in 1972, the Polo shirt was introduced. The shirt presented something different in the clothing market, causing instant success. Since then, Ralph Lauren's popularity has only increased, and its revenue is currently worth over £3 billion.
Visit Ralph Lauren.
2. Paul Smith
Paul Smith is among the most prominent luxury brands in the UK. The designer, Paul Smith, is known for his classic style with a touch of quirkiness. This unique take on traditional styles is why the brand became one of the top UK fashion brands within the first two decades of existence. Industry experts believe that the unusual setup of company stores also contributed to its early success.
Sir Paul Smith's beginnings are connected to a warehouse in Nottinghamshire, where he first started designing five decades ago. Today, the brand has 130 retail stores in 60 countries worldwide.
Visit Paul Smith.
3. Timberland
Timberland's story began in 1952, when the brand's founder, Nathan Swartz, purchased a small share in the Abington Shoe Company. Through his hard work and innovative ideas, Swartz worked his way up to the top of the company. Back then, what is now one of the top men's fashion brands, was a small store located in New England. The extreme weather conditions in the area made Swartz recognise the need for more durable footwear. 
In 1973, he came out with the original Timberland boots. They were waterproof, durable, and rugged-looking. Once the first product hit the market, it became extremely popular, so Swartz decided to rename the company to focus on that part of the industry for good. Nowadays, Timberland is a household name and is one of the most popular clothing brands in the world.
Visit Timberland.
Shop with Timberland vouchers.
4. The North Face
Even though it was named after the cold side of the mountain, the brand's story began on a beach. Douglas Tompkins and Susie Tompkins Buell were two hikers who decided to use their knowledge of outdoor gear to create a brand that would offer only the best for adventurous people. They started their vision in 1968 by opening a small mountaineering store in San Francisco.
Soon after, The North Face store started carrying gear that was designed and manufactured in-house. During the sixties, the founders decided to start sponsoring expeditions and, years later, the brand incorporated extreme skiwear. This label was the only retailer to offer an entire collection of outerwear, skiwear, and camping gear, and as a result, The North Face became one of the top fashion brands for the outdoors in a short period of time.
Visit The North Face.
Shop with The North Face vouchers.
5. Lacoste
Lacoste's owner is René Lacoste, a famous tennis player. In 1923, his trainer promised to buy him a suitcase made out of crocodile leather if he won a match. He lost, but still became known as "The Crocodile" due to this unusual bet. René embraced the nickname, asking his friend to sew a crocodile onto his jackets.
Ten years after the legendary match, René Lacoste decided to start designing clothes that changed the game for tennis apparel. Shortly after, Lacoste began carrying other pieces.
Today, this label has 1,100 stores with 8,500 employees and is present in 98 countries. Its commitment to saving the planet makes it one of the top sustainable fashion brands in the industry.
Visit Lacoste.
Shop with Lacoste vouchers.
1. Tom Ford
Tom Ford was a well-known name in the fashion industry long before starting his own label. As a film director and designer who worked as Gucci's Creative Director for ten years, many industry insiders claim that Tom Ford was the one to revive the brand after years of stagnation.
After Pinault Printemps Redoute acquired the company in 2004, Tom Ford decided to resign and start his own clothing brand. His line offers menswear, eyewear, and beauty products, which landed him a place on every popular fashion brand names list.
Due to the connections he made during his time at Gucci, Tom Ford was able to come up with a mind-blowing marketing strategy. In 2006, he appeared on the cover of Vanity Fair wearing his label and sitting next to a nude Keira Knightley and Scarlett Johansson.
Visit Tom Ford.
2. Armani
The famous designer Giorgio Armani came in contact with fashion when he was a window dresser in a department store. He decided to drop out of medical school to work as a designer at Nino Cerruti. There, he met Sergio Galeotti, who helped him start his own company in 1975. 
From the very beginning, Armani stood out from other popular clothing brands with his clean lines and elegant styles. His pieces were timeless, withstanding changing fashion trends and customers' preferences throughout the years.
Visit Armani.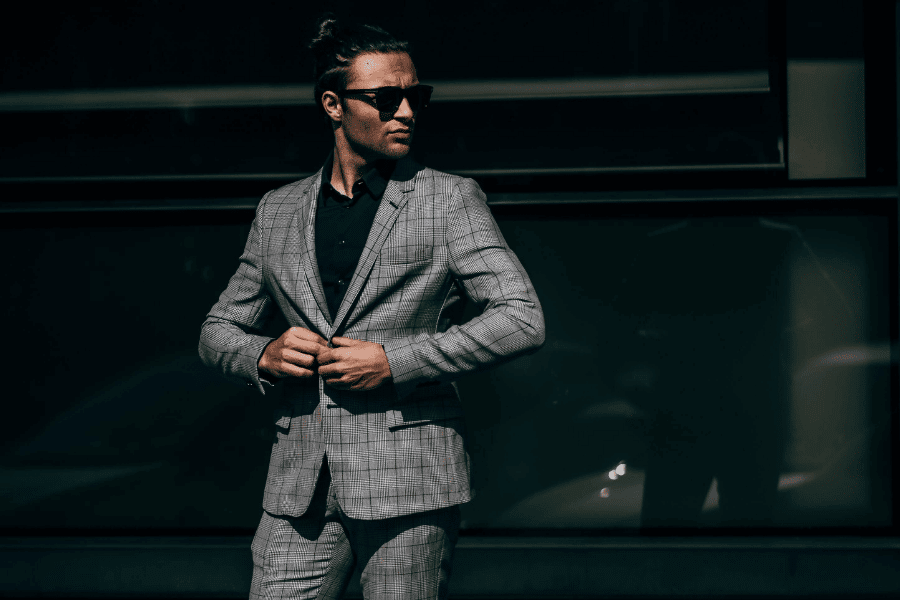 3. Dolce & Gabbana
Domenico Dolce and Stefano Gabbana met in a nightclub in 1980. Just two years later, they decided to quit their jobs in the fashion industry and create their own label. A larger audience got to know them when they participated in Milan's New Talent group fashion show in 1985.
The Dolce & Gabbana brand brought a unique mixture of sensuality and Mediterranean style to the runway and quickly became one of the best popular clothing brands worldwide. In 1990, it came out with its first men's collection.
Visit Dolce & Gabbana.
4. Valentino
Valentino Clemente Ludovico Garavani knew he wanted to work in fashion, so he became an apprentice to local designers at a very young age. His dream led him to open a fashion house in Rome when he was in his mid-twenties. Even then, the public started recognising his designs and his shade of red dresses became known as the "Valentino Red." 
In 1960, he met Giancarlo Giammetti, who became his partner. Together, they brought worldwide recognition to the brand, attracting wealthier consumers to the brand. If industry experts were to name a top fashion brand that could be worn both on the streets and red carpets, most would choose Valentino for the unique combination of Haute couture and streetwear.
Visit Valentino.
5. Yves Saint Laurent
While he's mainly praised as a revolutionary in the women's fashion industry, Yves Saint Laurent's menswear is becoming more and more popular in recent years. Saint Laurent worked in the fashion industry for years before creating his own brand in 1961, which went on to become one of the most popular clothing brands.
From the beginning, Saint Laurent's pieces stood out. He believed women shouldn't have any limitations in the way they dressed and created all sorts of pants for women, which was not customary at that time. In 1969, he launched his first male collection.
Visit Yves Saint Laurent.
With an increase in competition in the fashion industry, it's hard to know which brands are leaders and innovators and which ones are just following the latest trends. Looking at high street, luxury, and designer brands, many names that have existed for decades are still industry leaders. 
Versace, Gucci, Armani, and Louis Vuitton are just a few of the top fashion brands that have impacted fashion and clothing trends on a global scale. 
Popular Clothing Brands FAQ
What are the most popular clothing brands in the UK?
While estimates vary, for both menswear and womenswear, Levi's is the most popular clothing brand in the UK, with 72% of adults reporting a positive association with the brand. Adidas is the fourth most popular clothing brand in the UK, chosen by 68% of the population. Other popular brands in the UK are North Face, Nike, Converse, and Primark.
What are the top 10 luxury clothing brands?
There are so many fantastic luxury clothing brands. Even though many of them are very popular, some are well-known household names, and it's hard to find a person that hasn't heard of them. That list includes Gucci, Prada, Chanel, Dior, Louis Vuitton, and Armani. In addition, Versace, Valentino, Balenciaga, and Dolce & Gabbana are also among the top 10 luxury clothing brands.
What is the most expensive clothing brand?
Louis Vuitton, Dior, and Versace are some of the priciest clothing brands. The pairing of exclusivity with durable and top quality materials makes many of these brands worth every penny. Designer labels such as Chanel, Prada, and Yves Saint Laurent are also very pricey. Additionally, Armani, Ralph Lauren, and Gucci are among the most exclusive brands, catering only to a select elite. 
What is the most popular fast-fashion brand?
It's hard to single out one brand as the most popular one in the high street section of the fashion industry. Zara, for instance, is extremely popular among different generations of men and women, and H&M shares a similar following. Bershka, Primark, and Stradivarius are also famous affordable retailers.
Other popular clothing brands in the fast fashion world are Forever 21, ASOS, and Urban Outfitters. All of these brands are committed to creating a wide variety of fashions at affordable prices.